The wintry storm that has killed at least eight people as it marches across the country was expected to hang on stubbornly through Tuesday, further bedeviling travel plans in the Northeast.
The powerful storm will show up along the Northeastern and New England coastlines, causing snow — heavy in some areas — from the Appalachian Mountains to inland areas of the Northeast and much of New England, the National Weather Service said.
It could be well into Wednesday morning before the weather system — which the weather service, in a bit of understatement, called a "long-duration storm" — finally moves completely off the Maine coast, forecasters said.
Snow was already on the ground in parts of New Jersey and Connecticut before dawn on Monday. New York City, which initially was forecast to get 3 to 4 inches of snow, was preparing for as much as 8 inches in northern parts of the city. Residents of Massachusetts, where some areas were already a foot deep in snow, were settling in for more.
"Our message out to New Yorkers is that we really urge you to stay off the roads if possible," Deanne Criswell, commissioner of the New York City Emergency Management Department, said Monday afternoon.
Hundreds of takeoffs and landings were canceled at Northeastern airports on Monday, 350 of them at the big three New York-area airports. More than 100 were canceled at Boston Logan Airport, which preemptively canceled 62 arrivals and departures in anticipation of difficult conditions on Tuesday.
Nearly 75,000 homes and businesses were without power in New York, New Jersey and Pennsylvania on Monday night, more than half of them in New Jersey.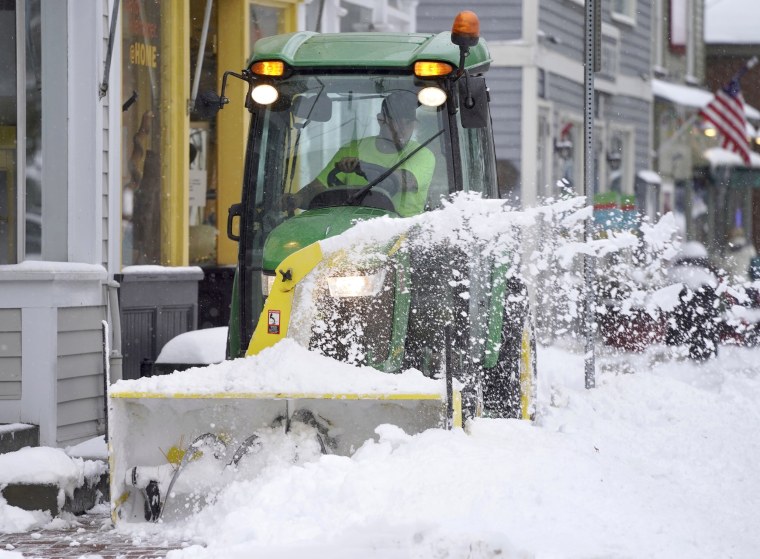 "The business is great, especially at this time of the season," said Edwin Perez, the operator of a landscaping and snow plowing business in Springfield, Massachusetts, where 8.5 inches of snow was on the ground.
"This is when you make the make the most money," Perez told NBC affiliate WWLP of Springfield, saying he'd already plowed more than 30 homes and expected to have more calls Monday night.
"It's great to have a big snowstorm on December 1st," he said. "I wasn't expecting it, and I still have 27 more customers to go."
Download the NBC News app for breaking news and weather
There was much more snow in other parts of Massachusetts: 20 inches in Plainfield, 17.5 in Williamstown, 15.5 in Hancock and 14 in Ashfield. As much as 8 more inches was expected in western parts of the state through Tuesday, forecasters said.
The weather system has been blamed for killing at least eight people, five of them young children, since it began traversing the continent before Thanksgiving:
Three in two water-related incidents in Bollinger County, Missouri, including boys ages 5 and 8.
Two children about 5 years old who were found dead after their vehicle was swept up a creek in Tonto Basin, Arizona.
A 6-year-old boy who struck his head when snow-removal equipment being driven by his father lurched in unincorporated Provo Canyon, Utah.
A man who was killed when he lost control of his pickup on an ice-covered road near Cavour, South Dakota.
A man who was killed when an SUV crossed the center line on a highway in Manchester Township, New Jersey, and collided with his car. Police said weather conditions appeared to be a contributing factor.
A spokesman for the National Transportation Safety Board, meanwhile, said "definitely we'll be looking into the weather conditions" after nine people were killed in the crash of a single-engine turboprop plane after takeoff near Chamberlain, South Dakota, on Saturday.