A widespread heat wave is expanding across large parts of the country and has some parts of the nation experiencing triple-digit temperatures for the weekend leading up to the Fourth of July holiday.
More than 113 million Americans are under some form of heat warning or advisory, stretching from Illinois, Wisconsin, Iowa, Kansas and Arkansas to New York and parts of New Hampshire. Many affected areas were expected to experience record highs, according to the National Weather Service.
Even places where temperatures don't quite reach 100 degrees will still feel like they did, according to Dave Samuel, senior meteorologist for AccuWeather.
"The humidity is pretty brutal," he said in a phone interview Saturday.
Chicago's Office of Emergency Management and Communications issued an extreme heat warning Friday. New York City officials said cooling centers would be open through at least Monday. Pittsburgh opened city cooling centers through Sunday. The Massachusetts Emergency Management Agency warned that heat and humidity over the weekend could be life-threatening, and urged people to check on children and the elderly, and also on pets.
"Heat advisories are in effect from the Central Plains to the Ohio Valley and parts of the Northeast," according to a National Weather Service forecast summary.
A high pressure system centered somewhere north of Tennessee is the culprit, forecasters say. It's large enough to spread heat from the South to the Eastern Seaboard to the Midwest. Even the relatively cool, forested far reaches of Northern California were experiencing high temperatures in the 100s Saturday, according to the National Weather Service, and residents have to worry about increased fire danger with Red Flag warnings in the areas around Sacramento.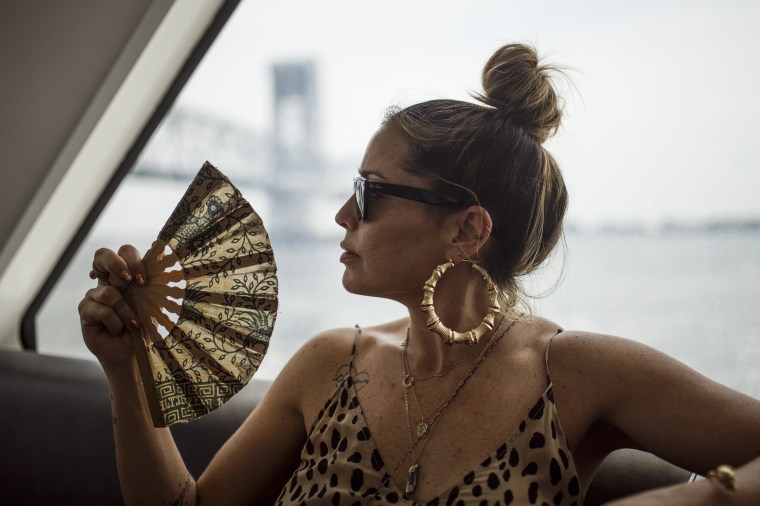 Perhaps the most oppressive heat, however, is found in the urban Midwest, where this high pressure bubble will peak Sunday, forecasters say. Heat indices temperatures in Chicago — this indicates what it will actually feel like — are expected to reach as high as 110 degrees on Sunday afternoon, said Gino Izzi, a National Weather Service meteorologist based in the Windy City.
Overnight temperatures on the weekend will not back down much, he said. "Those are going to unbearable, to be honest," Izzi said.
"Heat indices will remain in the 90s, not dropping below nearly 100 until almost midnight," he said. He blamed Chicago's "concrete jungle" for the lasting warmth. "It absorbs heat during the day and re-transmits it at night."
It was so hot in Chicago Saturday that water was sprayed onto the Michigan Avenue Bridge to cool it down. When there's extreme heat, the steel on moveable bridges like it expands, Mike Claffey with the Chicago Department of Transportation said. The bridge moves to allow boats to pass.
It was sweltering at the Chicago Cubs home game against the Minnesota Twins Saturday. After the Cubs won, the team posted a photo on Twitter of players hugging with the caption: "tfw [that feeling when] you finally get to go shower and hang out in air conditioning for the rest of the day."
But it's not just heat that the Midwest has to worry about.
From central Illinois through eastern Wisconsin and western Michigan, 16 million residents are at risk for severe storms on Sunday that will bring damaging wind, flood-inducing downpours and hail, according to the National Weather Service. Tornadoes are also possible. That danger of severe thunderstorms will extend into the northern Plains region as well as parts of New England.
The Eastern Seaboard won't fare much better leading up to the holiday. AccuWeather is forecasting a record stretch of 90-plus degree temperatures for Philadelphia through the end of next week; New York could experience a seven-day streak of such readings, "the longest such streak they've had since 2013," Samuel of AccuWeather said.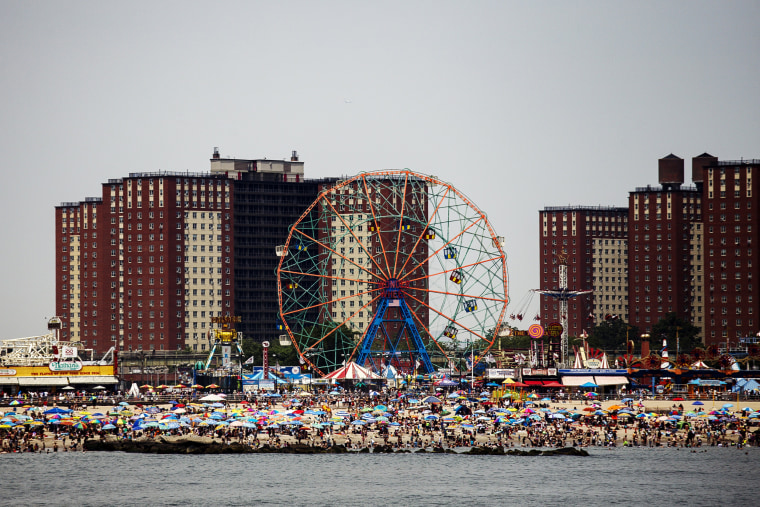 Sunday will be the worst: New York was forecast to reach 98 degrees but it could feel like 107; and Philadelphia was predicted to reach 100 degrees, forecasters said. By the 4th of July temps will be down to 90 in New York and 93 in Philadelphia, Samuel said. Chicago will drop to the low 90s, but heat indices will remain near 100, Izzi said.
Temps along the Eastern Seaboard could back off by next weekend, when rain was possible for the corridor, he said.
Los Angeles, under the influence of a cool Pacific Ocean, is expected to reach only 78 on Independence Day, but the pain will come eventually, according to the National Weather Service.
The same high pressure bubble making life miserable in the Midwest is moving over the Four Corners region, just in time to bake the Southwest, Las Vegas and Southern California next weekend, said Stuart Seto, a meteorologist with the National Weather Service in Oxnard, California.
By July 7, Las Vegas could see temperatures soar to a high of 112, he said.
Samuel said the size and intensity of the high pressure system is unusual, even for this time of year. "It usually doesn't affect that much of the country at the same time," he said.