PARIS — France was sweltering through the hottest day on record Friday as the U.S. women's national team prepared for a blockbuster clash with World Cup hosts France.
Temperatures in the southern Gard region hit 114 degrees Fahrenheit at 4 p.m. (10 a.m. ET), the country's national meteorological service said. Hours earlier, temperatures in Conqueyrac broke the previous record when they reached 111.
The French national weather service also activated its highest-level heat danger alert for the first time, putting four regions around Marseille and Montpellier in the south of the country under special watch Friday.
Paris, where the USWNT was playing its do-or-die quarter final match, withstood lower but still sweltering temperatures of around 90 degrees.
Across the country, about 4,000 schools closed because they couldn't ensure safe conditions, and local authorities canceled many end-of-school-year carnivals.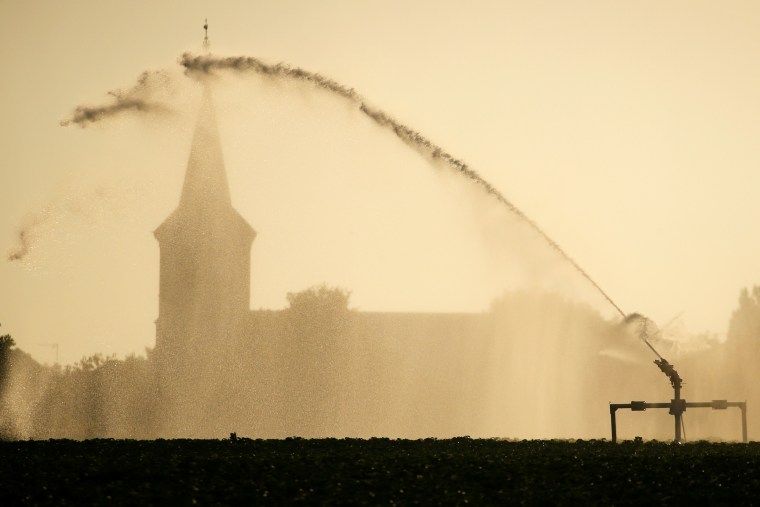 To cope with the extreme heat, schools that stayed open were dousing kids with water and nursing homes were equipping the elderly with hydration sensors.
Volunteers have fanned out across the city to deliver food and water to homeless people, many of whom are refugees. For them, the heat wave could be deadly.
Moussa Kora, 27, who lives in a tent underneath a train overpass with his wife and infant son, arrived in the country six months ago after violence flared in his home country of Cameroon, where Kora said his parents were shot and killed in front of him.
Now in his makeshift home — one of more than a dozen tents just blocks away from the River Seine — he no longer fears shootings but life amid sky-high temperatures isn't much easier.
"With my son, it's no good to sleep here. It's so hot," he said, adding that he can't work in France because he doesn't have proper documentation — even though he is trained in marketing and telecommunications.
Tom Wilscam, executive director of Serve the City, a nonprofit that supports homeless, refugee and vulnerable populations, gave Kora sandwiches and water.
With extreme weather becoming more frequent, "the answer is not finding something to do about the heat waves," Wilscam said. "The answer is trying to find ways to get people off the streets."
Several people have died around the continent in incidents that authorities are linking to the extreme weather. A major wildfire raged Friday in Spain, sparked when a pile of chicken dung spontaneously combusted in the heat.
"It's overwhelming," said Cathy Taylor, 60, visiting Paris from Seattle for a wedding this weekend. "By late afternoon, I feel like I'm going to wilt and just fall over and die."
Taylor found reprieve by taking a canal cruise that ended in a breezy spot in the northeast end of the city.
Cruise guide Felix Lacreuse said the heat wave is unusual for this time of year. "Normally it's August we have one week like this. It's really worrying about the climate, the environment," he said.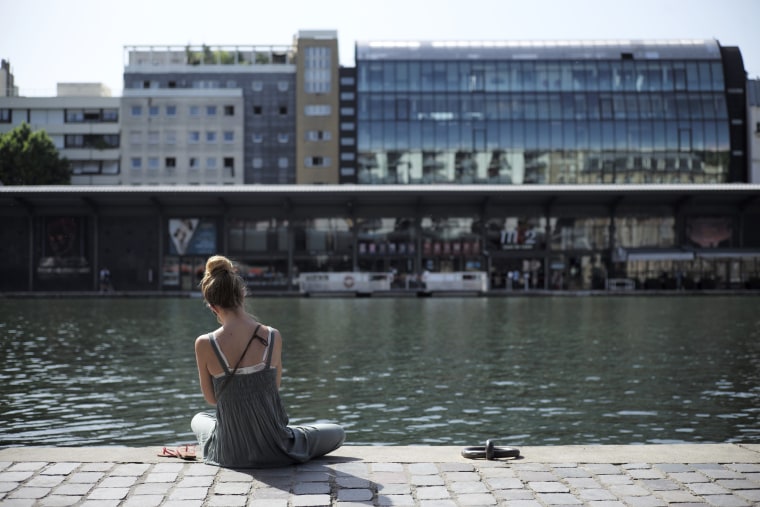 People across the city looked for places to get away from the heat.
Tariq Drewniak, 21, and his mother, Aicha Brahmi, headed into a matinee showing of the latest "Toy Story" movie to take advantage of the cool theater.
"We have just one fan for five people, in just one room," Drewniak said of their apartment. If the hot weather continues, he added he'll be back at the movie theater again tomorrow.
But the heat hasn't deterred some die-hard women's World Cup soccer fans.
Soccer fan group American Outlaws organized a party ahead of the U.S. versus France game Friday afternoon, drawing dozens of flag-toting spectators sporting team jerseys.
"We were hoping for a bit colder weather, but we are well adapted to it," Bradley Becker of Houston said.
The extreme temperatures could give the American team a slight advantage, American Outlaws co-founder Justin Brunken said.
"There's been heat waves in L.A. when they've played, or in Kansas City, and so I think they're going to be fine," he said.
Some have criticized officials for going overboard with their preparations for the hot weather, but Prime Minister Edouard Philippe defended the efforts after 15,000 people died in a heat wave in 2003 that woke France up to the risks.
"This heat wave is exceptional by its intensity and its earliness," he said, according to The Associated Press.
"Measures have been taken for the most vulnerable people," he said. "But given the intensity of the heat wave, it's the entire population who must be careful today ... both for oneself and for loved ones and neighbors."