A body was identified Wednesday as one of the eight people swept away when their vacation home in Central Texas was lost amid raging floodwaters over the Memorial Day weekend.
The discovery of 43-year-old Michelle Carey-Charba came as her family told NBC News that they were still holding out hope for the safe recovery of all of the missing who had been inside the home.
A ninth person — family friend Jonathan McComb — was found alive Sunday after being carried several miles away from where the house once stood in the small tourist town of Wimberley. He was being treated in the hospital for a collapsed lung, a broken sternum and broken ribs, his family said.
McComb's wife, Laura, and their two children, Andrew, 6, and Leighton, 4, were also in the home and are still missing, along with Carey-Charba's husband, Randy Charba, their 6-year-old son, Will, and her parents, Ralph and Sue Carey.
Searchers made another grim discovery Wednesday when thebody of a boy was found in the Blanco River in Hays County, the city of San Marcos said in a statement that evening.
The child's age and identity have not been determined, and it is unknown whether he is on a list of those known missing, or another victim not previously reported missing, the city said.
Laura McComb's sister, Julie Shields, on Tuesday said the last words she heard from her sibling were over the phone in a calm voice: "We are in a house that is now floating down the river. Call mom and dad. I love you. And pray."
Carey-Charba's brother-in-law, Alan Daniel, said Wednesday that the search isn't over. "We're not going to stop looking until we've found them."
Authorities said at least 23 people were killed and another 11 were missing after a series of storms pummeled Texas and Oklahoma, causing historic flooding in a region that had been crippled by severe drought.
The Careys own the home in Wimberley, where the Blanco River swelled 28 feet in an hour and a half. The McCombs are family friends, and they were all spending the Memorial Day weekend together.
"Our family friends live across the river, and they called and said the house is gone," Alan Daniel told NBC News. "That's when we knew something was wrong."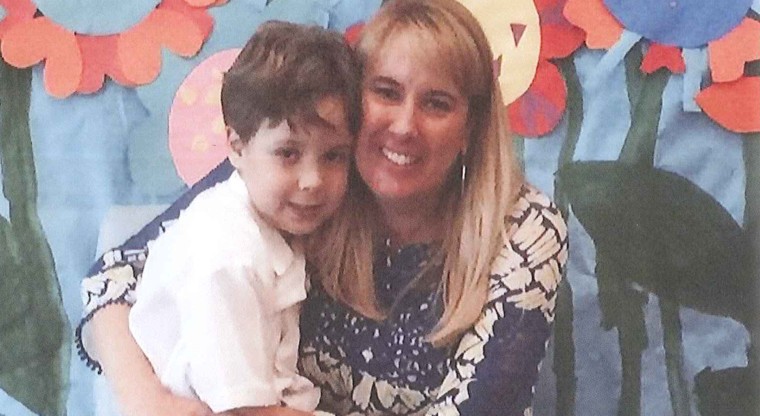 Many of the victims who died this week had gotten trapped in their vehicles as rising waters left them stranded, authorities said.
Two other victims recovered in Hays County in the aftermath of the flooding were identified Wednesday.
Jose Alvaro Arteaga-Pichardo, 29, was working on a ranch near Wimberley on Saturday when he was washed away in his SUV, authorities said. The body of Dayton Larry Thomas, 74, was found in San Marcos on Sunday. The identifications put the number of missing in Hays County at eight.
The effort to find the missing remained ongoing Wednesday.
"Right now, we are still in search mode," Kenneth Bell, the emergency management coordinator for San Marcos, near Wimberley, told reporters. More than 100 people were involved in the search effort, which continued as another line of storms struck southeastern Texas earlier in the day.
Receding floodwaters have exposed hundreds of waterlogged cars — and renewed hopes that other victims would be found.
Carey-Charba's sister, Cristen Daniel, was brought to her knees when she and her husband rushed to the family's A-frame vacation home over the weekend and saw it had been ripped from its foundation. The home was built on stilts in an area prone to flooding.
"We never thought it could knock down the house ever, ever," Cristen Daniel told NBC News earlier Wednesday.
She said that she and her husband were supposed to be at the home over the holiday weekend, but they put off the trip because of their child's dance recital.
Cristen Daniel described her sister as her best friend and a selfless woman who was involved in community organizations in her hometown of Corpus Christi, about three hours south of Wimberley.
Cristen and Alan Daniel also said they reached out to Jonathan McComb, who is still trying to come to grips with what happened, they said.
"Physically he's going to be okay. Emotionally, he's broken," Cristen Daniel said.
"We all encouraged him that he's not in this alone," Alan Daniel added, "and we're all going through this together."
Clayton Duncan, another family friend who had spent time at the Wimberley home, told NBC News that about 250 family, friends and members of the First Baptist Church in Wimberley volunteered to scour the Blanco riverbanks to find the other missing.
"We are working with private land owners along the river to gain access to their properties to conduct searches," he said.
Loved ones were trying to stay optimistic that everyone would be found. But the loss of the Carey-Charba house remains a painful reminder, Duncan said.
"This river house was sort of plastered door to door with pictures of the family spending time there," he said, adding, "It's truly a magical place that's no longer there."