A powerful nor'easter kicked up blinding blizzard conditions with high winds causing widespread power outages Saturday.
People from New York City to Maine awakened to half a foot of snow, while parts of Massachusetts, including Boston, were expected to experience up to 24 inches, the National Weather Service said in a bulletin.
"Expect whiteout conditions and nearly impossible travel at times," the bulletin said, adding that snow rates of up to 2 to 4 inches per hour are expected on the Mid-Atlantic and New England coast.
In New York's Nassau County, executive Bruce Blakeman told NBC New York that a snow plow operator found an elderly woman dead in her car overnight. Although her official cause of death had not been confirmed, he said she likely suffered a heart attack or another sudden health event.
"It's a sad situation, but it illustrates how dangerous it is, people should not be out unless it's absolutely necessary," he added.
Police in Southold Town on the northeastern tip of Long Island said in a statement Saturday a man who fell into an icy swimming pool as he shoveled snow was found unconscious by first responders and died at a hospital. The man's name was not immediately released.
In West Islip, Suffolk County officers resuscitated a 71-year-old man who collapsed while using a snow blower. The officers performed CPR and used an AED on the man twice to regain his pulse, police said. He was in critical but stable condition at a hospital Saturday night.
Gov. Kathy Hochul on Saturday reiterated the warning to stay indoors if possible.
"This is a very serious storm, very serious. … This could be life-threatening, and we want to make sure we took all the steps" she said during a press conference, adding, "People just need to hold on. Just a little bit longer."
Hochul said the state was supposed to be in "clean-up" mode but the storm lingered.
Central Park in New York City received 7 1/2 inches of snow by 1 p.m.
Suffolk County, which covers parts of Long Island, received between 10 and 22 inches by Saturday afternoon, according to the National Weather Service.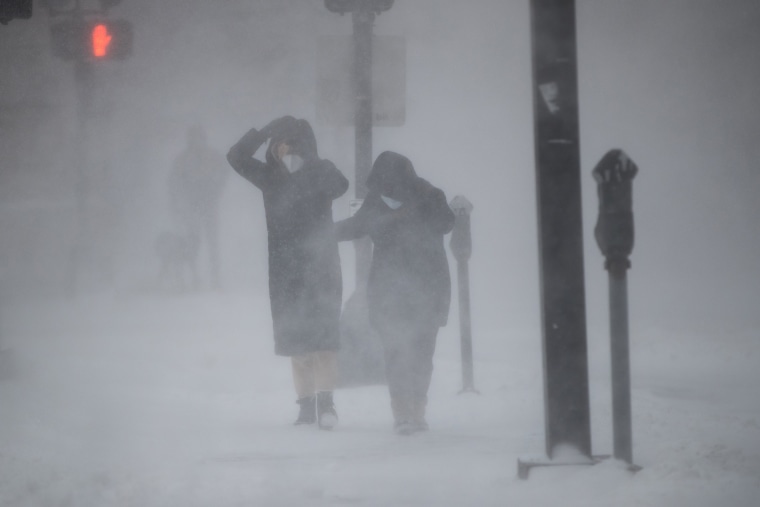 Over 96,000 customers in Massachusetts appeared to be without power Saturday afternoon, according to the online tracker PowerOutage.us. Scattered power outages are also expected across the coast.
The National Weather Service office that covers Boston said Saturday that several places experienced blizzard conditions.
Massachusetts has declared a state of emergency, along with Maryland, New Jersey, New York and Rhode Island, and residents have been warned to stay off the roads.
"I am implementing a travel ban for motor vehicles on the State's roadways from 8 AM — 8 PM and a travel ban for all tractor-trailers and motorcycles, except those carrying emergency supplies, 6 AM — 11:59 PM Saturday 1/29," Dan McKee, the governor of Rhode Island, said in a tweet Saturday.
McKee later extended the travel ban for motor vehicles to midnight. "This is not only for your safety but the safety of our plowers," he said during a news conference. "So please, stay off the roads tonight."
In Virginia, where a blizzard this month stranded hundreds of motorists for hours on Interstate 95, authorities did not hesitate to get resources at the ready, while in Maryland, Gov. Larry Hogan mobilized the National Guard.
Airlines canceled more than 4,500 flights at some of the nation's busiest airports, according to FlightAware, while Amtrak suspended or limited service on the Boston-to-Washington corridor.
New York officials said Saturday that more than 76 percent of flights were canceled at John F. Kennedy International Airport and more than 98 percent at LaGuardia Airport. Newark Airport in New Jersey canceled more than 85 percent of flights.
In West Hartford, Connecticut, a tractor-trailer jackknifed on snow-slicked Interstate 84, closing several westbound lanes.
The blizzard is predicted to be one of the worst snow storms to hit the region in four years.
Download the NBC News app for breaking news and politics
The snow is expected to move off the Maine coast by Sunday, but the National Weather Service warned "very cold weather" followed by "dangerous chills" will follow the storms.
Parts of Maine could see a foot of snow by tomorrow morning, federal forecasters said.
"Blizzard conditions are expected to remain possible into early Sunday morning from eastern Massachusetts to eastern Maine, with wind gusts potentially leading to scattered power outages," the National Weather Service said in a public forecast discussion Saturday.
More than 68 million people have been placed under winter weather alerts of varying degrees early Saturday morning. Around 10 million were placed under blizzard warnings.
Shoppers were seen stocking up on food supplies and power generators on Friday, according to The Associated Press.
If there is a light at the end of the tunnel, it's a forecast of high pressure heading into the northeast, with warmer temperatures and a "drastically" improving outlook ahead, the weather service said.