Utility crews in Southern California continued Saturday to try and restore power to tens of thousands of people after a major rainstorm drenched the region, flooding freeways and contributing to five deaths.
More than 50,000 customers in the Los Angeles area remained without power as of Saturday evening, utilities reported.
The Los Angeles Department of Water and Power said around 44,700 of its customers were still without electricity, and Southern California Edison said that as of 6:30 p.m. crews were working to restore power to 6,100 — down from around 67,000 Friday night.
"Crews are working around the clock to restore power and make repairs," Jim Cherrie, Southern California Edison's director of Grid Operations said in a statement.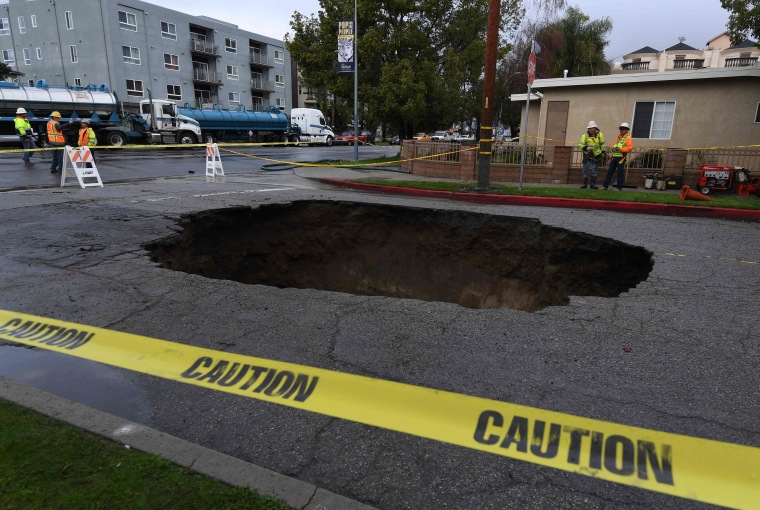 But strong winds were still forecast for Southern California through Saturday night, according to the National Weather Service, which warned of dangerous maritime conditions through Sunday. Toppled trees are the most frequent causes of power outages, the utility said.
The rain was blamed in at least five deaths in Southern California. Some freeways in Los Angeles were flooded, causing a massive traffic backup in the Sun Valley neighborhood of Los Angeles Friday. In San Bernardino County, a fire truck tumbled off a collapsing stretch of I-15 and two cars fell into a sinkhole that opened up in Studio City. No one was hurt in those incidents.
A 55-year-old man in Los Angeles died Friday after being electrocuted by power lines brought down by a tree and on to his car; a driver was found dead in a submerged vehicle during flooding in San Bernardino County Friday; and on Saturday authorities in Ventura County found the body of a man in his 20s who was swept away in a rain-swollen gulley the day before, authorities said.
PHOTOS: Powerful California Storms Leave Thousands Without Power
In the San Diego area two people were killed in two separate crashes in which heavy rains are considered to have played a role, law enforcement agencies said.
The storm dumped 2.77 inches at Long Beach airport, and more than 4 inches of rain fell at Santa Barbara's airport, causing runway flooding that led to it being closed. Daily rainfall records were broken there as well as in Sandberg and Lancaster and Santa Maria airport, the weather service said. In downtown Los Angeles, 2.05 inches of rain fell as of 5:40 a.m. Saturday.