Four people — including a 2-year-old boy — were killed when apparent tornadoes touched down Wednesday in Virginia as a storm system that has killed at least four other people barreled toward the East Coast.
Virginia State Police said the boy and two men, ages 50 and 26, were killed when a reported funnel cloud hit the town of Waverly, 40 miles southeast of Richmond, at about 2:40 p.m. Their names weren't made available.
At about 10:30 p.m., state police said the body of a man who'd been missing since a funnel cloud destroyed his home was found in the Evergreen community of Appomattox County. The funnel cloud cut an 8- to 10-mile path of destruction through the area injuring seven other people, two of them seriously, state police said.
The storm system was also blamed for a death in Darlington County, South Carolina, where a tree fell on Michael James Sr., the county coroner told NBC News.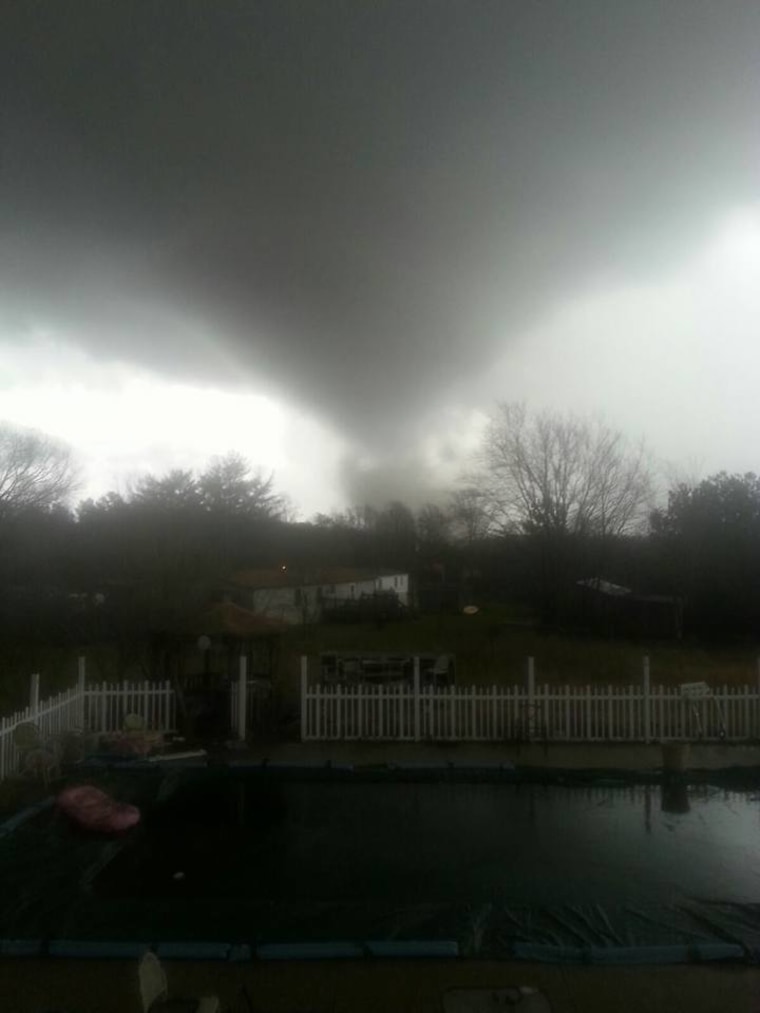 The severe weather is part of the same system that spawned about 30 tornadoes Tuesday, the National Weather Service said. The twisters tore through the South, killing three people Tuesday. By early Wednesday evening, more than 220,000 customers were still without power from Louisiana to Florida north to Virginia.
Crews were working to rescue several people trapped in storm wreckage Wednesday night in Tappahannock, Virginia, 40 miles southwest of Richmond, NBC station WWBT reported. State police said more than 20 people were being treated at Riverside Tappahannock Hospital.
While tornado watches were in effect across parts of Florida and Georgia overnight, damaging high winds were possible all the way from the Gulf Coast up to parts of the Northeast.
On of Tuesday's twisters smashed into an apartment complex in Pensacola, Florida, about 8:15 p.m. ET.
"It's just a war zone," city resident Shawn Brown, 34, said. "There's just bits and pieces of things all over. Trees are shredded. Cars are tossed everywhere. It's just bad.
"There's lots of trees down," Brown said. "Lots of cars flipped, and there are a couple of houses that are completely flattened."
Brown, the father of two, added: "We're alive, and that's all that matters."
At least 24 units at the Moorings apartment complex were left uninhabitable, but remarkably there were no serious injuries, Escambia County fire Capt. Craig Ammons said.
Robbie Harvey, who went to search the apartment block, said he was "surprised nobody is dead."
"We just got done searching a house, and the only thing standing is a front wall," Harvey added.
PHOTOS: Deadly Tornado Ravages RV Park
Tiffany Hudson, who lives in the complex, said: "We knew there was a storm coming, but we didn't know it would be this bad. So the lights started flickering. I guess it just bounced right over us and hit the buildings next to us."
Two people were killed earlier Tuesday as a tornado touched down near the Sugar Hill RV Park, northwest of Convent, Louisiana. At least 30 people were treated at hospitals, seven of them in critical condition, said Brandon Keller, a spokesman for the St. James Parish Sheriff's Office.
Another person was killed Tuesday in Lamar County, Mississippi, county Coroner Cody Creel told NBC News, identifying the man as Harris Dale Purvis, 73. The National Weather Service said radar indicated a possible tornado at the scene, where a mobile home was destroyed.
Dozens of schools in the Chicago area and northwest Indiana were closed Wednesday, while all of the St. Louis public school system shut down because of the weather.