A deadly storm system swept across Missouri on Wednesday, killing at least three people in the southwestern part of the state and causing extensive damage and injuring multiple people in the capital city.
The capital, Jefferson City, took a direct hit from a tornado shortly before midnight, marking the 7th straight day of tornadoes around the United States.
At least 20 people were injured in Cole County, where the city of 43,000 lies, and there are also reports of people trapped after the twister hit, authorities said at a news conference early Thursday.
"At this time, we are still trying to determine exactly how much damage we have," Jefferson City Police Lt. David Williams said. "We are still working very hard to identify any injured people and any places that we need to put more additional personnel."
Gov. Mike Parson said of the deaths in the southwestern part of the state near Joplin, "We are very thankful we didn't have any more fatalities than we did, but three is too many."
The National Weather Service issued a tornado warning for the Jefferson City area shortly after 11 p.m. and upgraded that to an emergency at 11:43 p.m. The tornado hit shortly after that, said Jim Sieveking, science and operations officer for the weather service's St. Louis office.
"Violent tornado confirmed — shelter now!" the weather service tweeted.
The twister hit as the capital city area on Wednesday was bracing for a flood, with sections in the north ordered to evacuate.
The Missouri Department of Public Safety tweeted that extensive damage had been reported in some areas of the city, including downed power lines. It said that first responders were going door to door.
Some government buildings were damaged, including the Department of Labor which had roof damage, the Department of Public Safety said.
While there were no initial reports that homes or other buildings had collapsed, trees were down and roofs and other property had been damaged, Williams, the police spokesman, said.
"Materials are all over the roadway" he said. "There are power lines down all over this affected area."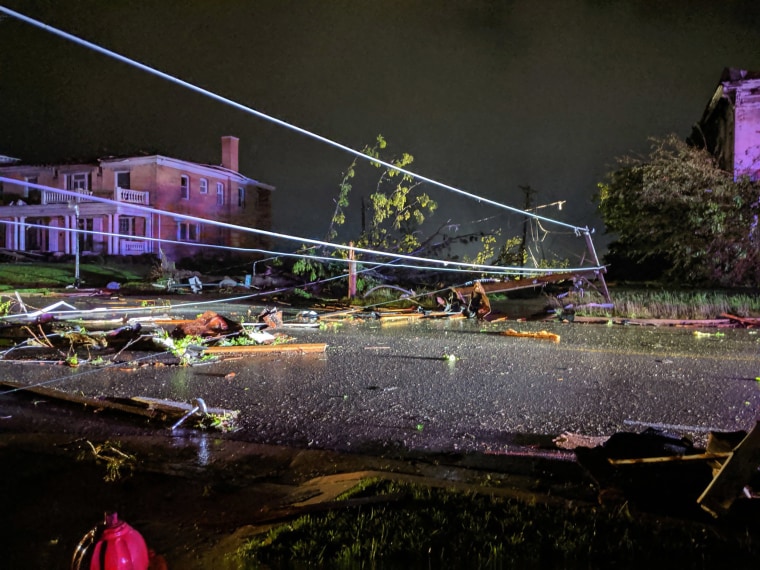 All firefighters were called in to assist, the Jefferson City Fire Department said on Facebook. "Please Pray for our Citizens," the department wrote.
City officials requested the assistance of the Federal Emergency Management Agency, NBC affiliate KOMU of Columbia reported. It reported that Missouri Task Force 1 had joined search-and-rescue efforts.
"Honestly, I just pray that no one was injured," one woman told KOMU, adding that people lost their homes. "It's devastating," she told the station. "You lose everything you have."
Earlier Wednesday night, the three deaths were confirmed after a suspected tornado in Golden City in Barton County, Department of Public Safety spokesperson Mike O'Connell said. Golden City is around 40 miles northeast of Joplin.
Several injuries were also reported in Carl Junction, about 10 miles north of Joplin, he said.
The damage there came after a large and destructive tornado was spotted north of Joplin, which eight years ago Wednesday was devastated by a twister that killed 158 people.
Doug Cramer, NWS meteorologist in Springfield, said that while that tornado was close to the city, "we do not believe there is any tornado damage in Joplin."
The tornadoes in Missouri hit as parts of the Plains have been battered for days by severe weather including flooding and twisters. The storms and their aftermath had previously been blamed in at least two deaths.
In Oklahoma, the entire community of Webbers Falls, population around 600, was asked to evacuate Tuesday over fears that the Arkansas River could flood, and on Wednesday the town sent an urgent message for residents to leave after barges broke loose and threatened to hit a dam.
"Historic and life-threatening flooding is now occurring on the Arkansas River," an alert on behalf of Muskogee County emergency management Wednesday night read. "Significant flooding in the town of Webbers Falls is imminent."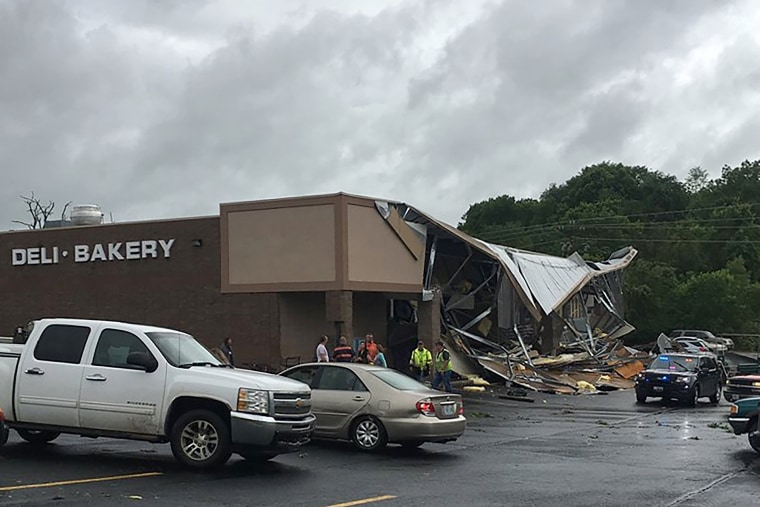 A woman in Payne County, Oklahoma, died Tuesday after she apparently drove around a high-water sign. Her vehicle was swept off the road and became submerged in around 10 feet of water, the state highway patrol said in an incident report.
In Iowa early Wednesday, one person was killed and another was injured after a tornado touched down in the Adair area, which is west of Des Moines, NBC affiliate WHO-TV of Des Moines reported.
Severe thunderstorms, with the possibility of strong tornadoes and very large hail, were expected to continue across central parts of the U.S. through early Thursday, the weather service said. On Friday, 17 million people from Chicago to Texas are projected to be at risk of strong winds and even more tornadoes.