Alabama was on alert Saturday for more extreme flooding, a day after a tornado touched down in Birmingham and left a two-square-mile swath of destruction.
Heavy rains and flooding continue to hammer the state — along with much of the Southeast — in a deluge of downpours since Wednesday.
The severe weather has killed at least 18 people, destroyed homes, and broken records for rainfall. But the threat wasn't over: Residents in northern Alabama were in for moderate to severe flooding Saturday, according to the National Weather Service.
The death toll increased from 15 to 18 Saturday after Mississippi authorities announced two people missing in Benton County were confirmed dead, and after the coroner in Coffee County, Alabama, told NBC affiliate WSFA that the body of a 5-year-old in a car that was swept away in floodwaters Friday was recovered. A 22-year-old man also in the car is missing.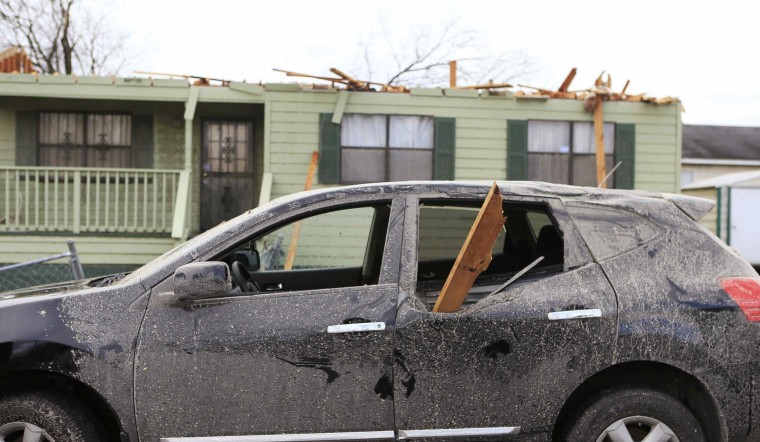 Major flooding was forecast for Big Nance Creek, which runs through the town of Courtland. The creek isn't expected to fall below flood stage until Monday.
And a flood warning remained in effect for the Coosa River, which was threatening the city of Gadsen.
Meanwhile, in the tiny town of Elba in southern Alabama, volunteers distributed sandbags around the Pea River, projected to crest Saturday at 43 feet — a foot below the levees surrounding it. A volunteer evacuation order was issued.
Alabama Gov. Robert Bentley toured Elba Saturday and met with families whose homes had flooded. Two people are missing in the floodwaters, he said.
The governor, who on Thursday declared a state of emergency for Alabama, said 190 roads were closed throughout the state Saturday, impacting every county. He planned to tour other affected areas later in the day.
Meanwhile, Jefferson County was recovering from the twister that touched down at around 5 p.m. CT (6 p.m. ET) Friday.
Four people had been transported to local hospitals with minor injuries, said Jefferson County Emergency Management Agency Director Jim Coker.
Birmingham's city government said earlier that several structures had been destroyed and that first responders were working to rescue people from the debris. Friday's twister had a preliminary rating of EF-2, with winds of up to 130 mph, according to the National Weather Service.
Severe flooding also hit much of the city, with crews using boats to rescue people from submerged cars.
The city government posted a picture of Mayor William Bell directing traffic on a flooded road as rescuers worked to retrieve people.
One woman whose home was damaged told NBC affiliate WVTM that she grabbed her son and said "let's go" as the storm hit.
"When they tell you take cover, take cover," she said. "That wind ... just broke out the front window, back window, tore the whole wall down in the back."
Utility company Alabama Power said 10,000 customers were without electricity in Birmingham and west of the city as of Friday night because of the storms. By Saturday, crews had restored power to all but 1,600 customers, the company said.
Also on Christmas Day, a tornado touched down outside Pineville, Mississippi, damaging a chicken house.
In total, there were around 25 tornadoes during the southern storm system that started Wednesday: Approximately 20 on Wednesday, one on Thursday, and three on Friday, Greg Carbin, the warning coordination meteorologist for the National Weather Service Storm Prediction Center, told NBC News.
The first tornado was an EF-1 and struck in Van Buren County, Arkansas, at 8:20 a.m. local time on Wednesday. The bulk of the storms occurred later in the afternoon in Mississippi, including an EF-3 tornado that formed around 3 p.m. ET in northern Mississippi, and moved along a 145-mile track into southern Tennessee.