At least one person is dead and 12 injured after a severe storm system including tornadoes hit the Dayton, Ohio, area late Monday night, authorities said.
About 68,000 households and businesses in the state were without power Tuesday morning.
Mayor Jeffrey Hazel of Celina, Ohio, about 80 miles north of Dayton, said in a news conference Tuesday that Melvin Delhanna, 81, died when the storm pushed a vehicle into his home.
Mercer County Emergency Management Director Mike Robbins told NBC affiliate WDTN that at least 12 people were injured in the wake of the storms and extensive damage. The Ohio Department of Transportation used snow plows to remove debris off Interstate 75.
"We probably have more than a handful of tornadoes that we need to look at on the ground throughout the region, maybe even more," said John Franks, a meteorologist with the National Weather Service in Wilmington, Ohio.
The weather service issued 36 tornado warnings overnight Monday across the region, he added.
The National Weather Service confirmed a "large and dangerous" tornado on the ground near the Dayton suburb of Trotwood in Montgomery County just after 11 p.m.
Dayton resident Tenley Taghi told NBC News the tornado left her street in ruins, adding that she didn't hear any warning sirens.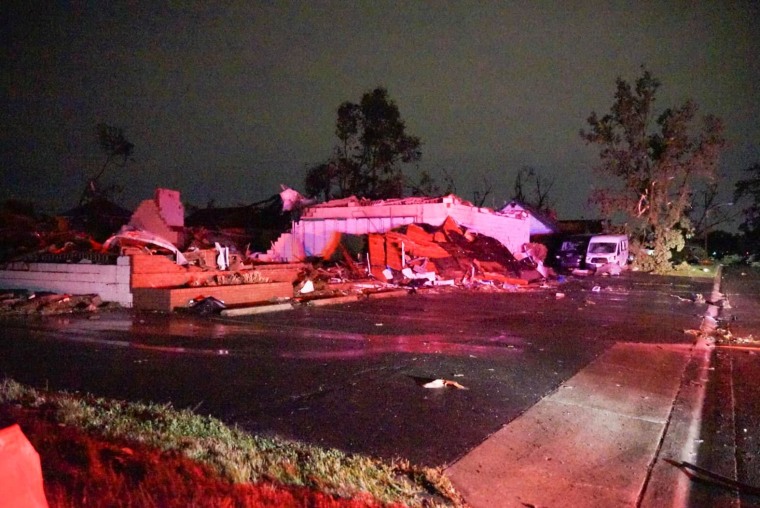 "I saw the clouds spin backwards and the trees began to sway uncontrollably and we took shelter," she said. "I was standing on the porch that is no longer standing."
Scott Ritz, a pastor at Northright Wesleyan Church in northern Dayton, told NBC News early Tuesday morning that there was "tremendous damage."
"My corner office is no longer there," Ritz said of his church building. "It's in the parking lot."
Trotwood Mayor Mary McDonald said on Facebook that power lines and trees were down across the city of 25,000 residents.
"It's like out of a movie," Trotwood resident Nathan Mann told NBC affiliate WDTN. "You can never prepare for something like this."
Four shelters offering food and water opened in Montgomery County overnight. One shelter lost power not long after opening and had to close.
Because of a power outage at water plants and pump stations, Dayton officials said in a news conference Tuesday morning that they are issuing a boil-water advisory.
In Mercer County, at least seven people were taken to hospitals for injuries sustained during the storm, according to officials. They did not detail the extent of the injuries.
WDTN reported that many trees were down and that numerous homes had been damaged in and near Celina, a town of 10,000 people in Mercer County that is around 72 miles northwest of Dayton.
"It looks in areas like a war zone. Some of the houses were completely moved off their foundations and gone," Mayor Hazel told WDTN.
Earlier, the National Weather Service said the power outages were affecting 5 million people across the state. Franks said that figure was based on the population of where those outages occurred.
However, website PowerOutage.us reported that around 68,000 households and businesses remained without electricity at 6:10 a.m.
The western Ohio storms mark 13 consecutive days of tornadoes in the U.S., with at least eight tornadoes a day. It's the longest stretch of daily tornadoes since 1980, Al Roker said on "Today," adding that 22 states have been hit by tornadoes in 2019.
The city of Dayton and Montgomery County asked residents early Tuesday to conserve water after losing power to water plants and pumping stations.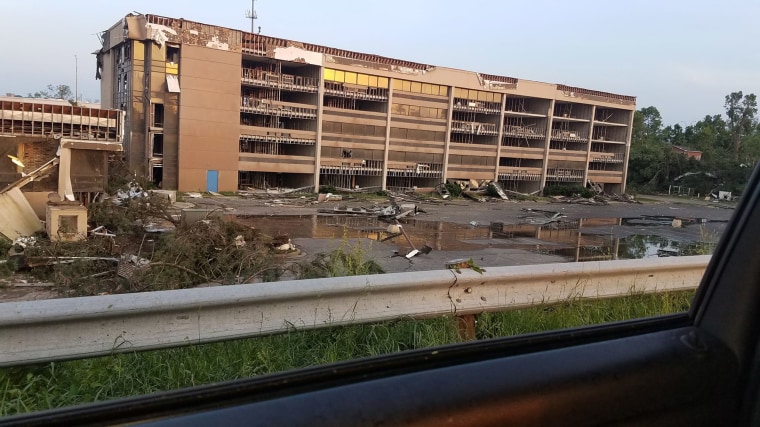 Beavercreek, a Dayton suburb, issued an emergency declaration. "Gas leaks and power outages are severe" in parts of the area, and crews were working to clear downed power lines, the police department wrote in a Facebook post.
Alex Cole, a Dayton resident, told NBC News he is "feeling thankful" to still have a roof on his house as many of his neighbors had their roofs torn off.
He said he wonders "what's next."
"How long is it going to take for everything to get rebuilt?" he asked.