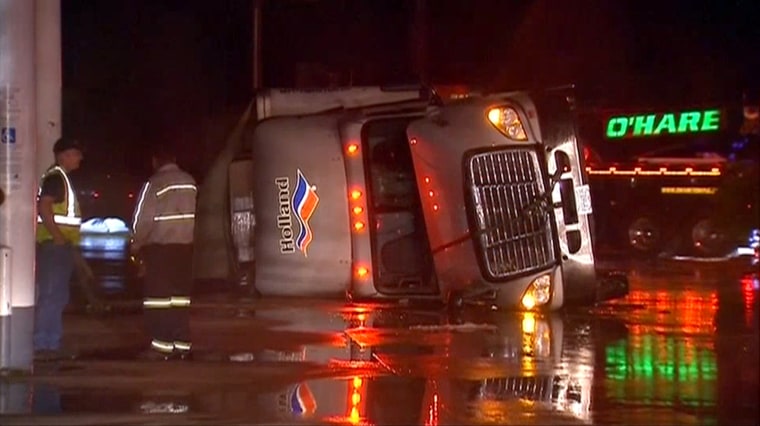 At least four tornadoes ripped through northern Illinois Wednesday night, including one packing winds of up to 125 mph and trapping a family inside their home, forecasters and officials said Thursday.
There were widespread reports of power outages and some building damage from the storms, although no immediate reports of deaths. The threat of severe weather moved eastward Thursday toward the mid-Atlantic, and storms were expected to hit the Washington, D.C., and Norfolk, Virginia, regions.
Parts of the Ohio Valley, including Louisville, Kentucky; Charleston, West Virginia; and Cincinnati were the most at risk of high wind gust and even severe tornadoes Thursday, The Weather Channel reported.
Four people were hurt when a tornado with an EF-2 rating tore through Pontiac, Illinois, about 100 miles southwest of Chicago, and cut an 11-mile path across town starting around 10:06 p.m. CT (11:06 p.m. ET), the National Weather Service said. Peak winds were clocked at between 115 and 125 mph.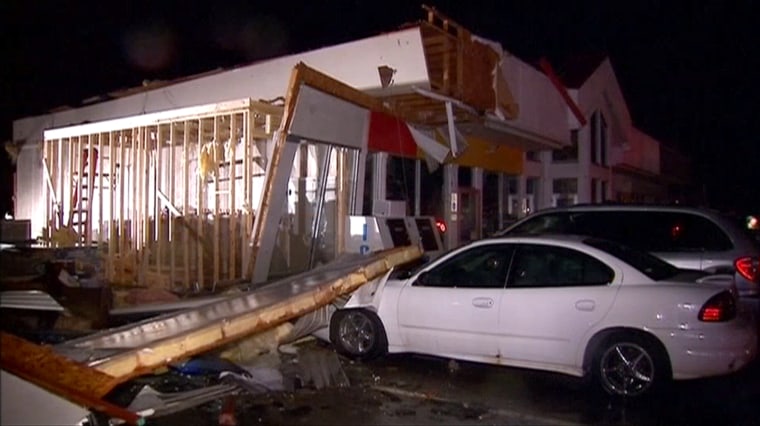 Two of the injuries came when two parents were trapped inside a home with their children, reported NBC Chicago. The parents suffered broken bones and bruises, but the children were unharmed, a fire official said.
Related: Tornado Spotted Near Chicago, as Midwest Braces for More Severe Weather
A mobile home park, a dozen homes and nine businesses, including a gas station, were damaged, Pontiac officials said.
Shell gas station manager Jenny Hamilton said two cashiers were inside when the tornado came rushing down a nearby highway. Patrons had to seek shelter in a bathroom.
"A lot of the girls were screaming and crying and they said it just hit really fast," Hamilton told NBC Chicago. "They said it was just like a train coming through."
At 10:49 p.m. local time, another twister was seen about 30 miles southeast in Chatsworth, and then at 10:55 p.m., a tornado was reported in nearby Piper City.
Earlier in the night, just after 8:30 p.m., a tornado was confirmed in Ottawa, about 90 miles southwest of Chicago, the NWS said. It had winds of up to 90 mph.
The storms wreaked havoc on flights at area airports, with more than 100 of them cancelled at Chicago's O'Hare International. Another 40 were scrubbed at Chicago Midway International, officials said.