A powerful storm system stretching from Texas to Minnesota brought flash flood warnings early Sunday after kicking up at least 29 damaging tornadoes overnight and pounding the region with baseball-sized hail.
Thousands of customers were without power but there were no immediate reports of any deaths or injuries.
Forecasters said the system was continuing its march eastward as radar showed storms across Iowa, Missouri and a large area of Texas. Twenty-seven of the tornadoes were a part of the large, violent weather system covering the Plains, according to the Weather Channel. Two others — one each in Louisiana and Wyoming — were unrelated.
Severe storms were likely Sunday for the Upper Midwest and mid-Mississippi Valley, including the possibility of isolated tornadoes.
Flash flood warnings were in effect in North Texas, where Johnson County officials responded to 14 high-water calls Sunday morning. Ten people and five dogs were rescued, and the remaining people were safe, said Jamie Moore, the director of Johnson County Emergency Management.
Dallas-Fort Worth International Airport has been pounded with nearly 21 inches of rain this year, which is 6 inches above average, according to NBC Dallas-Fort Worth.
Tornadoes touched down Saturday in southwestern Oklahoma near the towns of Elmer and Tipton, said National Weather Service forecaster Daryl Williams. He said another tornado touched down briefly near Elk City along Interstate 40, and there were several other possible tornadoes. The severe weather damaged homes, and downed power lines and entire barns across the Plains states.
Thirty-four cars of a cargo train derailed and toppled over in Lyon County, Kansas, after stopping because of the severe weather, Sheriff's Deputy Jacob Welsh said.
And weather interrupted a high school prom in Tecumseh, Oklahoma, where students were forced off the dance floor and into hallways because of a possible tornado.
Nineteen tornadoes were reported as of 10:00 p.m. CT, the Weather Channel reported, including six in Oklahoma, six in Minnesota, five in Texas, and one each in Kansas, Nebraska and Wyoming.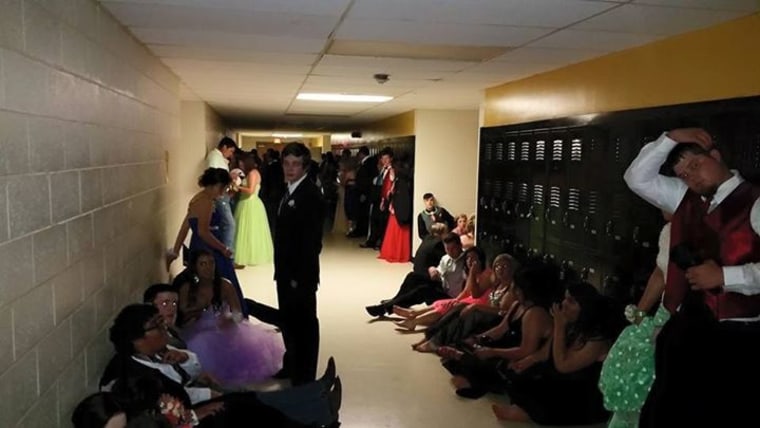 Bill Bunting, chief of operations for the National Weather Service Storm Prediction Center in Norman, said early Sunday that flash floods remained a concern in some areas in the wake of previous storms. He said damaging straight-line winds up to 60 mph were also a feature of the system in some areas.
"We are seeing pockets of damaging winds from Missouri south to northeast Oklahoma," Bunting said by phone early Sunday.
In Oklahoma, Department of Emergency Management spokeswoman Keli Cain said damage was reported in western Oklahoma and more than 3,000 power outages were reported statewide at one point on Saturday. She said power polls fell and roofs were damaged.
"This is just still very, very preliminary, but we're hearing a lot of damage to power lines, outbuildings. We've also heard reports of damage to homes and businesses, primarily in Major County and Roger Mills County," Cain said.
She said an emergency manager in the Tulsa area reported a tornado there touched down northeast of that big city shortly before midnight but it and associated storms then moved off into nearby Missouri.
"We haven't had any reports of damage" from that tornado early Sunday, Cain said by phone. "Of course, it was almost midnight and very dark so we might hear of damage" later Sunday.
Cain warned a risk of isolated flooding remained Sunday.
"We've gotten a lot of rain in a short time. The ground is saturated, so every time we get another big soaking, the rain causes more flash flooding," Cain said.
SOCIAL
- The Associated Press contributed to this report.