Tornadoes were reported from Texas to Illinois late Thursday with the region also battered by high winds and baseball-sized hail.
Meteorologists received eight reports of twisters touching down during a three-hour period, according to the National Weather Service.
Hundreds of buildings were damaged and least four people were injured, The Weather Channel reported.
"What was supposed to be a tornado outbreak turned out to be not quite an outbreak, but there were still a few reported tornadoes," said Matt Crowther, senior meteorologist at The Weather Channel. "There have been eight reports but there could have been more than that."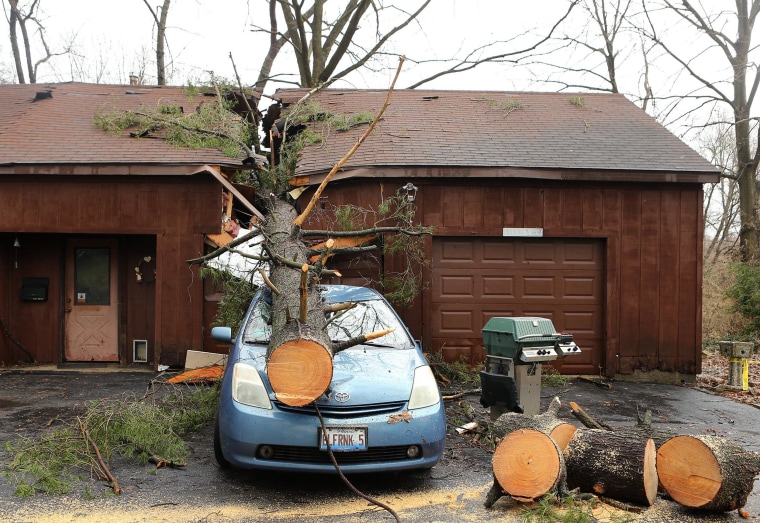 Four of the twisters hit northeast Texas between 6 p.m. and 10 p.m. local time Thursday. The last of these reportedly took a barn off its foundation and tore down several trees about five miles northwest of Mount Vernon. Three twisters reportedly hit in Missouri and another was suspected in the southern tip of Illinois.
Earlier Thursday, there was a pre-dawn EF-1 tornado in a neighborhood of St Louis, Mo., which damaged around 100 homes but left no injuries, according to The Associated Press.
The hail storm hit a swath of the central U.S. including Texas, Oklahoma, Missouri, Kentucky, Tennessee, Arkansas, and Kansas.
There were also high winds, including gusts of 80 mph near Denton, Texas. These were expected to continue throughout Friday but the tornado threat was "very low," Crowther said.
The Associated Press contributed to this report.
- Alexander Smith