The Pacific Northwest was bracing for more dangerous weather Saturday, a day after storms slammed the region and touched off two tornadoes.
Forecasters warned residents from Northern California to British Columbia to prepare for the second blast powered by the remnants of a Pacific typhoon. What could be one of the top 10 strongest windstorms
ever recorded in the region was set to bring blinding rain, floods and huge waves.
The National Weather Service issued a high wind warning for the Greater Portland area from Saturday at 11 a.m. Saturday until 12 a.m. Sunday (2 p.m. Saturday to 3 a.m. Sunday ET).
The National Weather Service in Portland, Oregon, urged people to stay off roads as multiple streets in the city were flooded and impassable after heavy rains hit the area.
In the middle of the storm, the Coast Guard rescued 40 children and 6 adults by boat after they became stranded at a camp after trees fell and blocked a road, authorities said.
A 4-year-old boy and his father in Seattle were injured by a falling tree branch. The Seattle Fire Department said the child suffered serious injuries and the father minor injuries on Friday night.
The first tornado struck Manzanita, a small town along the northwest Oregon coast, after a water spout came ashore at around 8:25 a.m. local time (11:25 a.m. ET) Friday, with winds that topped 130 mph, the National Weather Service said.
Between 25 and 30 homes were damaged, an emergency management official told NBC affiliate KGW, but there were no reports of injuries.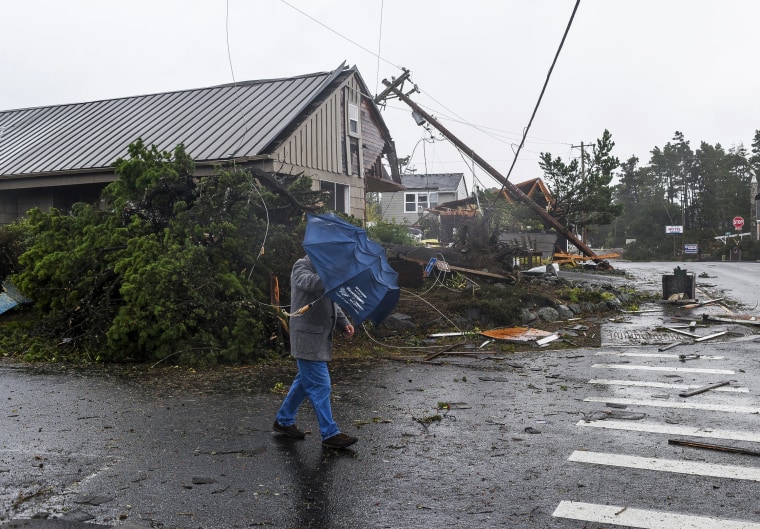 The tornado "took out trees and power lines. It shattered windows and ripped air conditioners. It was a precise hit and caused damage," Michael O'Loughlin, who has a weekend home in the town, said. Manzanita Mayor Garry Bullard declared a state of emergency.
A second tornado — again a waterspout that came ashore — was briefly on land in nearby Oceanside, the weather service said.
It was already a storm for the record books. The National Weather Service in Portland had never issued more than three tornado warnings in a single day. On Friday it issued ten.
Utility workers rushed to restore power to residents as crews capitalized on a lull in the storm that first struck Thursday night. Heavy gusts are expected to gather steam Saturday evening as the storm winds sweep north into Washington state.
More than 8,071 customers remained without power in the Seattle as of 6 a.m. ET, Puget Sound Energy said on its website. Seattle City Light reported that around about 100 people were still without power.
Meteorologist anticipate that the storm will surge on through Saturday, walloping west of the Cascades with gusts that could reach as great as 100 mph.