At least five people were killed as heavy rains caused severe flooding and as many as five tornadoes ripped across Texas and Louisiana on Wednesday and Thursday, officials said.
Three tornadoes were reported in Louisiana and two were reported in Texas, according to the National Weather Service. Texas also saw widespread, heavy rain and flooding that led to the deaths of a mother and her two children.
In Ruston, Louisiana, a tornado killed a mother and son when a tree fell on their home, according to a statement from Louisiana's Office of Homeland Security and Emergency Preparedness.
Ruston Mayor Ronny Walker said uprooted trees "cut houses in half," The Associated Press reported. He called the damage "unbelievable" and said in a statement that half of the city was without power Thursday morning, warning people to stay off the roads.
Gov. John Bel Edwards traveled to the city Thursday to assess the damage.
Local public schools and Louisiana Tech University, which suffered "a significant amount of damage" were closed Thursday, according to school officials. No Louisiana Tech University students were injured.
Another tornado touched down in Converse, Louisiana, according to the NWS, which warned residents: "You are in a life-threatening situation. Flying debris may be deadly to those caught without shelter. Mobile homes will be destroyed. Considerable damage to homes, businesses, and vehicles is likely and complete destruction is possible."
A third tornado was reported 100 miles east in La Salle Parish, Louisiana.
And just over the Louisiana border, in San Augustine, Texas, another reported tornado left behind power and water outages and gas leaks, said Fire Chief Charles Sharp. He said some homes in the city were completely destroyed.
Mayor Leroy Hughes said the city suffered widespread destruction, but he hadn't heard reports that anyone had been injured. A tree fell on his own house while he and his wife were in bed, trapping them in their bedroom. He said it happened so quickly that he "didn't have time to be afraid."
The couple eventually found their way to a safe place to ride out the twister.
Four structures were also damaged in another tornado in Brazos County, Texas, according to the NWS.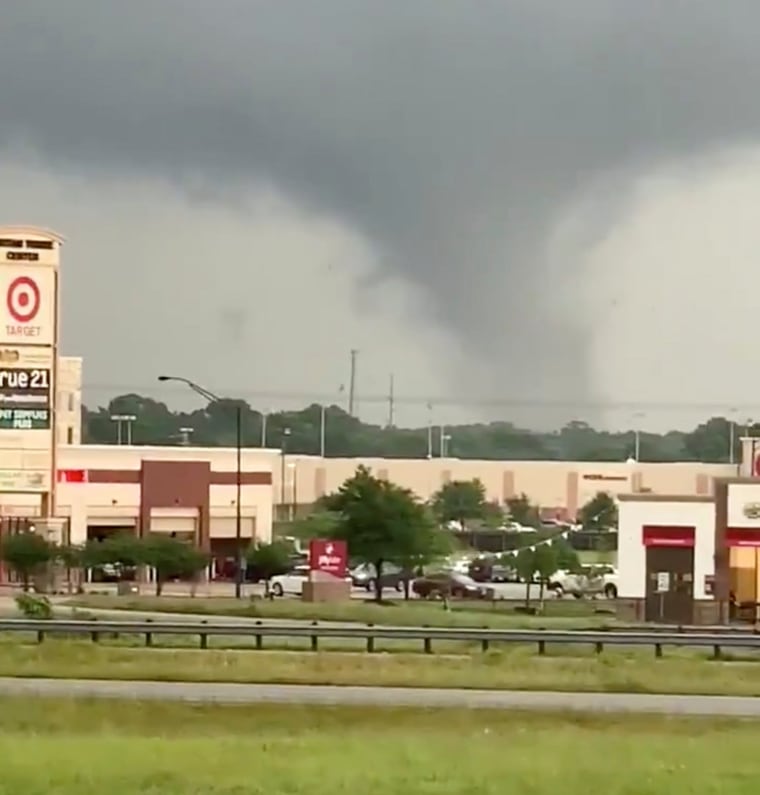 In Leander, just north of Austin, trees were downed fences were ripped out of the ground when a severe storm passed through.
"It looked like looking into a washing machine out the window," said resident Daniel Brown.
Most of Texas experienced heavy rain Wednesday.
A family's car was swept away in flood waters in Erath County, killing Monica Valdez, who was found inside the vehicle, and her two children, who were discovered in the water, according Erath County Sheriff Matt Coates. Valdez's husband and the father of the children, Gerardo Ramirez, was rescued and treated.
Meanwhile, tweets from the Waco Fire Department said crews had to use boats to rescue people from their flooded trailers. And cars parked in an underground parking garage at Dallas Love Field Airport were completely submerged.
The severe weather moved through Louisiana and Mississippi Thursday where tornado warnings would be in effect until late afternoon, according to the NWS. A possible tornado had caused damage in Kiln, Mississippi. Those areas could see winds gusting at 60 mph and 3-5 inches of rain.
issued for southern Alabama and part of the Florida panhandle through the evening as the long-track storm continued marching east.