Torrential downpours have pounded the Mid-Atlantic, with more than 7 inches of rain falling in one day on parts of North Carolina and Virginia, putting residents at risk of flash floods and dam failure.
More than 13 million people were under flash-flood watches Thursday, with rivers in Virginia, North Carolina, South Carolina, Michigan and Illinois at flood stage.
In Roanoke, Virginia, 13 homes were evacuated Thursday morning as heavy rains threatened the Spring Valley Dam, according to tweets from the city.
At least three vehicles got stuck in floodwaters overnight, according to the Roanoke Fire-EMS, which said all occupants were rescued. "Please be reminded that barricades are in place for a reason. They are there for yours and our protection," the department said.
The Roanoke River at Roanoke is expected to rise to 16.5 feet, above major flood stage, according to the National Weather Service. On Thursday at 9 a.m., it had risen above 15 feet.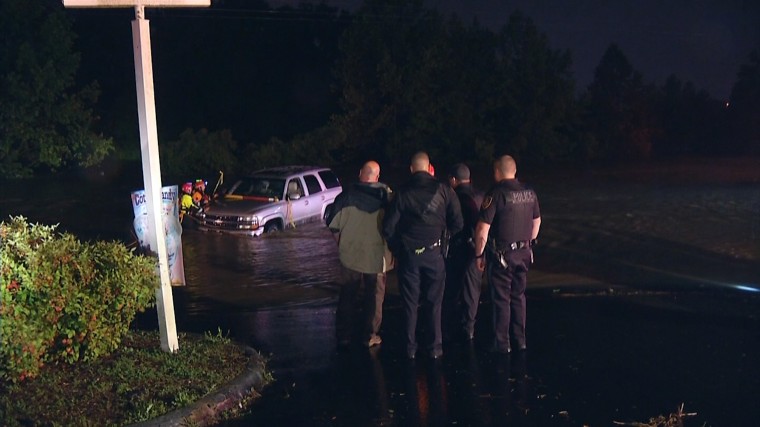 The weather service reported minor flooding or the potential for flooding along the Haw, Cape Fear, Deep, and Yadkin Rivers in central North Carolina.
Rain there and in neighboring states, including in South Carolina, could fall at the rate of 2 to 3 inches an hour throughout Thursday.
Meanwhile, in central Michigan, where 11,000 people were told to evacuate due to flooding on Tuesday and Wednesday, the Tittabawassee River crested Wednesday afternoon at a historic 35.05 feet, more than 10 feet above flood level and above a previous record set in 1986.
That level was under the predicted 38 feet and came three hours earlier than predicted on Wednesday, but destruction in Midland County caused by the failures of the Edenville and Sanford dams was "devastating" before the river crested, said Gov. Gretchen Whitmer. No injuries due to the floods were reported.
Late Wednesday, the governor requested a federal disaster declaration. President Donald Trump is expected to visit a Ford Plant manufacturing ventilators in the state on Thursday, as he and Whitmer spar over coronavirus responses, including federal funding for mail-in ballot voting and his encouragement of protests aimed governors' stay-at-home orders.
Both the Edenville and Sanford dams, which are privately owned, were rated high hazards in 2018, according to the National Inventory of Dam, and in 2018, the Federal Energy Regulatory Commission revoked the license of the company that operated the Edenville Dam.
Whitmer and Attorney General Dana Nessel announced Wednesday that they would look at what legal action might be available to help residents whose property wasdamaged by the floods.
"The initial readout is that this was a known problem for a while, and that's why it's important that we do our due diligence and then we take our action that's merited," Whitmer said.
The Edenville Dam has been under investigation. "What I know is that where there is culpability, we will pursue ... holding people accountable," Whitmer said Thursday.
The water level in central Michigan is going down, but forecast to remain above flood stage until Sunday. Last year was the wettest year on record for Michigan, and the entire Great Lakes region has seen a 42 percent increase in heavy precipitation events over the past 58 years.