Tropical depression Fred was attempting to reorganize after being shredded as it crossed the land masses of Haiti, the Dominican Republic and Cuba.
The storm system is expected to regain strength and could become a tropical storm again by Saturday night as it moves near Florida.
By 11 p.m. Friday, tropical storm warnings remained in place for part of the western Florida Keys, from the Seven Mile Bridge to the Dry Tortugas, but other watches for Florida's west coast were discontinued.
Florida Gov. Ron DeSantis on Friday issued a state of emergency for part of the state to allow for aid. It cites the potential for heavy rain, strong winds and flooding.
The tropical depression had maximum sustained winds of 35 mph and was around 150 miles south-southeast of Key West, Florida, late Friday, according to the National Hurricane Center.
Fred is expected to return to tropical storm strength as it turns north and parallels the western Florida coast, similar to the track of last month's Tropical Storm Elsa.
It could strengthen to a midlevel tropical storm — packing maximum sustained winds of 50 mph — before making landfall along the Florida Panhandle on Monday.
In Naples in southwest Florida, some were preparing for the storm. David Levesque was getting a threatening pine tree removed from near his home.
"The tree will be gone tonight, and I'll be happy," he told NBC affiliate WBBH. "Fred, come on by — I'll be ready for you."
There is a possibility for isolated tornadoes associated with Fred's tropical rain bands for parts of central and South Florida beginning Saturday morning.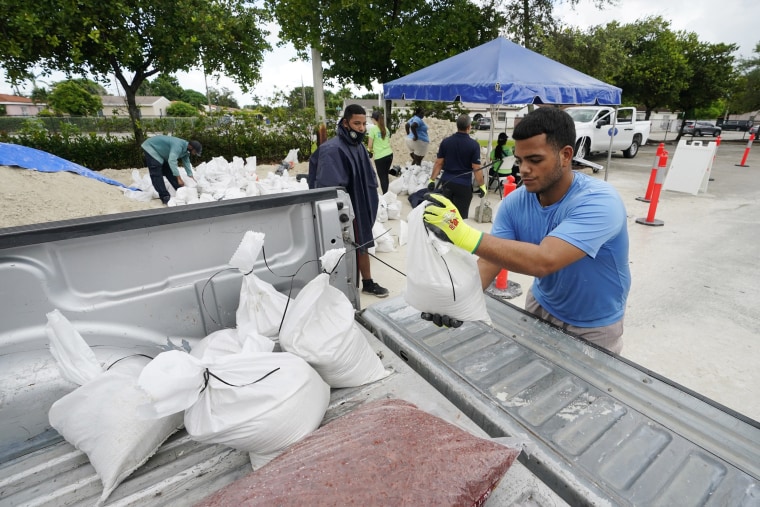 As much as 3 to 7 inches of rain could fall across the Keys, and central and northwestern Florida could see as much as 10 inches of rain through Monday. Flooding and rapid river rises remain the most significant threat from the storm. Storm surge from swells generated by Fred could enhance the risk for coastal flooding, especially in low-lying areas like Tampa Bay.
After making landfall, Fred is forecast to plow inland and combine with a frontal system, dumping heavy rain and causing flash flooding for portions of the Southeast and into the southern and central Appalachians.
Another tropical system is following in Fred's wake. The storm, which would be called Grace, was around 540 miles east of the Leeward Islands at 11 p.m. Friday, according to the hurricane center.
"Tropical depression seven" was expected to become a tropical storm Saturday, the hurricane center said. It had 35 mph winds and was moving at a quick pace of 21 mph as it traveled west, forecasters said.
The storm would bring strong winds and 3 to 6 inches of rain to several of the Caribbean Islands, Puerto Rico and the Dominican Republic through Sunday.
Tropical storm warnings were in place for the parts of the Leeward Islands, and tropical storm watches were in place for the British Virgin Islands, the U.S. Virgin Islands, and Puerto Rico Friday night.
According to some forecasts, the storm could become a hurricane, and if it does, it would become the second hurricane of the 2021 season.