Puerto Rico declared a state of emergency as Tropical Storm Dorian moved across the Caribbean and threatened to strengthen into a hurricane Wednesday as it barreled toward the island still recovering from the devastation of Hurricane Maria.
Dorian, the fourth named storm of the Atlantic hurricane season, has gathered strength since forming as a tropical depression Saturday, and may hit Florida by Labor Day weekend.
The center of the storm was around 240 miles east-southeast of Ponce, Puerto Rico, on the southern coast, and was moving northwest at 13 mph early Wednesday, the National Hurricane Center said.
"For Puerto Rico and Dominican Republic, tomorrow morning, tomorrow evening, during the day — got to wrap things up when it comes to preparedness," National Hurricane Center Director Ken Graham said in a video briefing earlier Tuesday.
While there is some uncertainty about the intensity of the storm, he said that "either way, it's going to be a lot of rainfall."
Puerto Rico was under a hurricane watch as well as a tropical storm warning, and tropical storm warnings were also in effect for Vieques, an island off its eastern coast, as well as for the U.S. Virgin Islands.
The storm's effects are expected to be felt in Puerto Rico by Wednesday afternoon and travel up to Hispaniola later in the night. Forecasters say Dorian will then head toward the Bahamas on Friday and Saturday and reach southeastern Florida by early Sunday.
In San Juan, volunteers went door to door to make sure residents were prepared. Many homes in Puerto Rico are still covered by blue tarps after Maria in 2017.
Jorge Ortiz, 50, a construction worker who had the second floor of his house ripped off by that hurricane and just finished rebuilding three months ago without local or federal assistance, told The Associated Press that he was worried he would "lose it again."
San Juan Mayor Carmen Yulín Cruz said that they were prepared, but added: "We're scared. We know what may be coming."
If the storm goes across the Dominican Republic and Haiti, it might be weakened by the mountains, but if it stays over the ocean, weather officials believe the storm could gain strength as it travels toward Florida, with 3 to 5 inches of rain expected.
Puerto Rico will see the worst conditions Wednesday, where the western and southern parts of the islands are expected to experience high winds and heavy precipitation. On Tuesday, the National Hurricane Center said the island should expect as much as 6 inches of rain.
President Donald Trump on Tuesday approved an emergency declaration sought by Puerto Rico and ordered federal assistance to help in response efforts, the island's governor, Wanda Vázquez, tweeted.
Puerto Rican officials said Monday that they had declared a state of emergency in part to free up resources, like the Puerto Rico National Guard, and to coordinate with FEMA.
The storm is expected to be near hurricane strength as it approaches the island. Maria in 2017 was a category 5 hurricane as it approached and made landfall as a category 4, the hurricane center said.
Almost 3,000 people are estimated to have died in Maria or its aftermath, making it among the deadliest natural disasters in U.S. history. Officials on the island said that residents still living with blue tarps from FEMA and without proper shelter will be a priority as they prepare for the storm.
On Tuesday, Trump tweeted about Dorian: "Wow! Yet another big storm heading to Puerto Rico. Will it ever end?"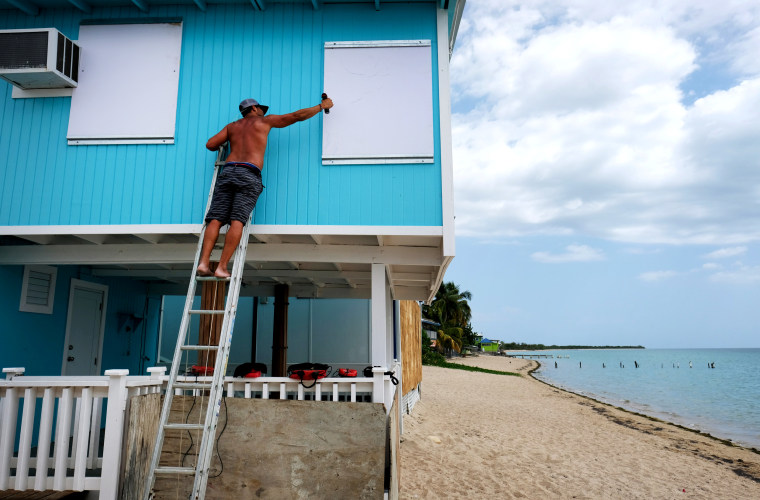 The president also said Congress approved $92 billion for Puerto Rico last year, calling it an "all time record of its kind for 'anywhere'" — but the number is deceiving. As of May, a Center for a New Economy report said Puerto Rico had received only $12.6 billion in aid, and the administration has allocated $42.3 billion to the territory. The $92 billion Trump cited is an estimate of the amount that could be allocated to Puerto Rico over the next two decades.
Dorian also comes amid Puerto Rico's political crisis: Ricardo Rosselló resigned as governor this month after hundreds of thousands of residents protested the island's corruption after hundreds of offensive chats between the governor and his top advisers, some of which trivialized Maria's death toll, were leaked to the news media.