Forecasters are warning Florida and the Southeast coast to keep an eye on Tropical Storm Erika, which has already turned deadly and could approach the United States early next week as anything from a soaking rain to a Category 3 hurricane.
The storm pounded the eastern Caribbean island of Dominica on Thursday, and the Associated Press reported that four people were killed and power was knocked out to 80 percent of the island. About 73,000 people live there.
The storm lost a little strength. It winds were clocked at 45 mph, down from 50 earlier.
Erika was expected to rake Puerto Rico and the Virgin Islands with tropical storm-force winds later in the day, then bring rain and wind to Haiti and the Dominican Republic on Friday.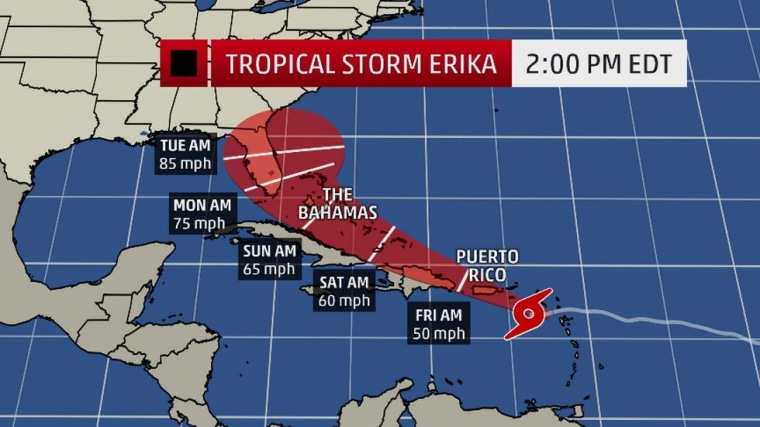 What happens next depends on whether the storm can reorganize itself after passing over land, and which direction it takes. It could move inland over South Florida and mostly bring heavy rain.
But some computer forecast models show the storm bending east, staying over warm water and gaining strength, perhaps up to a Category 3 — a hurricane with wind of at least 111 mph.
The storm would probably stay off the coast of the Carolinas but could trigger coastal flooding, forecasters say.