After slamming the coast of the Gulf of Mexico and killing a child in Florida, Tropical Storm Gordon weakened to a tropical depression on Wednesday morning, but it still posed a serious flooding risk.
Gordon made landfall Tuesday night with fierce winds and heavy rains just west of the Alabama-Mississippi border, drenching residents from Florida to Louisiana. One death was attributed to the storm when a child was killed after a tree fell on a mobile home in Pensacola, Florida, on Tuesday night.
Winds had died from Gordon's peak of 70 mph — just shy of the 74-mph wind requirement for a storm to be categorized as a hurricane — to 45 mph by Wednesday afternoon, the National Weather Service said. But the threat of rain and flash floods could last until Thursday, and significant parts of Alabama, Mississippi and Arkansas remained under flash flood watches.
"This system is going to eventually interact with another system and bring more flooding even further inland," NBC News' Al Roker said. "The winds are dying down, but the rain is still going to be a big problem."
Gordon is expected to dump 4 to 8 inches of rain from the western Florida Panhandle west to Arkansas and north to Illinois, with isolated maximums of a foot through early Saturday, the National Hurricane Center said. Power had been restored to all but about 5,000 customers in Gulf Coast counties from Mississippi to Florida, utility companies reported Wednesday afternoon.
Meanwhile, tornadoes were also possible at some point Wednesday or Wednesday night in Mississippi and western Alabama, according to the hurricane center.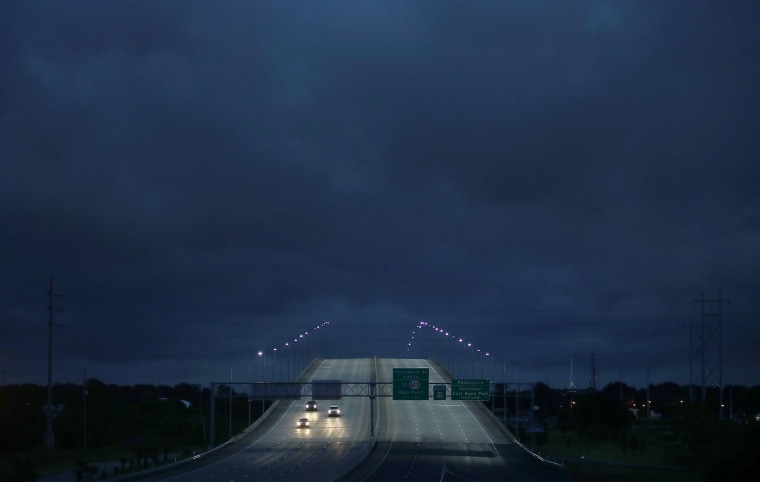 The Cajun Navy, the volunteer collection of Louisiana boaters who flock to tropical storms and hurricanes to lend assistance, made its way to Gulfport on Tuesday.
"They're our neighbors, and we know what happens with the different terrains and what to expect," Clyde Cain, a Cajun Navy volunteer, told NBC affiliate WDSU of New Orleans. "So we're here to back up the first responders and be on call."
Meanwhile, another storm was being closely monitored by forecasters: Florence became the first major hurricane of the Atlantic season on Wednesday.
At 5 p.m. ET, Florence was centered about 1,295 miles east-southeast of Bermuda and was moving northwest at 13 mph. Forecasters said it could cause dangerous swells and rip currents in Bermuda by Friday, but no watches or warnings were issued.