A hurricane warning was issued for parts of Florida's northwestern coast Wednesday night as a tropical storm strengthened, the National Hurricane Center said.
Tropical Storm Hermine — pronounced Her-MEEN — is expected to be a hurricane when it makes landfall sometime Thursday night or Friday morning.
Northwest Florida could see between 5 to 10 inches of rain, and some isolated spots could get 20 inches, the hurricane center said. A hurricane warning was issued Wednesday for a stretch of coast from the Suwanee River, southwest of Gainesville, to Mexico Beach.
The storm in the Gulf of Mexico was about 315 miles west-southwest of Tampa as of 11 p.m. ET. Maximum sustained winds of 60 mph were recorded, up from 40 mph earlier in the day.
A hurricane watch was in effect for an area of the coast from the Anclote River to the Suwanee River, and a tropical storm warning was issued from Suwanee River to the city of Destin, west of Mexico Beach.
Florida Gov. Rick Scott declared a state of emergency Wednesday morning, when the system was still known as Tropical Depression 9.
Related: Severe Weather Looms for Florida, North Carolina, Hawaii
"It is crucial that every Floridian has a plan in place to ensure their families, homes and businesses are fully prepared," Scott said in a statement. "By declaring a state of emergency in advance of this storm, we are ensuring that state, regional and local agencies can work together to meet the needs of our communities."
Weather Channel meteorologist Kevin Roth warned the system could bring a storm surge of up to 3 feet to the areas between Apalachicola and Tampa in northwestern Florida.
"But there could be a few spots that could go up to 4 or 5 [feet] and this part of this coastline is susceptible to flooding," he added.
Hermine is part of a triple weather threat currently looming across the U.S., with storms also set to hit the Southeast and Hawaii.
North Carolina's Outer Banks will likely be drenched as a tropical weather system blows by with up to 5 inches of heavy rain, forecasters said.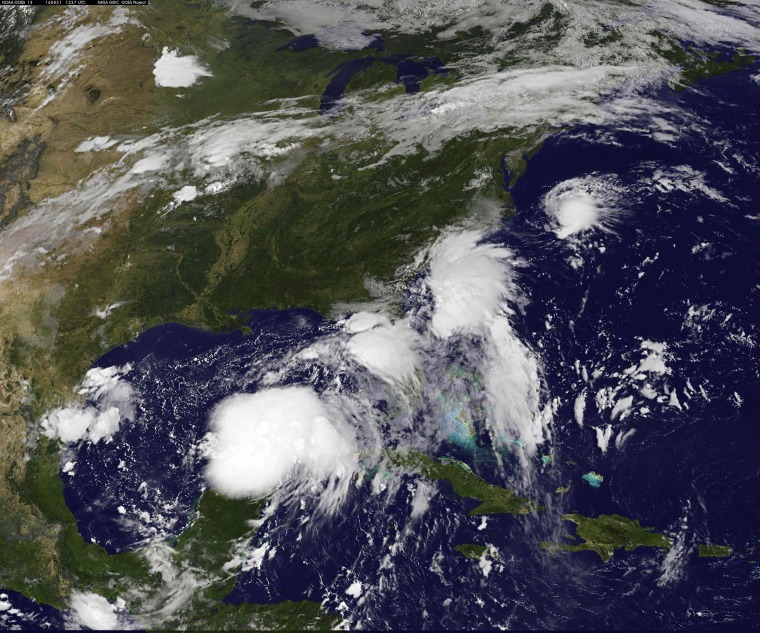 NBC meteorologist Bill Karins warned of rough surf and dangerous rip currents off of North Carolina as so-called Tropical Depression 8, which had glanced the coastline late Tuesday, headed back out into the Atlantic. The storm system had maximum sustained wind speeds of 35 mph and was moving northeast at 5 mph early Wednesday.
In the Pacific, Category 1 Hurricane Madeline churned toward Hawaii, promising to bring heavy rain and high winds. Category 4 Hurricane Lester followed roughly Madeline's path and toward the islands. It was forecast to hit over the weekend, according to the National Weather Service.
"Madeline is going to pass dangerously close to the Big Island of Hawaii late today into Thursday morning Hawaiian time," Karins said early Wednesday.