The first tropical threat to the U.S. this season isn't on the East Coast or in the Gulf of Mexico — it's in Southern California.
Tropical Storm Hilary formed Wednesday morning along Mexico's western coast and is forecast to bring intense rain to Southern California early next week. If it makes landfall, it would become only the fourth storm of at least tropical storm strength to hit the area.
Conditions are favorable for Hilary to increase in intensity over the next two to three days. The National Hurricane Center forecasts the storm's peak intensity Saturday morning as a Category 3 hurricane with 120 mph winds. The storm is expected to weaken soon after that due to cooler ocean temperatures and potential land interaction with Mexico's Baja, just south of California. By Sunday, heavy rainfall is expected to reach Southern California and southwest Arizona.
A recorded storm has never moved into California as a hurricane, and only three storms have made it into California as tropical storms: Nora in 1997, Kathleen in 1976 and Long Beach storm in 1939. That said, there are dozens of instances of tropical rain reaching Southern California and the Southwest from the remnants of tropical storms and hurricanes. Most recently, Hurricane Kay in 2022 killed a person when their house was caught in a debris flow in San Bernardino County.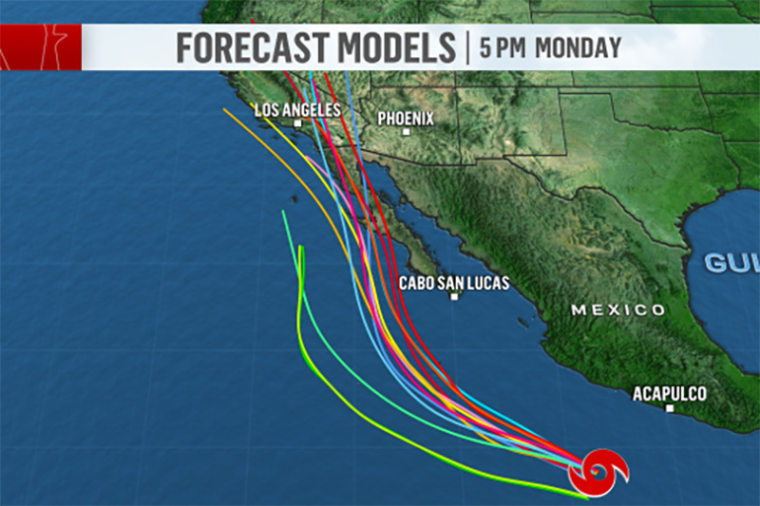 The National Hurricane Center, a division of the National Weather Service, forecasts that Hilary will transition from a tropical storm to an extratropical storm by Monday morning near the California-Mexico border with 60 mph maximum sustained winds. Long-range computer models show the potential for 40-60 mph wind gusts Monday in Southern California, especially in the mountains. 
The wind damage potential appears to be a minor concern compared to the rainfall threat. There is already a slight risk of flash flooding issued for the region early next week, which is likely to be upgraded to a moderate or high risk if the forecast trend toward Southern California continues.
The Weather Prediction Center is forecasting rainfall totals of 2-4 inches with isolated areas over 6 inches — a considerable amount of rain in a short time for the typically dry Southwest.