At least six deaths have been linked to Isaias after it made landfall as a hurricane in North Carolina and then sped north, lashing areas in its path with heavy rain and high winds that caused flooding and prompted rescues, officials said.
The storm-related deaths occurred in North Carolina, Maryland, Delaware, Pennsylvania and New York City.
By 11 p.m. Tuesday, what had been Tropical Storm Isaias had weakened to a post-tropical cyclone as it moved into southeastern Canada, the National Hurricane Center said, but tropical storm conditions were expected to continue along parts of the New England coast for an hour or two. A tropical storm warning was in effect from the Merrimack River in Massachusetts to Stonington, Maine.
After bringing soaking rains and high winds to the Caribbean, Isaias made landfall near Ocean Isle Beach, North Carolina, late Monday as a Category 1 hurricane with 85 mph winds. It then weakened to a tropical storm with heavy rain and high winds as it made its way north.
The storm knocked out power to hundreds of thousands of people in its path.
In Philadelphia, about 200 homes were dealing with flooding ,and dozens of rescues were reported, officials said.
"We have multiple water rescues in progress across the entire city," Fire Commissioner Adam K. Thiel said in a video briefing Tuesday.
Two people, identified only as an adult man and an adult woman, died after tornadoes struck a mobile home park overnight in Bertie County, North Carolina, county officials said in a statement.
Sharee and Jeffrey Stilwell took shelter in their living room about 1:30 a.m. Tuesday as a tornado hit. Sharee Stillwell told The Associated Press that their home shook "like a freight train."
Jeffrey Stillwell, 65, said: "I felt like the house was going to cave in." There was little damage to their home.
In Mechanicsville, Maryland, a person was killed when a tree fell on their vehicle sometime before 9:33 a.m. Tuesday, and a sheriff's office official said it is being treated as a weather-related incident.
Shortly before noon in Milford, Delaware, a woman died after being struck by a tree branch while assessing storm damage, state police said, and in Queens, New York, a 60-year-old man died when a tree fell and struck the parked van he was in about 1 p.m., police said.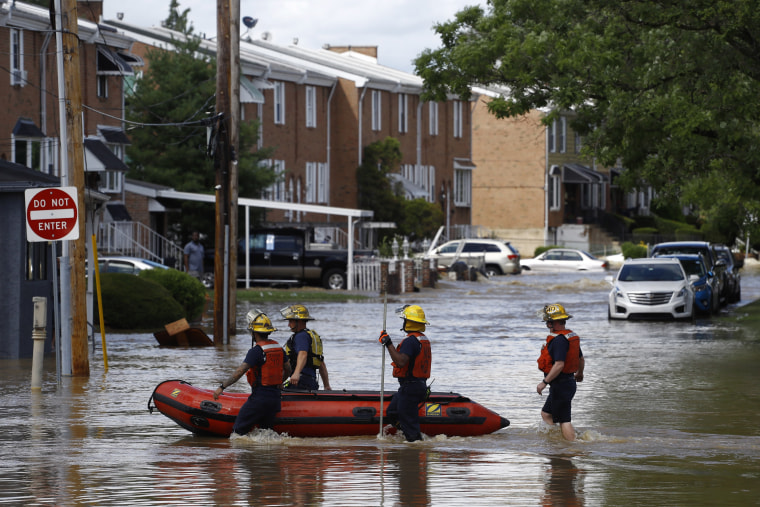 A 44-year-old woman died in Upper Saucon Township, Pennsylvania, southeast of Allentown, after her vehicle was swept downstream, the coroner's office said.
A tornado in Lancaster County, Virginia, left two people injured, while another damaged house roofs in Suffolk, according to the National Weather Service.
In Norfolk, First Baptist Church was heavily damaged, according to NBC affiliate WAVY, but no injuries were reported. A pastor at the church had posted prayers on the congregation's blog in anticipation of the storm.
At 11 p.m., Isaias had maximum sustained winds of 45 mph, and its center was around 45 miles east-southeast of Montreal, according to the hurricane center. One to 3 inches of rain were forecast for across southern Quebec, and another inch could fall in western and northern Maine overnight, it said. The post-tropical cyclone was expected to dissipate over Canada by Wednesday night or Thursday.
That could cause flash flooding, the hurricane center said. Tornadoes were also possible across the southern parts of New England on Tuesday night.
The storm has already knocked out power across the entire affected region.
In the New York City region and northern communities, about 213,000 customers were without power at about 8 p.m., Consolidated Edison said on its website.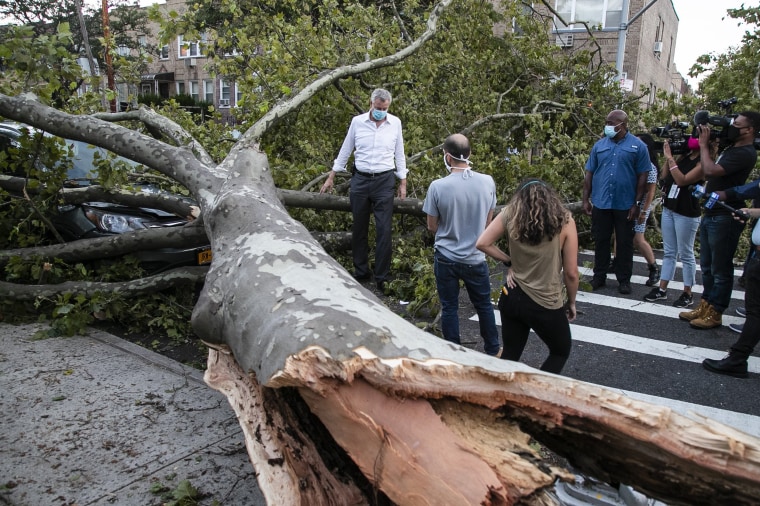 In New Jersey, more than 1.3 million power failures had been reported statewide, Gov. Phil Murphy tweeted at around 5 p.m.
Tens of thousands of customers were without power in North Carolina, Virginia and Maryland, with more than 150,000 without power in Virginia, according to the website poweroutage.us, which collects and aggregates power outage information.