A small town was devastated Monday afternoon when two tornadoes touched down simultaneously in northeast Nebraska, killing one person, critically injuring at least 16 more people and sending rescue crews scrambling to dig for others who might be buried under the rubble.
At least one of the tornadoes slammed into the town of Pilger, a community of about 350 people 75 miles northwest of Omaha, the National Weather Service reported.
A spokeswoman for Faith Regional Health Services in nearby Norfolk told NBC News that one person was dead and that 16 others were in critical condition. A 17th person was stable at Providence Medical Center in Wayne, the hospital told NBC News.
Officials are also investigating a traffic fatality that occurred about 2.5 miles east of Pilger, according to a statement from the Cuming County Sheriff's Department. It was not immediately clear whether the death was a result of the tornadoes.
Sign up for breaking news alerts from NBC News
The Nebraska Emergency Management Agency said emergency crews were on the ground in Pilger and in the nearby communities of Wisner and Stanton searching for possible further victims trapped under debris.
Emergency officials told NBC station WOWT of Omaha that the tornado tunneled down Main Street, destroying every business.
"More than half of the town is gone — absolutely gone," said Jerry Weatherholt, a member of the Stanton County Commission. "The co-op is gone, the grains bins are gone, and it looks like almost every house in town has some damage.
"It's a complete mess," he said.
The state Highway Patrol closed all entrances to Pilger, allowing only emergency personnel to enter or leave.
"This is a significant storm, and one that I have never seen the likes of, ever. Really," said Greg Postel, a severe weather specialist for The Weather Channel.
"I just couldn't believe it," said Larry Nelson, whose home was destroyed.
"We watched, and it was moving awful slow," Nelson told WOWT. "We went down to the basement, and it took about 2½ minutes and it was over."
Marilyn Andersen, a neighbor, was in tears at Nelson's loss.
"Oh, my God, it was devastating," she said. "He has nothing — nothing but the clothes on his back."
"It was like God dragged two fingernails across the land," Gregg Moeller, a teacher in the Wisner-Pilger public schools, told the Norfolk Daily News.
"Oh, my God, the damage is unbelievable," Moeller said.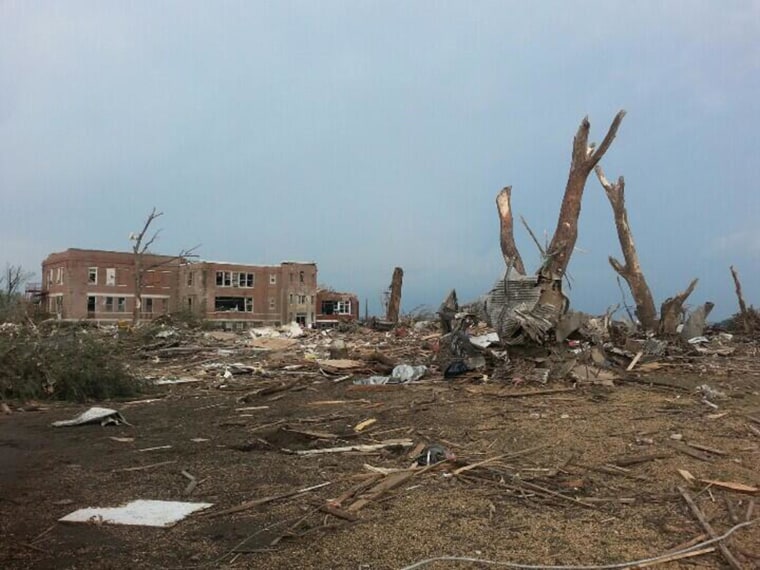 Six employees took refuge in the vault at Farmers Co-Op, an agricultural service center, after watching the storm system build power from a co-op window.
"It was over in two minutes," one of them, Ryan Kruger, told the Daily News.
"Our ears started popping ... and we heard a swishing sound," Kruger told the newspaper. "About the time we figured it was over, the roof caved in."
Employees reported that the co-op's co-op's elevator and grain bins were destroyed, and Kruger said the co-op's roof was ripped off right over their heads.
A tornado watch expired at 10 p.m. (11 p.m.; ET) — only to be replaced by a severe thunderstorm warning.
The tornadoes touched down simultaneously a mile apart about 4 p.m. (5 p.m. ET), with one of them skipping along the ground for almost an hour, the National Weather Service said. There were no immediate reports of damage from a third massive tornado near the town of Burwell, in the central part of the state.
The system was also headed for the small Nebraska towns of Pender and Thurston, said Jim Cantore, a meteorologist for The Weather Channel.
More severe weather — including possible tornadoes and large hail — was likely through Monday night, forecasters said.
Tricia Culligan and Juan Anguiano of NBC News contributed to this report.