At least three people are dead and more than 1,000 others had to be rescued by boat, high-water vehicles and by air from "unprecedented, historic" floods swamping Louisiana, the governor and authorities said Saturday.
The rains deluged a 911 call center in one parish, left at least one person missing, and prompted Gov. John Bel Edwards to declare a state of emergency Friday.
On Saturday authorities in St. Helena Parish on Saturday rescued a man hanging on to a tree in floodwaters but found the body of his wife upstream, the sheriff's office said. More rain was forecast for parts of Louisiana on Saturday.
"This is certainly not over. The rain continues to fall in the areas that have been most impacted already. This is a very slow-moving, low pressure system," Edwards said at a news conference. "Because these are record floods, we don't know how wide the water is going to get in these areas."
Flash flood warnings were in effect again Saturday for portions of south-central Louisiana and southwest Mississippi, with an additional two to five inches of rain possible, meteorologists said. Altogether in the next 24 hours, as much as five to eight inches of rain could fall on already soggy areas of south-central Louisiana, according to The Weather Channel.
"It's going to get a whole lot worse before it gets better," Weather.com meteorologist Tom Moore said.
In Livingston Parish, where more than 20 inches of rain fell in 24 hours, a 911 communications center flooded — forcing authorities to relocate emergency operations. The call center was back up and running with little interruption, officials said.
More than 169,000 sandbags were delivered to the parish. Residents were urged to evacuate.
"We need you to help us get you out. This is not a mandatory evacuation, but it's absolutely urgent," Livingston Parish President Layton Ricks said at a news conference Saturday. "This is the worst event I have ever seen."
Despite being inundated, no residents in the parish had been killed by the water, Ricks said.
"We need you to help us get you out. This is not a mandatory evacuation, but it's absolutely urgent."
But Livingston Parish Sheriff Jason Ard said rescue personnel were having trouble reaching some residents.
"We're going to come for you. We won't forget about you," Ard, wearing knee-high boots, told reporters Saturday morning. But he emphasized the importance of getting to higher ground.
"If you even think you need to evacuate, evacuate. Get out of there," he said.
There were three deaths Friday and Saturday elsewhere in the state. At least one man remained missing.
In St. Helena Parish, sheriff's officials rescued a man clinging to a tree in flood waters by State Highway 1045 and the Tickfaw River Saturday afternoon, and found the body of the man's wife further upstream, the sheriff's office said.
Also in St. Helena Parish, the body of Samuel Muse, 54, of Greensburg, was found Friday evening after his Chevy pickup truck was swept off Louisiana State Highway 10, officials said. His truck was still underwater as of Saturday.
Authorities said Muse was one of several people they were attempting to rescue off the highway, but they weren't able to get to him in time. Searchers continued to look for a man reported missing near Highway 10 in Darlington, the sheriff's office said.
The body of William Mayfield, 68, was recovered from a flooded ditch in the city of Zachary Friday after he slipped and drowned, according to the East Baton Rouge Parish Sheriff's Office.
The National Guard was sent to north-central Louisiana Friday to rescue residents trapped in their homes. Several children were rescued in Zachary after their bus swerved off the road and landed in a ditch with at least four feet of water, the Baton Rouge Advocate reported. No one was hurt.
By Saturday, the number of people who had been rescued from their homes and cars — and in some cases, from trees they were clinging to — was "well over 1,000," Gov. Edwards said. More than 100 pets had also been rescued.
Both the Comite River near Baton Rouge and the Amite River near Denham Springs, east of the state capital, were forecast to set record crests over the weekend. As of Friday at 9 a.m., the Tickfaw River, on the Mississippi border, was already at its highest level ever recorded.
Images on social media showed roads awash in floodwaters.
Even the governor was not immune from the rains. He and his family were forced to relocate after the basement of the Louisiana Governor's Mansion in Baton Rouge flooded, said spokesman Richard Carbo.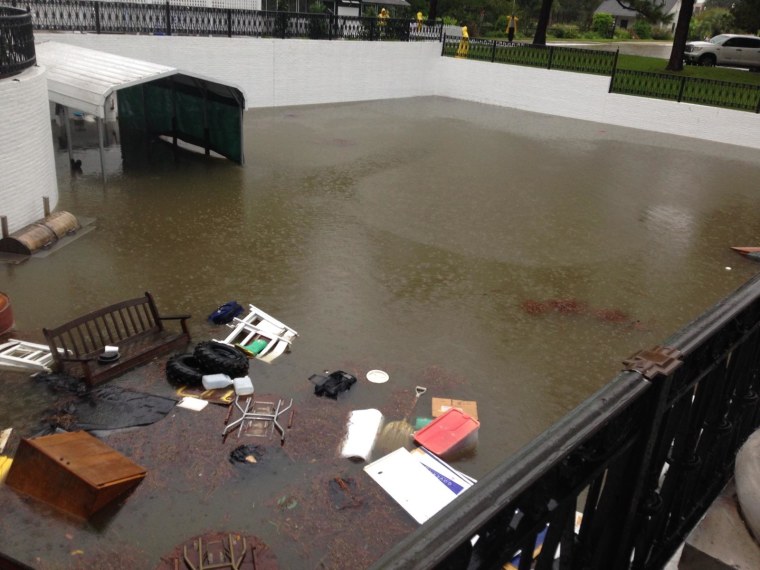 Meanwhile, in Mississippi, more than 50 people were taking refuge in a shelter after their homes in Crosby were deluged after 10 inches of rain fell.
"We woke up and the water kept on coming," Leroy Hansford, 62, of Gloster, Mississippi, told The Associated Press. "It came up to my waist."