Tens of thousands of people were left without power Saturday after one of the strongest storms to pummel Southern California killed at least five people and left a destructive trail of sinkholes, flooded highways and downed power lines.
The powerful Pacific Ocean storm that rolled into the region Friday was expected to taper off by Saturday afternoon, but a flash flood watch remained in place for Orange County and parts of the San Diego area, according to the National Weather Service.
A 55-year-old man in Sherman Oaks, Los Angeles, died after apparently being electrocuted by live power lines brought down by a tree, and a person was found dead inside a submerged car near Victorville, fire officials said. Heavy rain was also a contributing factor in two fatal accidents on a San Diego interstate, according to the California Highway Patrol.
Police in Ventura County, meanwhile, said they located the body of a man Saturday morning after his car was swept down a swollen gully amid the rains.
A stretch of Interstate 5 in the Sun Valley neighborhood of Los Angeles flooded, causing huge traffic delays, and prompting crews to use generators to try and pump water off the road, the California Department of Transportation said.
Ten vehicles were stuck in a flooded road in Sun Valley and eight people trapped by fast-moving water were rescued by firefighters, the fire department said.
In Studio City, two cars plummeted into a large sinkhole that opened in a street Friday night, the fire department said. A 48-year-old woman around 10 feet below the street was rescued with a ladder, and was taken to a hospital in fair condition, the department said. The driver of the second car was able to get out unaided.
"At one point the wind was so strong I'm surprised it didn't blow my windows out," retiree Phoenix Hocking told The Associated Press in a Facebook message from Carpinteria on the Pacific coast. "I now have a pond in my patio. And my dog is starting to grow flippers so he can go out and do his business."
The storm caused large power outages. The Los Angeles Department of Water and Power said electricity was knocked out for around around 57,000 customers as of 6 a.m. local time, and Southern California Edison said 53,000 of its customers were without power as of 11 p.m.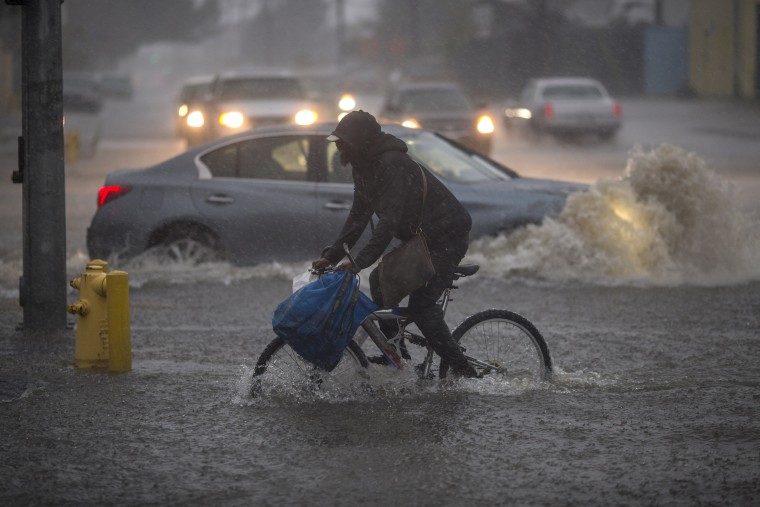 Santa Barbara airport closed after runways flooded. Eight people were rescued from floodwaters in Los Angeles, the fire department said.
The storm was expected to be among the most powerful in six years. Flights out of Los Angeles International Airport resumed Saturday morning, although many were experiencing delays, according to the airline watchdog FlightAware. Sixty-seven departures from the airport were canceled Friday and more than 250 were delayed as rain and wind lashed the region.
Total rainfall predictions ranged from 2 inches to 6 inches on the coast and from 5 inches to 10 inches in foothills and coastal mountains.
Rainfall totals ranged from 3.5 inches in Santa Barbara to 9 inches in Santa Ynez Mountain Range, and Ojai in Ventura County got 6 inches of rain, the National Weather Service said Friday evening. Beverly Hills saw 2.45 inches of rain and Canoga Park in the San Fernando Valley got 4.73 inches, the weather service said.
The amount of rain downtown was likely to fall short of a record for Feb. 17 of 2.18 inches set in 1884, the weather service said.