Typhoon Hagupit downed trees and knocked out power as it swept across the Philippines, lashing a region that was still recovering from a typhoon last year that killed thousands.
Sustained winds dropped to 100 mph with gusts of up to 121 mph, according to the weather bureau, PAGASA, down from the 130 mph gusts that were felt as the massive storm made landfall in Eastern Samar, which was battered by last year's storm, Typhoon Haiyan.
The eye of Hagupit hit the town of Dolores in Eastern Samar around 9:15 p.m. local time (8:15 a.m. ET), the bureau said, and it was moving across the island before an expected second landfall on the island of Masbate. The vast and fickle storm system, which is expected to hover over the island nation for the next few days.
There were widespread power outages in Eastern Samar and nearby Leyte province. "I can't penetrate the areas, I can't go north or south because of fallen trees and power lines. Many areas are flooded," Ben Evardone, congressman for Eastern Samar, told Reuters from his base in the provincial capital Borongan.
While the storm weakened to a category 3 level — below "super typhoon" status — residents were still bracing for major flooding, landslides and debris-choked roadways.
"There are many trees that have toppled, some of them on the highway," police Senior Inspector Alex Robin told The Associated Press by phone from Dolores. "We are totally in the dark here. The only light comes from flashlights."
Hagupit — Filipino for "smash" or "lash" — hammered Eastern Samar, part of a region that was devastated by Haiyan's tsunami-like storm surges. Haiyan left more than 7,300 people dead or missing, and displaced 4 million.
"The rain is very heavy and the wind is now really bad," Elsa Thomasma told NBC News from her home in the eastern city of Tacloban, which was ravaged by Haiyan. The 28-year-old, originally from Michigan but now working in the region, said it was not yet possible to assess the extent of any damage. "We can't see anything at all," she added.
Disaster relief group Feed the Children said it was expecting as many as 30,000 people would need assistance in the immediate aftermath of the storm, and expected Leyte and Samar to be among the hardest-hit areas.
"This is the same location where families were displaced last year" after Haiyan, the organization's Philippines director, Esperanza Abellana, told NBC News. "It could be worse than that, but we'll need about 24 hours before we can make a complete assessment. The power is down, the internet is not very good."
Acairoe Fourth said his family in the Leyte province, where Tacloban is located, has decided to ride out the storm in their concrete home. His father was reinforcing the roof and windows, Fourth said.
"There is no good evacuation center in some rural areas," he told NBC News, "only in towns and cities."
Army troops deployed to supermarkets and major roads in provinces in the typhoon's path to prevent looting and chaos and clear debris, all of which slowed the government's response last year, said Gen. Gregorio Pio Catapang, head of the Philippines' 120,000-strong military.
"We're on red alert, so the entire armed forces is being mobilized for this typhoon," Catapang said at a news conference.
Those far away from the storm were left to wonder about loved ones closer to the typhoon. Mike Sculley in the city of Angeles, northwest of Manila, said his wife lost cell phone contact with her mother, who was only able to return to Leyte in January after last year's typhoon destroyed her home there. "Hopes are, not only is everyone safe, but we hope their house survived this storm," he said in an e-mail to NBC News. "Last year there was nothing left of the house. It was blown away."
The U.N. Global Disaster Alert System said almost 32 million people — a third of the country's population — were likely to be affected in some way by cyclone-force winds.
Hagupit, known locally as Ruby, was expected to move slowly across a vast area and dump intense rainfall of up to three-quarters of an inch per hour.
Richard Gordon, chairman of the Philippine Red Cross, which is mobilizing an international rescue plan in case of disaster, said it alone had moved more than 100,000 people from coastal areas — many of whom were still living in tents while recovery work continued from Haiyan.
"Evacuations have been going smoothly in the central Philippines, as well as in the northern part of the Philippines," CCTV correspondent Barnaby Lo told The Weather Channel on Saturday. "No one's taking any chances. People here have learned their lesson."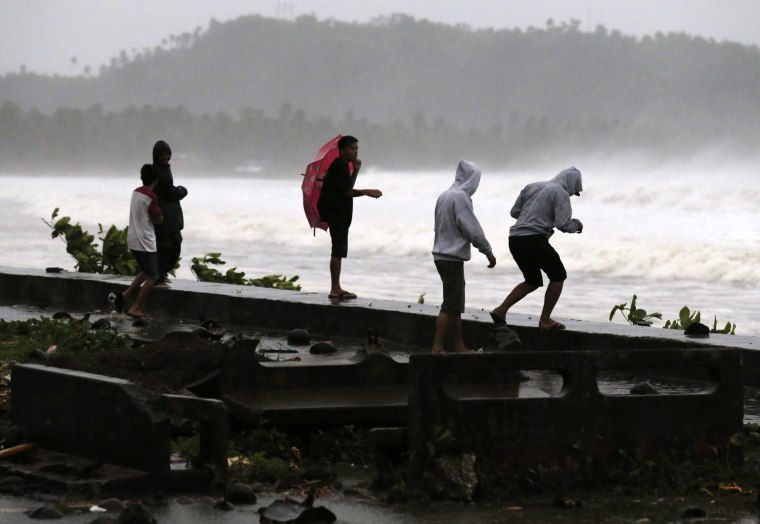 NBC News' Phil Helsel and Arata Yamamoto contributed. Material from Reuters and The Associated Press was used in this report.