The death toll from a typhoon churning at an agonizingly slow pace over the Philippines reached nine Monday as emergency officials warned that entire communities were at risk of being swept away in mudslides.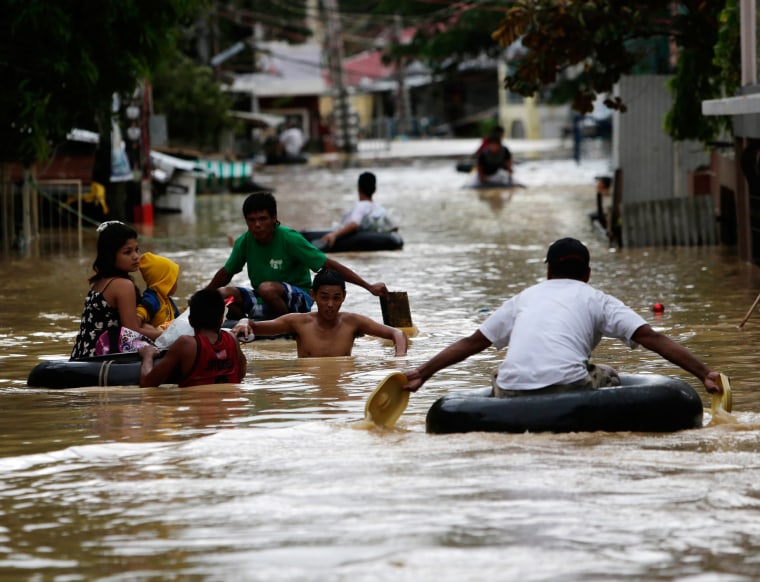 Typhoon Koppu knocked out power to entire provinces and left dozens of roads impassable as it toppled buildings and trees in the north of the country.
Although less powerful than originally thought, parts of the Philippines were under three feet of water early Monday and around 20,000 people remained in emergency shelters.
"There's no other weather features to move it along so it's just kind of drifting about," Weather Channel lead meteorologist Kevin Roth said, explaining why the storm wasn't budging.
On Sunday, a 62-year-old woman was killed and her husband was injured in Subic, northwest of Manila, when a wall of their home collapsed while they slept, the country's disaster agency said. A teenager was killed on the same day by a falling tree that injured four other people in Quezon.
The country's coast guard said seven people died at sea, according to Reuters.
The army was deployed to help government agencies and volunteers rescue people from the waist-high water.
Richard J. Gordon, chairman of the country's Red Cross, told NBC News that water was rising particularly in the province of Pangasinan, aided by heavy rains and dam water being released.
"We are sending rescue teams there now. We will be busy rescuing people from the tops of roofs – they have no place to go," he said. "A lot of people can drown or be displaced from their homes. This is a developing tragedy."
The typhoon, known as Lando in the Philippines, was crawling northwest at around 3 mph early Monday, the disaster agency said.
Gallery: Philippines Battered by Typhoon Koppu
The storm weakened from a category 5 storm to category 1 after smashing into land on Saturday, its maximum sustained winds down to 80 mph from 120 mph.
Despite the slightly calmer winds, some areas were inundated with more than 15 inches of rain in the 30 hours to Monday morning, according to the U.K.'s state-run Met Office weather service.
"The storm will have been producing rain in some areas for five-and-a-half days before it moves on — that's a long time to build up a large rainfall total," Roth said.
It was forecast to finally move back out over the sea on Tuesday or Wednesday, with some models predicting it would then travel north and take aim at Taiwan.
An average of 20 typhoons hit the Philippines each year. More than 7,300 people died after the country took a direct hit from Typhoon Haiyan, one of the most powerful storms on record.