Things are still heating up.
More than 170 million people are now under heat alerts stretching from New Mexico to New Hampshire covering nearly 2,000 miles, according to NBC meteorologist Steven Strouss.
The hottest temperatures Thursday afternoon will occur from the Plains through the Midwest, where temperatures will be in the mid-to-upper 90s and heat indices will range from 100 to 110 Fahrenheit, Strouss said.
Communities are preparing by offering buildings as cooling centers and asking residents to check in on family members and neighbors.
"Elderly, infants and children under 4, as well as people who are overweight or have underlying illness are most at risk," Dr. Allison Arwady, acting commissioner at the Chicago Department of Health, said at a news conference Thursday.
City officials said 36 park locations across Chicago would be available to the public as cooling centers in addition to resources typically available.
Storms Thursday morning in Chicago should provide a reprieve, meteorologists say, but not for long. On Friday, the windy city will hit a high temperature in the upper 90s, according to Strouss.
On Wednesday, Philadelphia and New York City declared emergencies due to the heat.
The extreme heat is forecast to overtake the mid-Atlantic and the Northeast this weekend.
New York City Mayor Bill de Blasio's office Wednesday said approximately 500 cooling centers have been activated around the city.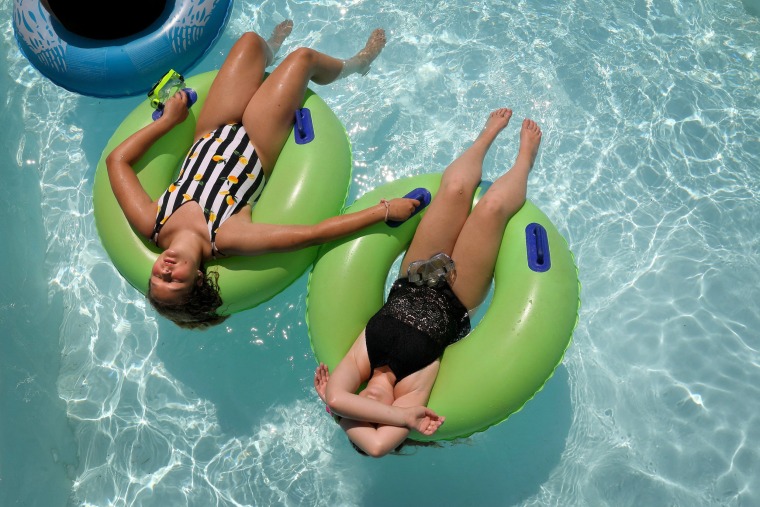 "Extreme heat is dangerous, period," de Blasio said in a statement. "I urge all New Yorkers to exercise caution this weekend as temperatures near 100."
De Blasio said the city is deploying all resources at its disposal to ensure New Yorkers remain safe and cool during the extreme heat. The Department of Environmental Protection, for example, will set up portable drinking water fountains at busy pedestrian areas across the five boroughs from Friday to Sunday.
Kansas City and St. Louis will be especially hot Thursday with a heat index around 110 degrees.
Officials are also concerned about smog, which is exacerbated by the heat and makes it harder for certain people to breathe, including the very young, the elderly and people with asthma or lung diseases.
Staying in air conditioning is the best way to stay safe and healthy when it is hot outside, but some people at risk of heat illness do not have or do not turn on an air conditioner, officials say.
More than 100 local heat records are expected to fall Saturday, according to the National Weather Service. Most won't be record-daily highs but record-high nighttime lows, and that lack of cooling can be dangerous, meteorologists say. Temperatures in parts of the East won't drop below the mid- to upper-70s or even 80 degrees at night, Greg Carbin, forecast branch chief for the Weather Prediction Center at the NWS, said.
The heat wave will likely be "short and searing," he said.
A high pressure system stretching from coast-to-coast is keeping the heat turned on. The heat and humidity feel worse because of the large amount of moisture in the air coming from the Gulf of Mexico, much of it left over from Hurricane Barry.
The heat index, which is what the temperature feels like, should hit 110 in Washington, D.C., on Saturday and 109 in Chicago and Detroit on Friday, Jeff Masters, meteorology director of Weather Underground, said. Wednesday marked Washington's seventh straight day with temperatures of at least 90 degrees, and that streak was expected to last for another five days.
Relief is in sight, meteorologists say, but it's days away.
Temperatures begin to cool off across the eastern half of the country early next week, Strouss said.