With only a door separating him from the wrath of Hurricane Maria, U.S. medical student Nick Cooper questioned whether he would survive the night.
"We knew this bathroom would either be our savior, or become our tomb," the 26-year-old Atlanta native said.
Cooper and his roommate were trapped on Dominica as it was battered by the Category 5 storm last week. Much of the Caribbean island was devastated by Maria, cutting off communications and leaving it without electricity or running water. The country's prime minister said medical facilities were "worse than in a war zone."
Cooper was one of 200 students at the Ross University School of Medicine who were evacuated on Saturday. Around 1,000 students, faculty and family members remain on the island awaiting transportation. Ninety percent of the medical school's students are American citizens.
In this edited account of his ordeal, Cooper recounts the night of Sept. 19 and his very long road home.
"The events of the rest of the night escalated so quickly that I don't know the time frame in which they transpired.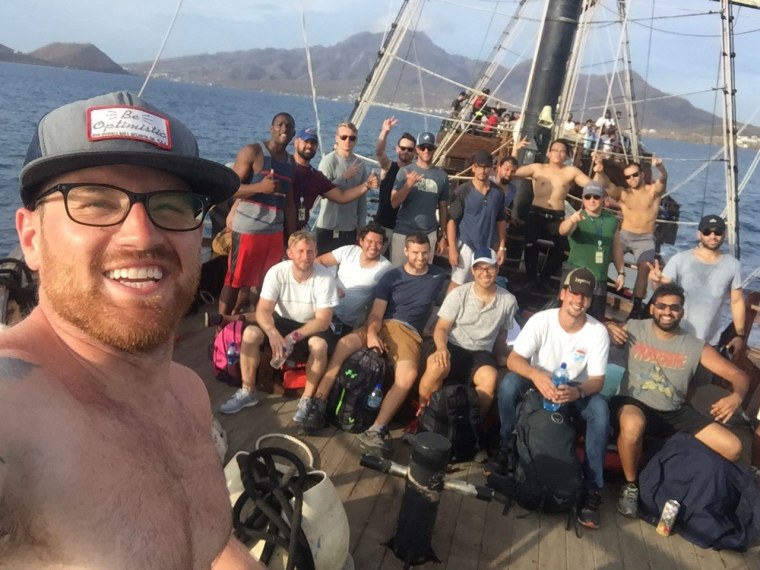 "My roommate, Jonathan Hund, and I were standing on our porch watching the winds blow when the first window gave out behind us. At this point we realized things were more serious than we thought originally. Both of our rooms and kitchen have now flooded from the rainwater coming through the cracks between the windows and door frames. The windows in the kitchens gave next and hurled glass into the living room where we were sitting watching a movie.
"From here we knew the situation was beyond out of control and corralled all of our belongings into my room, which had yet to lose its integrity, and locked ourselves here. Soon after this though my windows began to shake and we were standing in three inches of water, even though our apartment is on the second floor.
"The winds became so intense as they funneled through our kitchen and living room that the living room windows blew out next. The wind tunnel that ensued ripped open the kitchen and front door. All of our belongings and appliances in both of those room were now pushed from their original locations and spinning within the vortex of our living room, directly outside my room.
"Soon the winds and pressure difference grew so intense that the door to my room cracked around the handle, leaving only the door lock still attached to the door frame. While Jon and I knew this situation was intense, it was not yet something that had us fearing for our lives.
"This fear began when Jon and I then attempted to leave for safety on campus. When we reached the front door after dodging the glass spinning in our living room, we knew that the visible debris hurling across the street was not going to allow us to leave safely.
"We did what we felt to be our safest option at this point and barricaded ourselves in the bathroom. Jon with his weight against the door and myself with the bar from the shower curtain wedged into the corner of the door frame and my full weight against it.
"There we stayed for two hours while the winds threw our belongings against the door behind us, as if the storm personally knew we were hiding here. As the shattering of glass and the thumping of our belongings on the bathroom door sounded off behind us, Jon and I looked at each other and we now had a new fear.
"At this point we had no safer option and I could see in both of our body language that we knew this bathroom would either be our savior, or become our tomb.
"At some point the winds slowed enough that we were able to leave the bathroom and return to my room, where we wedged the door closed with furniture. The worst was over.
"After Maria destroyed our house, I hadn't yet understood the impact she played on our town.
"Power lines across the street, whole telephone poles snapped, the trees ravaged and uprooted. We now had no power, no water, no internet and no means of reaching home.
"The chaos of the first day after a natural disaster with 1,400 students now isolated on this island, was more than overwhelming, especially given our previous night and accepting that we no longer had a home.
"I did not realize yet that my family was fearing I had lost my life during the disaster.
"The school had two satellite phones available for students to use one minute at time to contact their families. I could not bring myself to wait in the two-hour line, only to tell my family that I had no answers and no idea how or when I was getting home.
"When we began evacuating families and the elderly on Friday morning, I volunteered to load luggage and assist with transport to the docks and then loading onto the three chartered ferries. From here we were told that these same ferries would be returning the next day to evacuate another 200 individuals, along with a cruise ship that could hold 350 more. I was fortunate enough to make the last ferry out on Saturday night and leave the island.
"I am still sick to my stomach thinking of my fellow classmates who were not able to leave as soon as I was and currently sitting on campus waiting, hoping, for their turn off the island while the food supply on campus dwindles.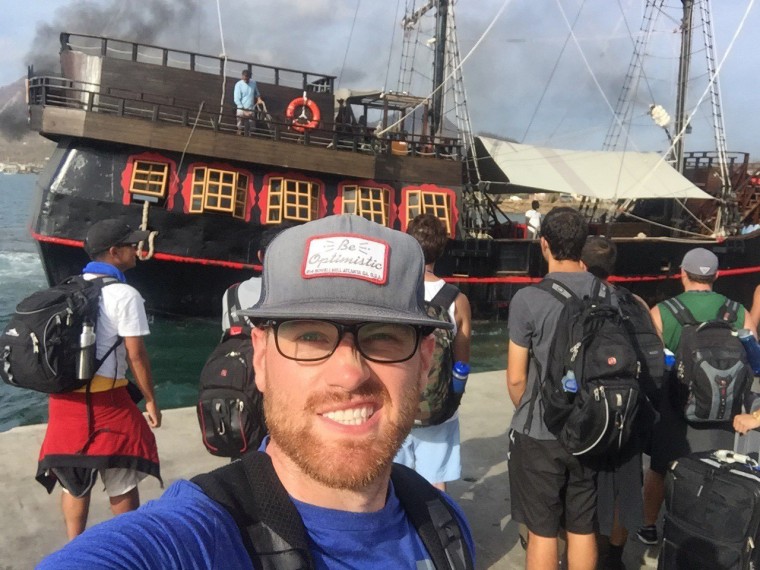 "My ferry was a chartered pirate boat that looked as if it was a novelty made for small runs around the islands while its passengers listened to music and drank, not a 12-hour trip across open seas with 100 students and their luggage.
"We were beyond elated at this point to leave the island. I was able to get service on my cellphone as we passed [Dominica's capital of] Roseau and immediately called my family.
"When I heard their voice I knew I had made it. I was going home. I didn't need to be strong anymore. I teared up as soon as the phone started dialing and was welcomed by big greetings from my father, mother and girlfriend. I was safe now.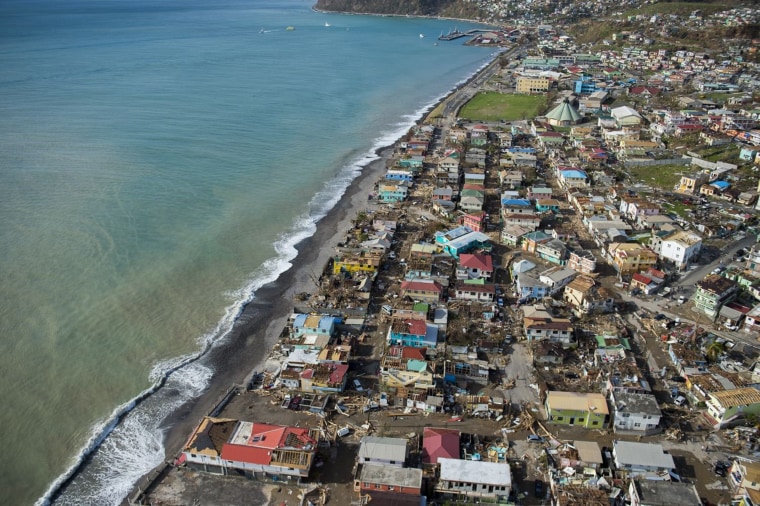 "I was able to sleep for a few hours at the hotel in St Lucia after our 4:30 a.m. arrival and before a big lunch, followed by a two-hour bus ride to the airport, where they had arranged chartered flights with American Airlines.
"I will never in my life forget the sound of the students once our plane took off. We had been hurt, broken and defeated so many times over the past week that once our plane back to America was off the runway, we were able to finally believe that we were in fact going home. The cheering ensued.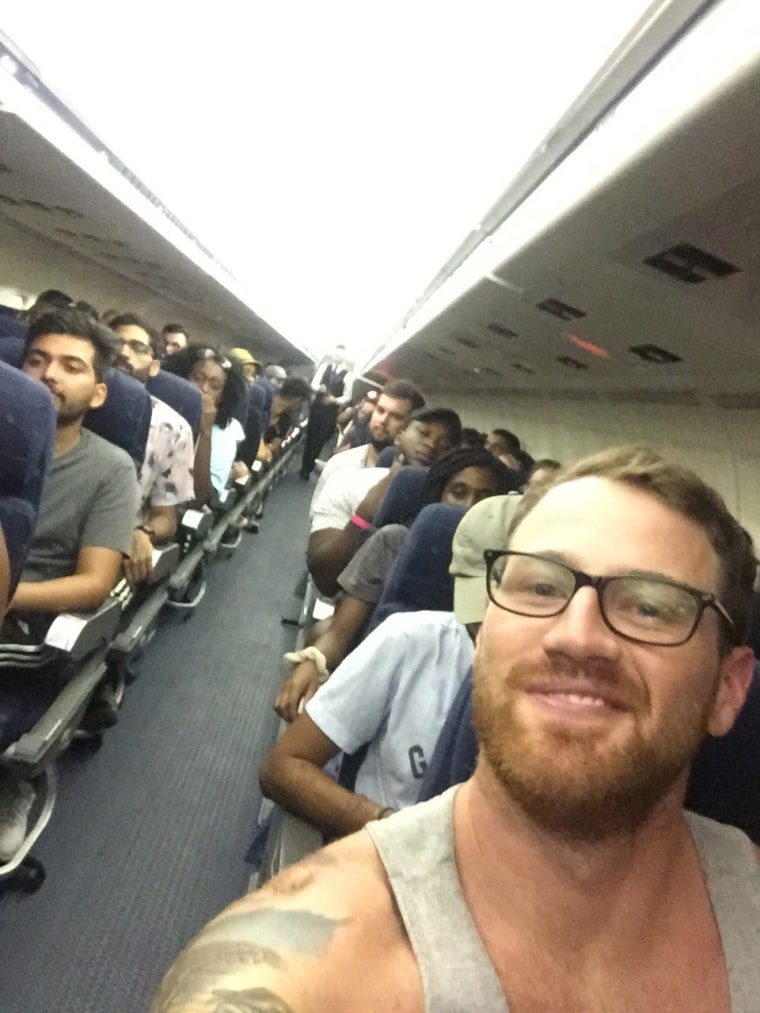 "[As for the island], it will not recover for a very long time. Dominica doesn't possess the means to rebuild their infrastructure from the ground up again. It breaks my heart to think about the locals who offered their island to us and encouraged our education, but are now trapped there without the ability to restart their own lives.
"I wish there was more I could do during my time there before evacuation, but I too was without a home and any ability to clear the massive amounts of downed trees, overturned cars, flooding damage and overall destruction.
"I don't know how Ross will be able to rebuild when the island can't rebuild."