The torrential rains swamping Louisiana claimed their first victim Friday after an elderly man drowned in a flash flood half-an-hour north of the state capital in Baton Rouge.
The death of 68-year-old William Mayfield was confirmed as Gov. John Bel Edwards declared a statewide emergency after Louisiana was soaked by more than a foot of rain and forecasters warned more was on the way.
Seventeen inches of rain were recorded in Livingston, Louisiana, about 28 miles east of Baton Rouge, according to The Weather Channel.
Mayfield died after he fell into a flooded ditch in front of a trailer home in Zachary, Louisiana, at around 10:30 a.m., the East Baton Rouge Sheriff's Office said. A woman who called the sheriff's office said she was helping the man through the water when he slipped and didn't resurface, the sheriff's office said. The county coroner ruled Mayfield's death an "accidental drowning."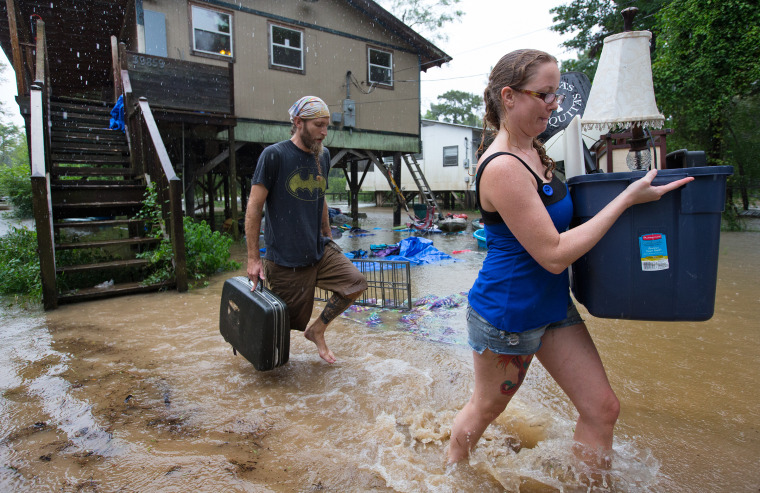 Baton Rouge's airport recorded a daily record of 8.18 inches Friday, the National Weather Service said. The weather service warned residents of Baton Rouge to move to higher ground Friday evening and declared a flash flood warning.
The basement of the Louisiana Governor's Mansion in the capital city flooded, a spokesman for the governor's office said. The governor was in Colorado for a Governor's Association but returned to Louisiana, a spokesman said.
The National Guard was dispatched to north central Louisiana Friday to rescue dozens of residents from flooded homes. And the National Weather Service declared a flash flooding emergency in north central Louisiana and in parts of neighboring Mississippi as well.
Twenty miles east of Baton Rouge in the town of Walker, Louisiana, residents reported seeing caskets floating at St. Mark's Cemetery, according to the Baton Rouge Advocate.
NBC News meteorologist Bill Karins warned the situation is likely to "get worse."
"Louisiana flooding has gone from threat to very serious situation this morning," Karins said. "On radar, this storm looks like the equivalent of a tropical depression or tropical storm and is sitting right over Louisiana, and will threaten the state with heavy rain right into Saturday."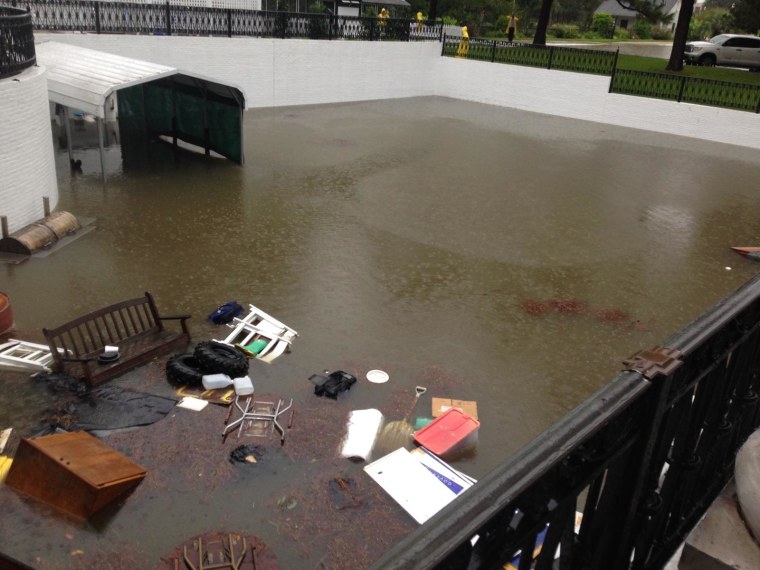 Related: Stalled Storm System Expected to Swamp, Steam Northern Gulf Coast
Hardest hit was St. Helena Parish, where the tiny town of Greensburg was completely surrounded by water. Officials were nervously watching the water rise in the Tickfaw River, which has already reached a record flood stage of 13.33 feet at Liverpool, the Weather Channel reported.
"On the Tickfaw River, a record-breaking high-water crest was just hit and the river is still rising," Karins said.
Further south, some 75 people were removed from swamped homes in Tangipahoa Parish and sections of Interstate 55 were shut down because of flooding, the Baton Rouge Advocate reported.
"We've got water in places we've never had it," Gerard Landry, mayor of Denham Springs, told the paper. "There are houses in The Willows threatening to take on water, which has never been an issue."
To the west, in the town of Zachary, several kids had be rescued after their bus swerved off a flooded road and drove into a ditch where the water was at least four feet deep, the paper reported. Nobody was hurt.
In downtown Baton Rouge, state route 427 was closed in both directions and classes were canceled across the city and at Louisiana State University as well, according to Karins and the NWS.