A blizzard warning that saw parts of Kansas and Nebraska and much of northeastern Colorado — including Denver — bunkered in Monday night will continue well into Tuesday, forecasters warned.
Heavy snow was at the heart of the first severe winter storm of the season, spreading through the Rockies and into the High Plains. As it continues on its way east, it is expected to cause flooding later in the week along the Gulf Coast as severe thunderstorms move across the South.
The leading eastern edge spun off snow and harsh winds Monday as far east as Nebraska and Kansas, where scattered tornadoes were even reported. Flagstaff, Arizona, was buried under 11 inches of snow.
"I woke up at 5 o'clock to rain. By 6 o'clock, it was snowing, and by 6:30 it was sticking on the parking lot when the school bus pulled in," Phil Mack, owner of Mount Lemmon's General Store in Summerhaven, Arizona, told NBC station KVOA of Tucson.
Metropolitan Denver and its 650,000 people were ground zero.
"Well into the day and evening on Tuesday, we'll have snowfall across eastern Colorado and western Kansas, as well as Nebraska," said Danielle Banks, a meteorologist for The Weather Channel. "Some spots could pick up more than two feet."
As much as 12 inches of new snow was expected by Tuesday morning in Denver and two other major population centers, Vail and Colorado Springs, the National Weather Service said. The town of Limon, in Lincoln County, could get 18 inches, it said.
PHOTOS: Storm Soaks States with Snow and Flooding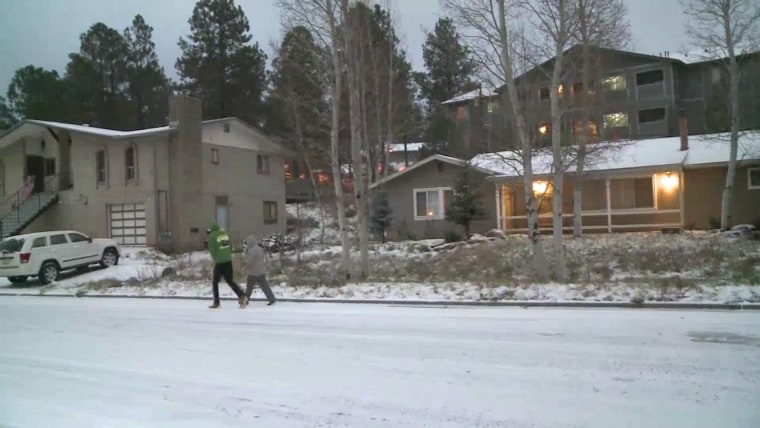 Authorities called for residents to avoid all travel in the warning area through Tuesday — including major roads like interstates 25, 70, 76 and 80 in Colorado, southern Wyoming, western Nebraska and northwest Kansas.
Denver International Airport canceled 218 arrivals and departures Monday, with 160 more delayed. The airport went ahead and canceled 126 of Tuesday's arrivals and departures ahead of time.
The storm was born in the Gulf of Alaska, where temperatures dropped as low as 24 below zero Monday morning the small community of Bettles — unseasonably cold for mid-November even by Alaska standards.