If "Mother Nature is showing us who's boss," as New York Gov. Andrew Cuomo said of snowfall that dumped five feet on parts of Buffalo, she's not done with the lesson.
Hard as it may be to believe, the weather in areas of upstate New York socked in by a historic mountain of snow this week will be springlike by early next week — and that means melting, which could, in turn, could cause floods, the National Weather Service warned Wednesday.
Temperatures are forecast to begin warming up on Saturday, and by Monday, they could approach 60 degrees around Buffalo and other communities that are still bracing for as much as two more feet of snow on top of the 5 feet or more that many of them are buried under. It's also expected to rain on Monday — a combination that the weather service said could trigger "major snowmelt" and "significant" flooding in small streams, as well as at least some larger creeks and rivers.
"The impacts are somewhat obvious," Dave Zaff, science officer for the National Weather Service's office in Buffalo, told NBC News.
"There are a number of small creeks here in Buffalo, so the immediate concern is how those creeks would react to the melt and rainfall," Zaff said. "Those creeks go right through various communities."
Areas of flooding won't be widespread, because the areas of monster snow aren't widespread — they're clumped in narrowly targeted bands based on how the wind blows in off Lake Erie (hence the description "lake-effect snow").
Meteorologists pointed out that while Lancaster, New York, was buried in more than 5 feet of snow through Wednesday afternoon, the Buffalo airport — just six miles away — got only 6.2 inches.
But in the areas where snow is expected by Friday to pile up to the height of your average NBA forward, "we're going to have a lot of water running off quickly," Wayne Verno, a meteorologist for The Weather Channel, told NBC News. "We'll more than likely see some flooding."
How much? Nobody can say.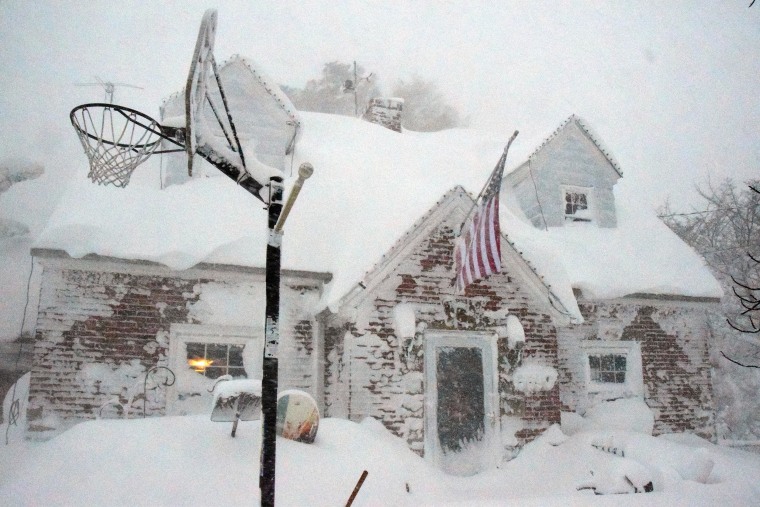 The National Oceanic and Atmospheric Administration, or NOAA, uses a variety of ratios to measure how much water is in how much snow. The most commonly cited standard is 10:1 — in other words, 10 inches of snow contains 1 inch of water. In some areas near Buffalo, expected to have accumulated as much as seven feet by Friday night, that would translate to the equivalent of seven inches of rain. But there are so many variables that any prediction this far in advance is essentially useless.
It could be less in New York because much of the land the snow is covering was above freezing when the storm hit, meaning a good amount of the melting snow will simply be absorbed into the earth rather than run off.
Or it could be more, because this snow was wetter and heavier than usual, meaning it packed more water.
Or it could be less, because the sharp winds that blew in the snow this week piled some of it up in low-density (that is, less heavily packed) drifts.
Or it could be more, because the rain expected Monday will raise air temperatures and humidity even higher, washing away extra layers of snow.
Or it could be less, because NOAA says that in general terms, three days of above-50-degree temperatures can be expected to melt only 2 to 4 inches of snow, while early forecasts for next week predict that the Buffalo area will be above 50 only for part of Sunday and Monday.
Depending on what conditions happen to be in place Saturday afternoon through Tuesday, the heaviest-hit areas of upstate and western New York could get silently smacked with the equivalent of a flash-flood-generating 18-inch rainstorm rushing into swollen creeks and sewers — or they might not notice anything at all.
The bigger issue, Verno said, is what's going to happen to homes and other buildings buried under frozen water.
Collapsing roofs are the biggest danger, but even if a structure's roof holds, people could still "see some of that water seeping in" through windows and doors, Verno said.
While serious floods like those that damaged more than 70 homes in the Buffalo suburb of West Seneca in January are on the unlikely end of the spectrum, "if you live in an area that saw the incredible snow amounts, just be aware it's going to start to melt," he said. "If you live in flood-prone areas, you need to keep an eye out and be prepared to move to higher ground."
Buffalo officials said their immediate focus was on coping with the snow while it's still on the ground this week, but they said they were aware of the forecasts. The city's Public Works Department said that where possible, plow crews are making sure not to pile the snow up in flood-prone areas, with much of it being hauled to a central location.
Daniel Arkin of NBC News contributed to this report.