Biting Arctic air — bringing wind chills as low as 30 below — will make the outdoors miserable for more than 130 million Americans in the Northeast, as well as parts of the Southeast and Great Plains this weekend, forecasters warn.
But before folks file this cold snap away under "typical winter weather," scientists say the potentially record-breaking temperatures in store for Friday night through Sunday are being fed, at least in part, by a warming climate.
Confused?
It might seem like the effects of "global warming" would herald an end to these frigid conditions. President Donald Trump suggested so in a mocking tweet before the New Year, writing, "In the East, it could be the COLDEST New Year's Eve on record. Perhaps we could use a little bit of that good old Global Warming ... "
A study published last year in the journal WIRES Climate Change, however, lays out how the warming Arctic and melting ice appear to be linked to cold weather being driven farther south.
"Very recent research does suggest that persistent winter cold spells (as well as the western drought, heatwaves, prolonged storminess) are related to rapid Arctic warming, which is, in turn, caused mainly by human-caused climate change," Jennifer Francis, a climate scientist at Rutgers University and one of the study's authors, said in an email.
"'Persistent' is the key word here, as overall we expect that record-breaking cold events will occur less often in the future but they will likely last longer," she wrote.
Normally, cold air already sits above the North Pole in a swirling area of low pressure known as the polar vortex, which itself is not caused by global warming or climate change, meteorologists say.
But researchers have said the loss of sea ice and increased snow cover in northern Asia is helping to weaken the polar vortex.
In addition, "abnormally" warm ocean temperatures off the West Coast are causing the jet stream over North America — which moves from west to east and follows the boundaries between hot and cold air — to "bulge" northward, Francis said.
That scenario is what has caused a lack of storms so far this winter in California and Alaska's unusually warm and record-breaking temperatures, she added.
Meanwhile, the wrinkled jet stream as it travels east is also being pushed farther south, according to her research.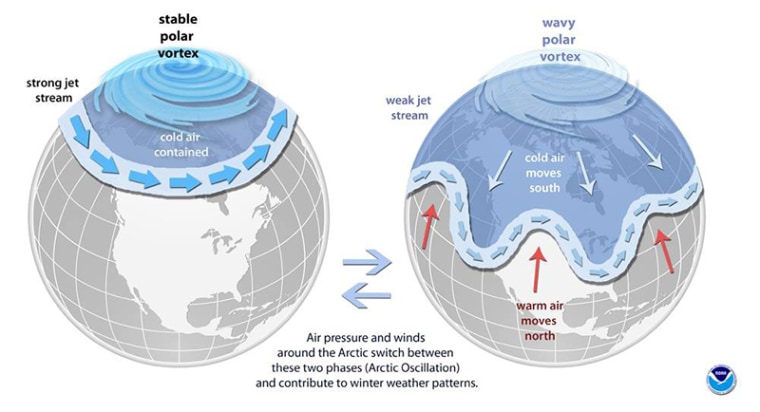 The jet stream looks "less like a skull cap on the planet to more like a wavy snake," said Jeffrey Dukes, the director of the Climate Change Research Center at Purdue University. "It allows blobs of cold air to migrate south."
Francis added that this particular weather pattern could stay in place with the combination of warmer-than-normal ocean temperatures in the eastern Pacific Ocean coupled with the warming Arctic and loss of sea ice in the Pacific.
"The former is largely natural while the Arctic warmth is clearly related to climate change. We call this combination 'It Takes Two to Tango,'" she said.
The Earth's global temperature has been steadily increasing and was the hottest on record in 2016, according to independent analyses by NASA and NOAA.
Photos: 'Bomb cyclone' slams East Coast with wind and snow
A 2017 report sponsored by NOAA found that Arctic temperatures are increasing at double the rate of the global temperature increase. That also means that as more sea ice melts, there won't be as much sunlight being reflected off the ocean's surface and the water will absorb more heat — contributing to global warming.
Dukes said the decrease in Arctic ice has been dramatic over the past 10 to 15 years, but it will take more time to definitively conclude that climate change will contribute to colder Arctic air moving farther south more frequently. (Scientists are also looking at how climate change is playing a role in extreme weather events, such as Hurricane Harvey, which deluged Houston in August.)
"On a whole," Dukes said, "we're getting a warming of the planet and storms are becoming more damaging."