With a wildfire bearing down, officials gave orders Friday to evacuate the entire town of Medical Lake, Washington. 
Pushed by 35 mph winds, the Gray Fire grew from an estimated 500 acres to nearly 9,500 by Saturday morning, the State Department of Natural Resources tweeted. 
One person died and "many" structures were lost, the department said.
Medical Lake, which is about 12 miles southwest of Spokane, is home to nearly 5,000 people. 
"We know that some homes have burned. We don't know how many," Joe Smillie, a spokesman for the department, said Friday night. "This blew up really big, really fast. It's been really hot the last week."
The fire jumped Interstate 90 after 5 p.m. Friday, closing parts of the highway in both directions and forcing officials to begin evacuations of Four Lakes, a small town of about 500 people. Another major thoroughfare, State Route 902, was also closed in both directions near Medical Lake.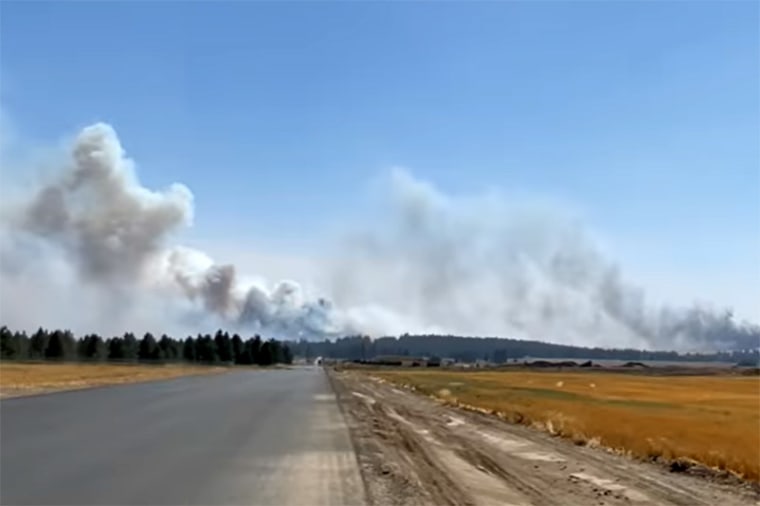 Spokane County Sheriff John Nowels said Friday afternoon his deputies were "running from house to house" in the evacuation area urging people to leave their homes.
Nowels said the fire was "zero percent" contained and burning into more populated areas, including neighborhoods and at a school.
He estimated more than 100 law enforcement officers had responded.
"We've had to rescue people by boat. We've had to rescue people by helicopter," Nowels said. "If you're in an evacuation area, leave. We have some folks who refused to leave. Fire then overtakes where they're at and they need to be rescued." 
Twenty Washington Air National Guard members Friday afternoon helped to evacuate patients and staff members from Eastern State Hospital, a 367-bed inpatient psychiatric hospital.
Smillie said it wasn't clear what caused the fire.
The agency was encouraging people Friday afternoon to seek shelter at a high school in the neighboring town of Cheney. By Friday evening, Cheney was under a level-one evacuation notice, meaning officials were asking people to be ready to leave, Smillie said. He said officials were working out a plan for evacuees if the fire continued to approach Cheney.
Several other fires started in other parts of Washington on Friday afternoon, including a blaze near the town of Elk, which burned at least 30 structures.
Much of inland Washington was under a red flag warning Friday, according to the National Weather Service.
"Warm, dry winds will continue through the afternoon producing critical fire conditions," forecasters wrote.
Gov. Jay Inslee said his thoughts were with everyone affected.
"I'm also praying for the safety of the first responders working to contain the fire," Inslee said on X, formerly known as Twitter. "May you all remain safe and out of harm's way."