More than a quarter-million customers lost power on Christmas Eve as strong winds blasted Michigan and the Canadian provinces of Ontario and Quebec, utility companies said.
About 105,000 customers in Michigan were still without power at 9 p.m. ET, utility companies reported. Hydro-Québec said about 60,000 customers had no power at 11 p.m. And Hydro One said it was still working to restore power to about 39,000 customers in Ontario at 11 p.m.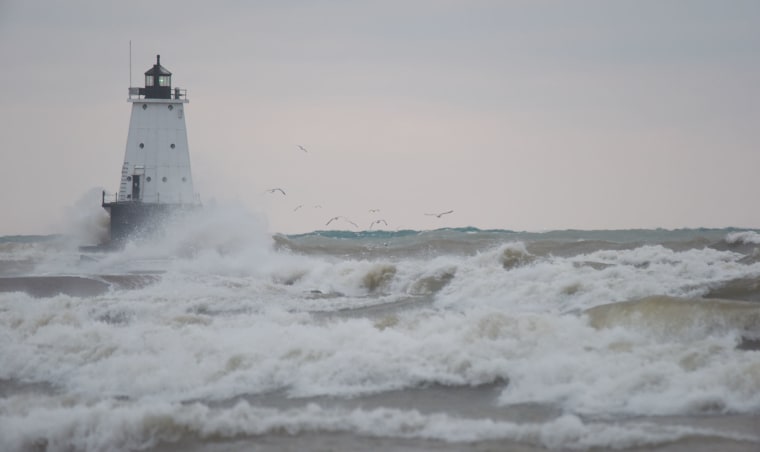 At its peak Thursday morning, the total number of customers without electricity approached 300,000. The winds calmed by Thursday night, but utilities said some customers were likely to remain in the dark until Sunday in some areas of Michigan.
The failures were mainly caused by downed tree branches, Hydro One said Thursday night.
Sustained winds reached 60 mph in some areas during the day. Police in Montreal closed both René Lévesque Boulevard, one of the city's major streets, in both directions Thursday afternoon after gusts blew construction materials off towers under construction.
"About 3 o'clock this morning, we saw the lights from either the power trucks or the police right down the street here," Jim Rohlman of Lansing, Michigan, told NBC station WILX. "And then, we saw what looked like arcs from the transformers every once in a while."
Consumers Energy said it had called in more than 1,300 employees and contractors from four states to help restore electricity.
"Just terrible wind," said Arloa DeGraaf of Grand Rapids, Michigan. She told NBC station WOOD of Grand Rapids that she'd planned to host about 35 people for Christmas celebrations, but "I got up about 3 or 4 a.m. and it was gone — no electric."
At least, she said, there was "no snow, so that's good."