CHICAGO — A winter storm moving across the Great Lakes that's forecast to drop about a foot of snow in some areas created treacherous driving conditions Friday, closed schools and forced the cancellation of hundreds of flights.
The National Weather Service issued winter-weather warnings and advisories across the upper Midwest. The snow that began falling late Thursday afternoon was expected to continue through Friday as the storm moves east.
As of Friday morning, the National Weather Service received reports of between 9 and 11 inches of snow over a 24-hour period in Fort Dodge, Iowa. Eight inches was reported in parts of northern Illinois and up to about 6 inches was reported the Chicago area.
Portions of northern Indiana were hit hard, with 8 inches reported in New Carlisle. Snow across southern and central Michigan ranged from 7 inches on the western side of the state to more than 2 inches in the Detroit area.
Hank Stawasz was out shoveling his driveway by hand, clearing a path for the retiree to exit his home in the Detroit suburb of Livonia.
"It's part of living in Michigan," a smiling Stawasz said from underneath his Detroit Red Wings winter hat. "I saw the plows come by, so I figured I'd get a jump on it so I wouldn't have to shovel it when it's 4 feet high."
Slide-offs and crashes were reported on the roads early Friday in the Chicago and Detroit areas.
About 730 flights were canceled at Chicago's O'Hare International Airport and about 265 flights were canceled at Midway, the Chicago Department of Aviation reported Friday morning. More than 200 flights were canceled at Detroit Metropolitan Airport in Romulus, Michigan, by early Friday
American, United, Delta and Southwest airlines warned travelers to expect more flight cancellations to and from Minnesota, Michigan, Wisconsin, Illinois, Indiana and Ohio.
Meteorologist Heather Orow in Grand Rapids, Michigan, said Friday morning the storm is "generally going to be an issue for travel." People should stay off the roads if possible, but if they drive they should expect delays and hazardous conditions.
Some of the highest totals are forecast in northern Illinois, including the Chicago area, as well as northern Indiana and southern Michigan.
The expectation of up to 12 inches around Chicago prompted officials to close the city's public schools to about 390,000 students Friday. Classes were also canceled in the city's suburbs.
Chicago Department of Streets and Sanitation Commissioner John Tully said 300 salt-spreading plows hit the streets late Thursday and would continue their work through Friday.
Weather service meteorologist Charles Mott said the morning rush in Chicago "is gonna be trouble."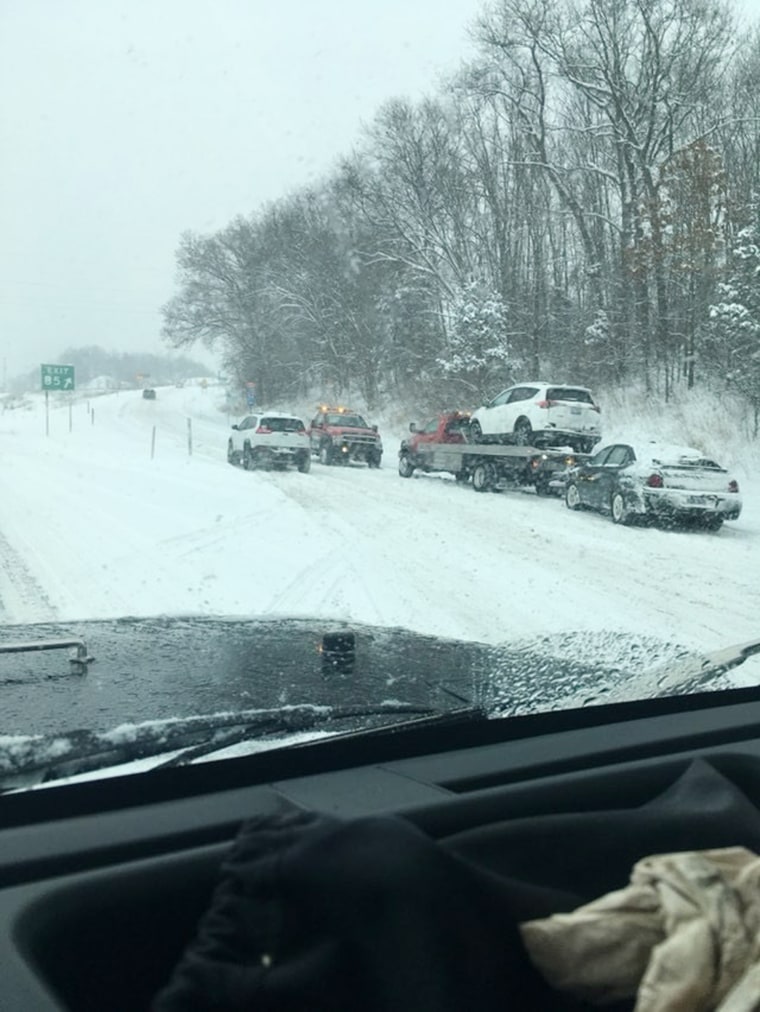 Court closings were reported in Chicago and Detroit, and driver's license offices were shut in the Chicago area.
Schools in Detroit shut for the day along with Wayne State University in Detroit and other schools across Michigan in the path of the storm. The Detroit area was in line for 6 to 9 inches.
Students in the Milwaukee Public School District — Wisconsin's largest school district — have Friday off, as well hundreds of other schools. Schools across Nebraska and Iowa have closed or delayed the start of classes as snow and subzero wind chills rake the region
AAA Michigan recommended that drivers stay off the road if possible.
According to NBC's WOOD TV8, the Michigan Department of Transportation was forced to shut down part of Interstate 94 eastbound after 38 vehicles were involved in a pileup crash at around 1:15 pm. Several semi-trucks were reportedly involved in the crash.