At least four people had been killed in crashes on ice-slicked roads in Minnesota, and some parts of the Upper Midwest were buried under two feet of snow Tuesday as an unusually early winter blast socked large parts of the country, authorities said.
Lac du Flambeau in north-central Wisconsin had 23.7 inches of snow on the ground Tuesday afternoon, while 24.5 inches had fallen on Ishpeming in the Upper Peninsula of Michigan, said the National Weather Service, which reported that numerous other locations in the north-central Upper Peninsula had seen more than 18 inches of snowfall.
Parts of metro Minneapolis-St. Paul, Minnesota, were approaching 18 inches, as well. The State Patrol said it handled more than 1,100 crashes and road spinouts on Monday alone — numbers for Tuesday weren't yet available — and the ice-coated roads were blamed for at least four deaths Monday and Tuesday.
Two people were killed Monday afternoon in separate crashes in Carver and Blue Earth counties, the State Patrol said. Then, shortly before dawn Tuesday, two people were killed and a third was seriously injured when their car skidded over the center line in Rice County and was broadsided by a car traveling in the opposite direction, according to the patrol.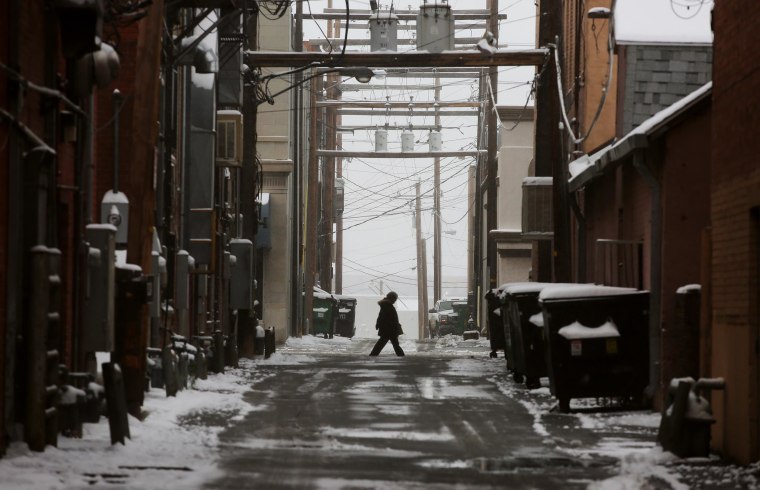 The snow and cold forced rescue crews to postpone a search for a boater who went missing on the Mississippi River over the weekend in Winona County, Minnesota, the sheriff's office told NBC station KTTC of Rochester.
School was canceled Tuesday in some districts in Wisconsin and Minnesota, and some Veterans Day events were called off. The so-called polar vortex scrapped a few dozen flights at the Minneapolis, Chicago and Detroit airports, but nothing like on Monday, when more than 300 were wiped out in Minneapolis.
At Green Valley Golf Course in New Philadelphia, Ohio, David Phillips and a couple of friends were getting in one last round of golf Tuesday.
"You can see the vortex coming in," Phillips told NBC station WHIZ of Zanesville, adding: "I probably won't be able to play" until spring.
Farther west, up to 12 inches of snow fell on parts of southern and eastern Montana, with drifts up to two feet near Brusett, in northeast Montana. State advisories discouraged travel in parts of North Dakota and much of western Minnesota.
Later in the week, temperatures in some of the areas that got the heaviest snow in the northern Plains and the Upper Midwest could dip below zero, potentially locking much of the ice in place for days, said Jon Erdman, a forecaster for The Weather Channel.
"You can see the vortex coming in."
The frigid air took hold across the center of the country Monday, sending temperatures plunging by up to 30 degrees in less than an hour. The arctic air should reach the East Coast by week's end — bringing temperatures more normal for January than November. Dallas, which was close to 80 degrees on Monday, dipped just below freezing Tuesday morning.
By Friday, low temperatures are expected to be below freezing across a huge stretch of the U.S., from Oregon across to Maine and south to Texas and Georgia.
"It's horrible. It's really cold out," Jon Dempsey, a homeless man who's staying at the Gospel Mission in Medford, Oregon, told NBC station KOBI.
The National Weather Service said temperatures could fall as low as 22 below zero Wednesday morning in Butte, Montana, and would stay well below freezing into the weekend.
Erin McClam and Alexander Smith of NBC News contributed to this report.