At least eight people have been killed by icy weather paralyzing the South, which crippled transportation and left tens of thousands of customers without power, authorities and meteorologists said Wednesday.
Almost 1,700 arrivals and departures were canceled or delayed by late Wednesday afternoon at Hartsfield-Jackson International Airport in Atlanta, which recorded 2.3 inches of snow Tuesday night and Wednesday. Hundreds of other delays and cancellations were reported at airports in New Orleans, Houston, Charlotte, North Carolina, and Raleigh, North Carolina.
The governors of Alabama, Georgia, Louisiana and North Carolina all declared states of emergency. All public schools across Alabama were closed Wednesday. More than 23,000 customers remained without power Wednesday night, about 14,000 of them in North Carolina, utilities reported.
The winter storm blanketed a region from Texas to West Virginia and southward to Panama City, Florida, creating a rare condition: "We actually had snow on the ground in all 50 states at least somewhere," said Danielle Banks, a meteorologist for The Weather Channel.
As much as 3 more inches of snow is expected Wednesday night in the Carolinas and Virginia. Banks said it was expected to end shortly after midnight, but "some of that icing is going to stick around because of the cold temperatures early on Thursday."
For schoolkids in the Deep South, which rarely gets measurable snow, the weather was a dream come true.
"Every time the news came on and said 'snow,' I couldn't believe it would ever happen, but it came through this time," Kei'shawn Moore, 11, of Albany in southern Georgia told NBC station WALB.
"The best part about it is that my little sister had never got to play in the snow, and this is my first time playing with [her and her friends] at the same time," Kei'shawn said.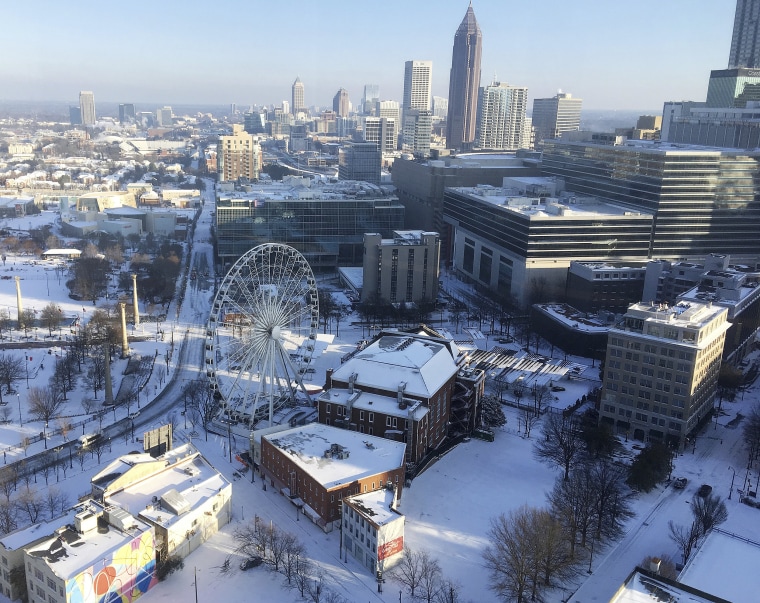 But for drivers, the conditions were a nightmare — so much so that even Dale Earnhardt Jr., the legendary NASCAR racer, couldn't cope.
Earnhardt slid his own pickup truck into a tree in Mooresville, North Carolina, just minutes after he helped a couple in another car navigate an icy road, NBC station WRAL of Raleigh reported.
A spokesman for Earnhardt said he wasn't hurt.
Earnhardt posted a photo on Twitter with this warning: "NC stay off the roads today/tonight. 5 minutes after helping these folks I center punched a pine tree. All good. Probably just needs a new alignment."
Authorities confirmed eight deaths attributable to the storm:
Two men were killed Wednesday morning along Interstate 75 in Bibb County, Georgia, the county coroner said. The Bibb County Sheriff's Office said the driver of a Ford Mustang noticed a man by the side of the road and was trying to switch lanes to avoid him when he hit a patch of ice and lost control of his car. The car struck the passerby, and both men were killed.
An 8-month-old child was killed Wednesday morning in a single-vehicle crash in Metairie, Louisiana, when the driver lost control, hit the curb and rolled into a canal, the Jefferson Parish Sheriff's Office said. It said ice on the road was a contributing factor.
New Orleans police said a man was killed before dawn Wednesday when he was hit by a Ford Explorer on I-10. The driver of a Toyota Tundra swerved to avoid a vehicle approaching the wrong way in her lane, spun out in icy conditions and hit the Explorer, which in turn struck the 57-year-old man. Police said he was thrown off of the elevated part of interstate onto the ground below and was pronounced dead at the scene.
A woman was found dead Wednesday morning in Memphis, Tennessee, said police, who said the death was possibly weather related.

"We had two weather-related deaths in the City of Houston," Alan Bernstein, a spokesman for Houston Mayor Sylvester Turner, told NBC News. Details weren't immediately available.

A woman was killed in a crash Tuesday on I-64 in Milton, West Virginia, police said. The Cabell County Sheriff's Office told NBC station WSAZ of Huntington that the woman, a student at Marshall University, lost control of her vehicle on slick roads, hit a guardrail and slid into the back of a tractor-trailer that was stopped in an emergency lane.