Blistering cold air blasted across most of the country Tuesday, and a lake-effect snowstorm hammered the Great Lakes and parts of New York, hitting some places with more than 6 feet of snow — so much that the National Guard was activated around Buffalo. More than 100 miles of the New York State Thruway were closed, trapping a college basketball team on its bus more than 24 hours and counting.
The National Weather Service said Tuesday night that some areas of the Buffalo suburbs were approaching 76 inches of snow since Monday — that's the record for snowfall over a 24-hour period anywhere in the U.S. ever.
"This is a very intense storm, one of those record storms that we are going to remember for a few years beyond this date," Buffalo Public Works Commissioner Steven Stepniak said.
High temperatures struggled to climb above freezing in much of the Northeast, and they didn't even come close across most of the Midwest. Wind chills made it feel close to zero or colder in parts of Illinois, Wisconsin and Minnesota.
And there's no sign of a reprieve from the cold brought to the country by what meteorologists call an Omega block — cold that has been blamed for at least 19 deaths in traffic accidents on icy roads since Saturday, at least three deaths from weather-related heart attacks in Upstate New York and the death of a 16-year-old boy from exposure in Nebraska.
More than 100 cities could break records Tuesday night and Wednesday for the lowest daily high or low temperature for this time of year, The Weather Channel reported. That includes the Plains, the Midwest, the Deep South and the Northeast.
At 34 degrees, Anchorage, Alaska, was expected to be 12 degrees warmer Wednesday morning than Tallahassee, Florida.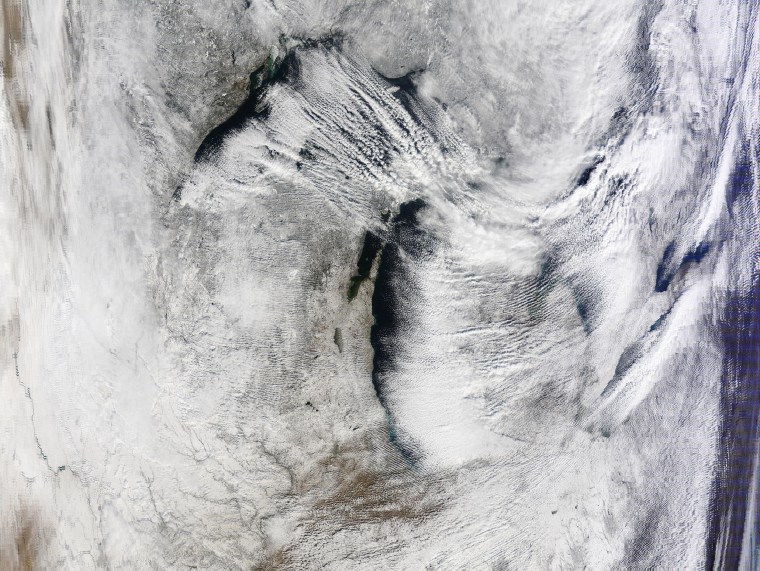 In New York, the problem was snow. Roads and schools were closed, and states of emergency were declared for some counties. The National Guard was activated in Erie County, which includes Buffalo, to help with cleanup. Buffalo Mayor Byron Brown bluntly told motorists at a news conference to stay off the streets and warned would-be visitors not to even think about coming into town as the city's traffic office reported that at least 100 vehicles were stranded on main streets in the southern half of the city.
Meanwhile, a 100-mile-long stretch of Interstate 90 from Rochester, New York, to the Pennsylvania state line — known as the New York State Thruway — was shut down Tuesday night because of whiteout conditions. State officials were checking on their welfare, NBC station WHEC of Rochester reported.
The Niagara University Purple Eagles women's basketball team was trying to return home from Pittsburgh after a loss to the Pitt Panthers on Monday night when the team bus got stuck on the Thruway just 50 miles from their campus in Buffalo. They remained stuck there Tuesday night — live-tweeting their experience after more than 24 hours on board, thanks to the bus' Wi-Fi.
The team decided to stay on the bus rather than to be evacuated. Ellen Pzepasniak, a spokeswoman for the Erie County executive's office, said emergency officials have been checking up on the bus, and "there are no reported issues."
RELATED: Follow the Niagara University Basketball Team's Adventure on Twitter
Because the wind wasn't expected to shift direction much, forecasters said snow would pile especially high. Lancaster, New York, had 4 feet on the ground by mid-afternoon, and Orchard Park had 3 feet. About 2 feet was on the ground in parts of Wisconsin and the Upper Peninsula of Michigan.
"By the time all is said and done, parts of Upstate New York could be buried in over 5 feet of new snow," said Jonathan Erdman, a meteorologist for The Weather Channel.
In-Depth
Social
—
M. Alex Johnson, Cassandra Vinograd and Erin McClam