Team USA put up a good fight, but lost an incredibly close game. Trump's attorney is confronted with Mike Pence's harsh comments. And a four-time Disney bride wants to keep the magic going.
Here's the biggest news you missed this weekend.
A narrow loss for Team USA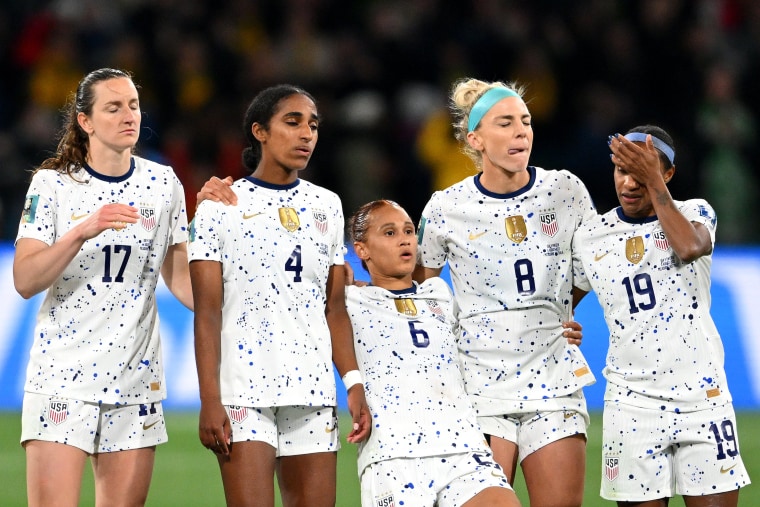 A fraction of a centimeter cost Team USA the game and a chance to defend its title at the Women's World Cup in Melbourne Sunday.
The U.S. women's team dominated Sweden for much of the play, forcing fine saves from the goalkeeper, but the game was tied 0-0 after extra time. The match was ultimately decided in penalty kicks, where Sweden won out 5-4.
Minutes after Team USA was eliminated, goalkeeper Alyssa Naeher was still gesturing at her net in an apparent belief that she had saved the match-ending kick.
This is the Weekend Rundown. Sign up here to get the Morning Rundown direct to you inbox on weekdays.
Naeher appeared to stop Sweden forward Lina Hurtig's shot but the video assistant referee showed the ball barely crossed the line as America crashed out in the round of 16, its earliest World Cup exit ever.
The tournament will continue Monday, when host Australia takes on Denmark and England faces Nigeria.
Russia strikes as world leaders talk peace
A Russian "guided air bomb" hit a blood transfusion center in the Ukrainian city of Kupiansk Saturday night, killing two people and injuring four more, Ukrainian officials said.
President Volodymyr Zelenskyy posted a picture of a building engulfed in flames in a Telegram post and said, "This war crime alone says everything about Russian aggression."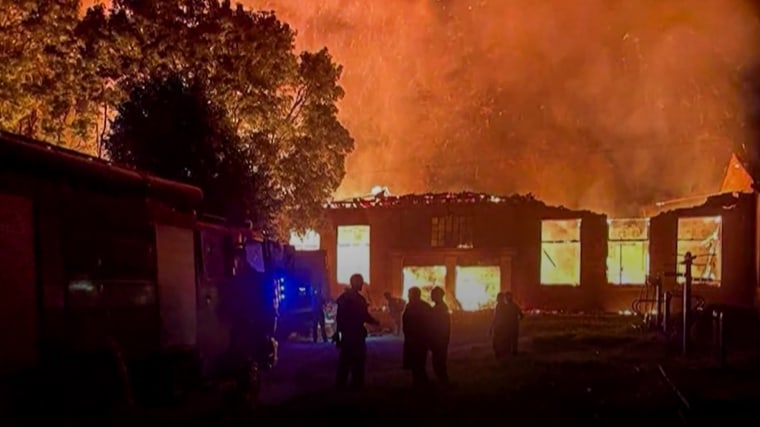 Houses and farms were damaged, according to regional Gov. Oleh Syniehubov, who added that residential housing and other agricultural infrastructure had also been struck in nearby villages.
The intense overnight fighting came as officials from 40 different countries met in Saudi Arabia to begin Ukraine-organized peace talks aimed at finding a way to start negotiations over Russia's war.
FDA approves pill for postpartum depression
The Food and Drug Administration approved the first-ever pill for postpartum depression. The medication, called zuranolone, was found in clinical trials to improve symptoms of postpartum depression, such as anxiety, difficulty sleeping and low energy, as early as three days after taking the first pill.
Teen charged in fatal stabbing of gay man
The 17-year-old suspect arrested in connection with the fatal stabbing of a 28-year-old gay man at a Brooklyn gas station was charged with murder as a hate crime, officials said Saturday.
O'Shae Sibley was fatally stabbed July 29 in Brooklyn, New York. He was vogue dancing at a gas station when a group approached him and told him to stop, witnesses said.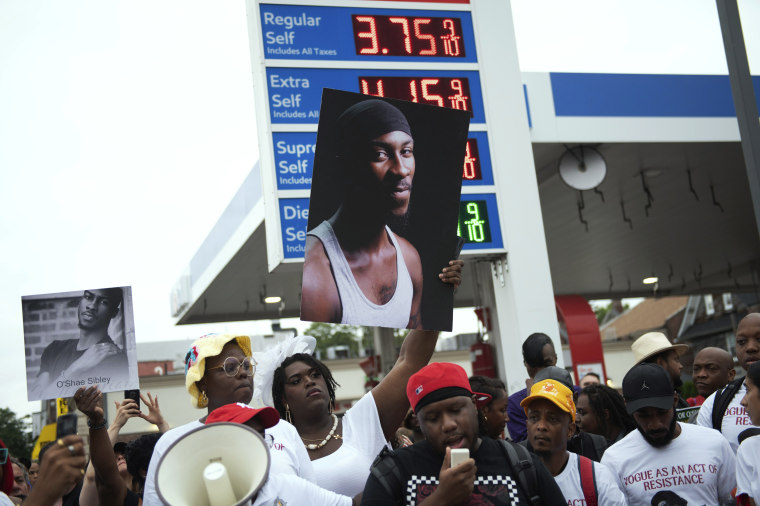 Meet the Press 
Since Donald Trump's indictment last week on charges he conspired to defraud the country, former Vice President Mike Pence has been quite vocal about the pressure he felt from the former president and "his crackpot lawyers" to overturn the election.
On "Meet the Press" Sunday, Chuck Todd pressed Trump lawyer John Lauro about Pence's striking characterization. Lauro insisted Trump and Pence had merely engaged in a disagreement over whether a vice president could constitutionally take actions that could lead to a presidential election being overturned.
"A technical violation of the Constitution is not a violation of criminal law," Lauro contended, calling it "just plain wrong" to suggest that Trump had pressed Pence to break the law.
After Lauro's interview, Rep. Jamie Raskin, D-Md., slammed his argument as "deranged."
You can watch the full interview here.
What are Trump's defenses?
Some legal experts say there are a number of plausible defenses the former president can use, such as arguing he relied on the advice of lawyers. But many veterans of federal criminal cases say each of Trump's most viable arguments can be overcome, based on the known facts and evidence and the current state of the law.
Politics in Brief
2024 Election: The first battle of Ohio's Senate race — already awash in hostilities among the three Republicans angling to unseat Democratic Sen. Sherrod Brown in 2024 — arrives Tuesday with a special election on a hot-button ballot measure.
Meet the Press Blog: Florida Gov. Ron DeSantis on Friday offered his strongest dismissal of the election fraud theories at the heart of Trump's push to overturn the 2020 election.
Mike Pence: Pro-Trump protesters heckled the former vice president at his first campaign event since Trump was indicted in the special counsel's 2020 election pobe. "There's the sellout! There's the traitor!" they yelled at Pence as he exited his vehicle.
A Juneteenth flip-flop: Republican presidential candidate Vivek Ramaswamy called Juneteenth a "useless" holiday in Iowa on Saturday, two months after posting a video saying it's a day to celebrate "how far we've come."
Debating a debate: California Gov. Gavin Newsom's team slammed Florida Gov. Ron DeSantis' proposed rules for their debate on Fox News, calling them a 'joke' in a statement on Saturday. DeSantis' team did not immediately respond to a request for comment.
Culture & Trends
Disney weddings have skyrocketed in popularity, and for this bride, one wasn't enough. Shellie, who calls herself "The Serial Bride" online, is going viral for being married at Disney four times — and is now planning at least two more.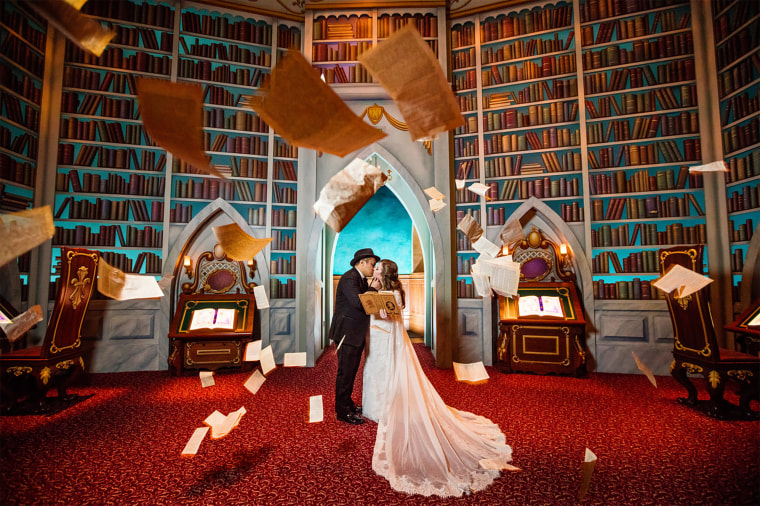 Shellie, who has turned her Disney wedding pictures into Instagram reels that have been viewed millions of times, is part of a growing and thriving community of adult Disney enthusiasts who obsessively document their love of Disney online, with repeated expensive trips to the theme parks. "I love being a magic creator," she told NBC News in an interview. Planning Disney weddings and vow renewals has become her hobby and a way to pamper herself. She said she works a regular, 9-to-5 job, and budgets for her Disney adventures.
To some, Shellie and her husband's decisions are confusing. On social media, she's become the latest "Disney adult" to receive death threats and judgment from people who believe that Disney experiences are too expensive.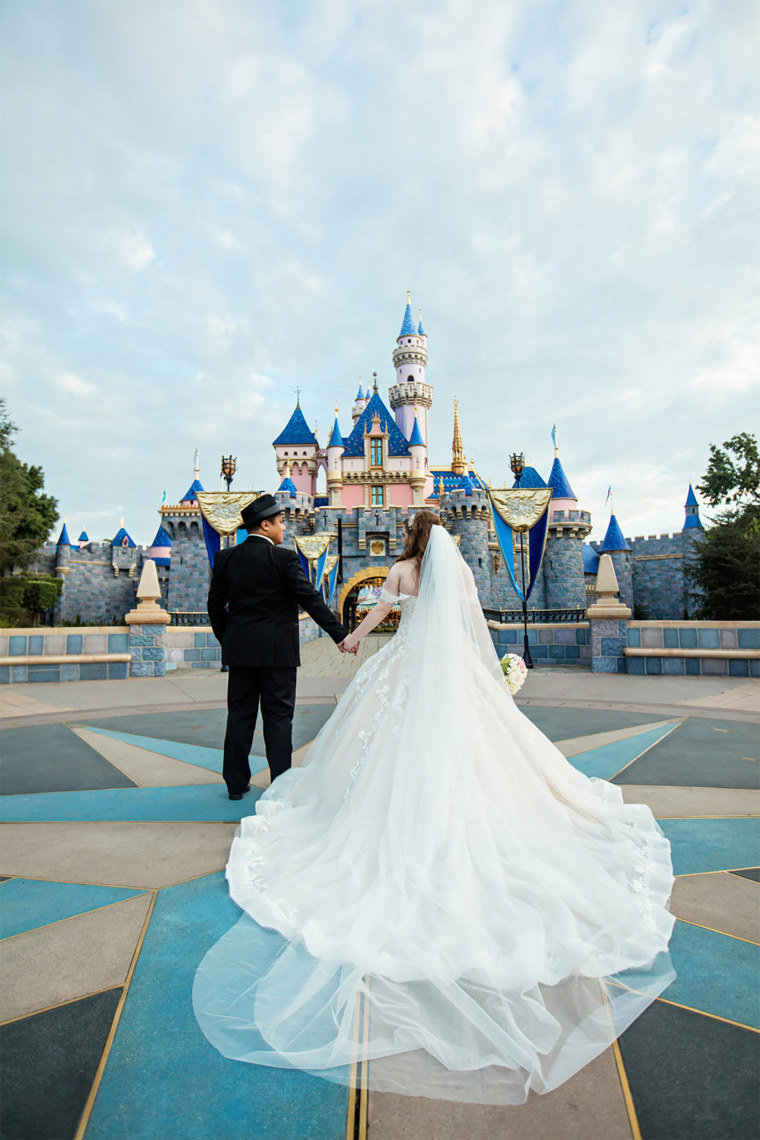 In Case You Missed It