What, no dip?
Two trucks, one carrying beer and the other hauling chips, collided in Florida early Wednesday, littering the highway with the stuff that couch potatoes' dreams are made of.
The crash between the semi-tractor trailer transporting Busch beer and the box truck filled with Frito-Lay products happened on Interstate 95 in Brevard County just after 3:10 a.m., the Florida Highway Patrol said.
"Neither driver was hurt, but you had Doritos and Busch beer all over I-95," Sergeant Kim Montes, a spokeswoman for the Florida Highway Patrol, told NBC News. "That's like a Super Bowl commercial right there."
The crash shut down the southbound lanes of the highway just south of the Pineda exit for nearly four hours, and happened when the Frito Lay truck stopped on the shoulder of the road because of problems with the vehicle, Montes said. The semi driver was trying to avoid another vehicle when it swerved into the other truck, causing the chip truck to overturn.
The beer truck was seared open by the impact, sending dozens of cans of beer onto the road, reported News 13 in Orlando.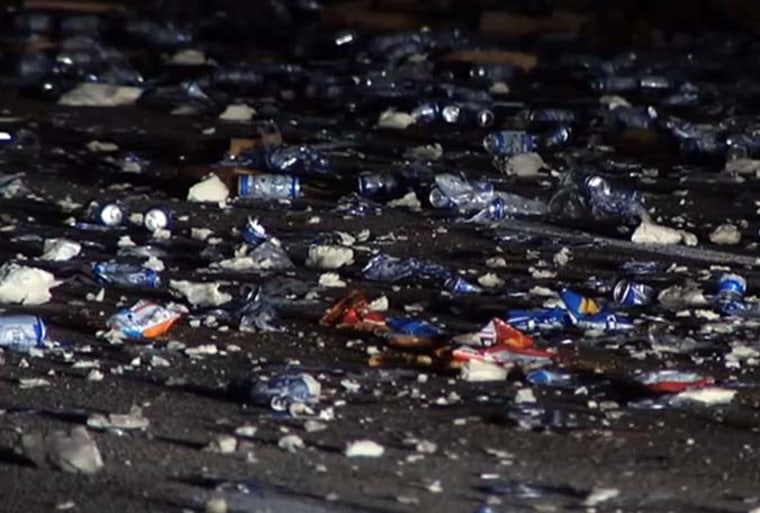 Officials brought in a front-end loader to clean up the snacks, which couldn't be salvaged "because the cargo has been damaged," Montes said.
Related: West Virginia Crash Spills Chickens, AK-47, Pot and Fireworks
The semi driver, Roberto Ferrer Rodriguez, 54, of Miami, was ticketed for failure to maintain a single lane, the Florida Highway Patrol said. The other driver, Zachary Basinger, 29, of Melbourne, Florida, was not charged.