Like the rest of America, James Meyers Jr. had forgotten about the 2001 Tom Green flick "Freddy Got Fingered" — a movie so bad that Roger Ebert likened it to a "vomitorium" in his zero-star review.
But memories of the stomach-churning comedy came flooding back to the North Carolina dad this week when he was unexpectedly busted for failing to return a VHS rental to a local video store — way back in 2002.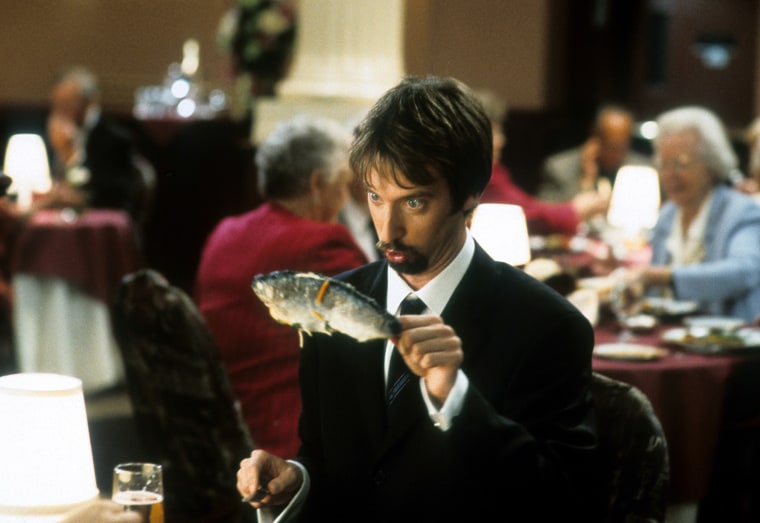 That movie, Meyers said, was "Freddy Got Fingered."
"I don't remember ever owning it, renting it, or watching it," he told NBC News. "Really, everything from more than 10 years ago is a blur."
The Concord Police Department fingered Meyers after stopping him for a broken brake light while driving his 10-year-old daughter to school. It was then that cops discovered there was a warrant out for his arrest for failing to return the video.
Meyers, a 37-year-old caterer and D.J., said he had no clue what was going on when the police officer told him to get out of the car. Even during previous unrelated court hearings and other traffic stops, he never got any inkling he was wanted for failing to return a movie.
Related: U.S. Marshals Arrest Houston Man for 1987 Student Loan Debt
The officer didn't arrest Meyers at the scene, but had him come down to the station to be served with the warrant. When he showed up, he was handcuffed at the magistrate's office — standard procedure, Concord police said in a news release.
Meyers was ordered to appear in court on April 27 for failure to return rental property, a misdemeanor.
If the case isn't dismissed, his lawyer Adam Seifer said Meyers would face having a criminal record. But that's not likely because prosecutors would have to prove Meyers deliberately held onto the movie for 14 years, he said.
Plus, the rental store, called J&J's Video, is no longer in business.
Meyers said police should be going after real criminals, not him.
"They're not here catching heroin dealers," he said. "They're chasing people for movie rentals from places that don't even exist anymore. That blows my mind."
Green, the star of the movie Meyers rented, also expressed his shock at the arrest, tweeting this week that "I just saw this and I am struggling to believe it is real."
The universally panned "Freddy Got Fingered," about a wannabe cartoonist who lies about his brother being sexually molested by their father, earned several Razzies — awarded to Hollywood's biggest bombs of the year — in 2002. Green took the "honor" in stride, becoming the first winner to accept a worst actor award in person.
Ebert, the venerated film critic who died in 2013, said in his scathing review: "This movie doesn't scrape the bottom of the barrel. This movie isn't the bottom of the barrel. ... This movie doesn't deserve to be mentioned in the same sentence with barrels."
But Meyers said he watched "Freddy Got Fingered" on Wednesday and gave it two thumbs up.
"I thought it was great. It was hilarious and I was laughing all the time," he said.
As an added bonus, Meyers said he got an unexpected phone call from Green while his story was blowing up on social media. He said Green, currently on tour in Australia, ended up recreating the scene from the movie where Freddy plays a keyboard that allows him to eat sausages at the same time, singing, "Daddy, would you like some sausage?"
"We both laughed hysterically," Meyers said.
Green also offered to help with legal fees, the New York TImes reported.
Meyers was floored by the call. "I almost died," he told The Times.