A convicted killer's crocheted underwear is the latest item being sold on a controversial "murderabilia" website, but the sale of Michigan murderess Samantha Bachynski's purported panties isn't sitting well with the person who helped put her behind bars for life. The family and friends of the Bachynski's three victims are "being re-victimized all over again — it's absolutely a disgrace," Genesee County Prosecutor David Leyton told NBC affiliate WEYI in Flint.
The Florida-based dealer, Serial Killers Ink, is asking for $300 for the underwear, according to the station. The site also features a mugshot of Charles Manson for $175 and Jeffrey Dahmer's written confession for $20. But Leyton questions why anyone would want macabre mementos that either belong to or remind people of heinous criminals. The underwear supposedly belonging to Bachynski features the word "Sami" written inside and a smiley face on the outside.
Bachynski was 19 when she was convicted in 2006 of helping her ex-con boyfriend torture and kill a Michigan man and his pregnant wife. The couple also killed a 53-year-old man they had befriended, police said. "These are sickos," Genesee County Sheriff Robert Pickell told WEYI. "You don't murder three people, then try to make profit from it. How does that happen?"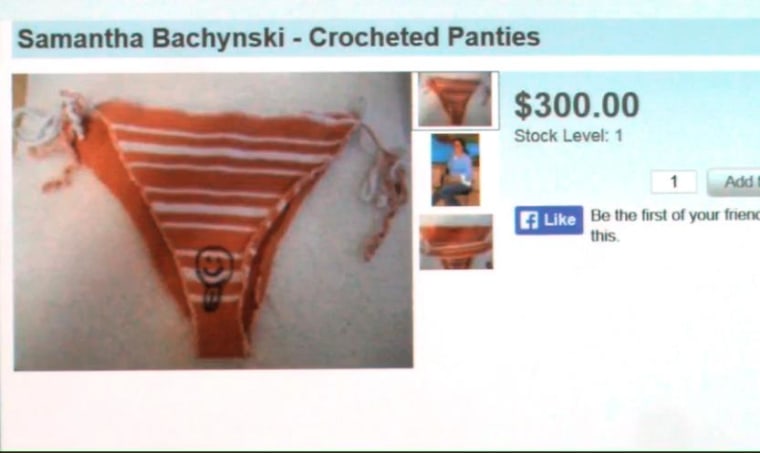 — Erik Ortiz