A photo of a feline perched on the hood of a moving SUV has gone viral, sending Ohio police in search of the catmobile's driver.
While one witness managed to snap a few pictures of the astonishing spectacle Sunday in the city of New Philadelphia, Police Chief Michael Goodwin said no one actually jotted down the car's license plate. The cat was apparently secured on the hood of the four-door Buick SUV with a leash.
"It's a very bizarre case — unclear if it would violate any animal cruelty laws," Goodwin told NBC affiliate WKYC. "It's the public safety (that's) of main concern to me. I've never seen anything like it in 25 years on the job."
The woman who took the photo, Polly Vandall, said she had to do a double-take to make sure she was actually seeing a cat riding on a car hood.
"It was walking around and it was not happy to be on the hood. People around the car were staring at the cat, quite distracted," Vandall told WKYC.
People on social media became furious after Vandall posted pictures of the curious kitty's balancing act, and called police to report the driver. Vandall urged caution, however.
"I'm not passing judgment on this woman," Vandall added. "I captured a few seconds of her life. I have no idea what happened right before or right after this moment."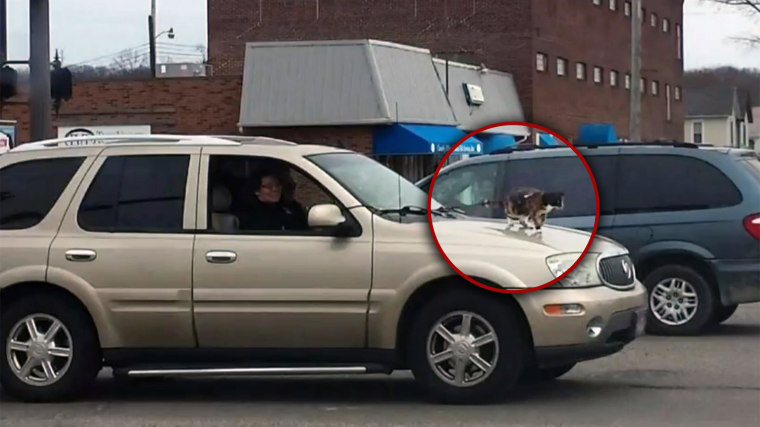 — Erik Ortiz