TEL AVIV — A bar mitzvah is meant to be a time of ceremony and celebration marking a child's coming of age, but for one family Saturday, the young man at the center of the ritual may have already been forced to grow up far too fast after his older brother was one of dozens of people taken hostage by Hamas one week ago.
"Itay was very missed," Orly Chen, 56, whose nephew Itay Chen, 19, a U.S.-Israeli dual citizen, was working for the Israeli military when Hamas is believed to have taken him hostage during its deadly ambush Oct. 7.
Itay Chen had been looking forward his little brother's bar mitzvah and had worked to prepare for it "for so long," his aunt said. "You know, I was looking at the door saying maybe he will be walking in every second and saying, 'Here I am.'"
'It's already a week ... where is he?'
The bar mitzvah came as Israel marked one week since Hamas militants swept through the country's south, killing hundreds of people and taking dozens more hostage in an attack that shook the country and shocked the world, with families like Orly Chen's still desperate for answers.
"The days are going by, and you know, it's already a week. The question is, again, where is he?" she said.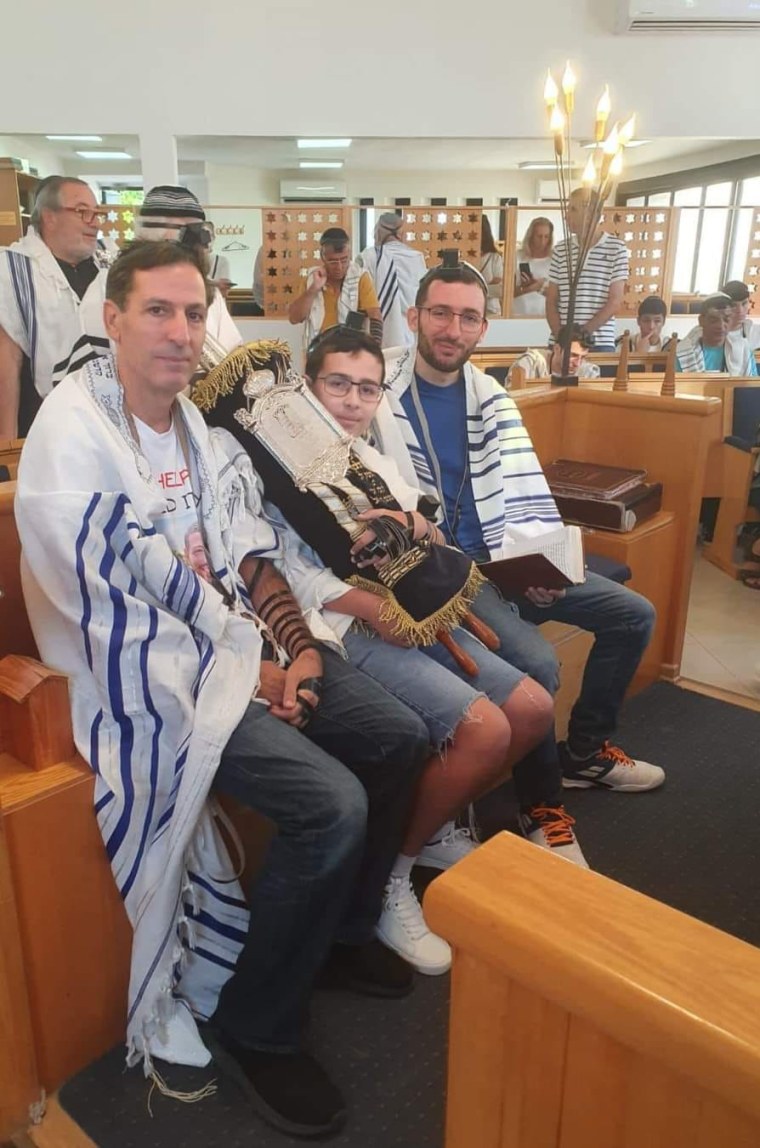 Itay Chen is one of more than 100 people Hamas took hostage in last Saturday's attack. Some families have received the unimaginable news since then that their loved ones had died, as at least 1,300 people in Israel have been killed in the conflict, while more than 1,900 people have been killed in Gaza.
The military arm of Hamas, the Qassam Brigades, said some hostages died as a result of Israeli airstrikes on places where they were being held. It further said in a post on Telegram that it had killed nine hostages, including four foreigners, in retaliation for the continued bombing of Gaza. NBC News was not immediately able to independently verify either claim.
'We're still waiting for an answer'
Orly Chen's family was one of the U.S.-Israeli families whom President Joe Biden met with for more than an hour in a Zoom call Friday.
Orly Chen said the call brought her and her loved ones some relief, saying Biden "gave hope."
"He was very supportive," she said, adding that he seemed to want to "hear what's going on with the families," with the call stretching longer than she had initially expected.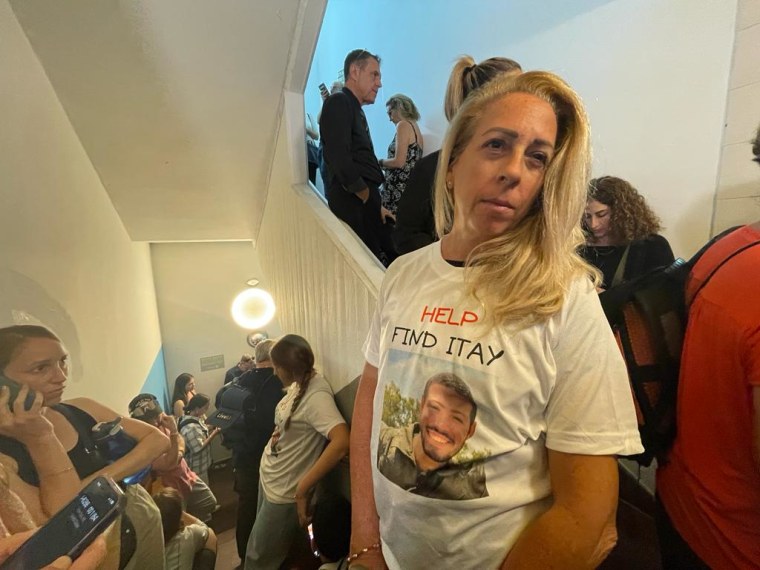 Orly Chen said her family still has yet to hear much from Israeli leaders, however.
She said she was disappointed by the lack of communication, saying: "President Biden has a few other things to take care of, but he had the time to sit for an hour and a half with the families. ... The president of Israel doesn't even have five minutes."
"We're still waiting for Itay to come home," she said. "We're still waiting for an answer. Where is he?"
'I try to stay optimistic'
Dozens of families are similarly waiting to learn whether they will ever be reunited with their missing loved ones again.
"Still no news from Celine," said Ido Nagar, 33, whose wife, Celine Ben David Nagar, 32, was taken hostage last Saturday morning as she drove into southern Israel toward the festival where dozens of revelers were killed.
Ben David Nagar was traveling in a car with two friends when she told her husband that she was turning back after hearing sirens. The last thing he heard from her was that she was afraid turning back had been a "mistake" and that armed men were on the road.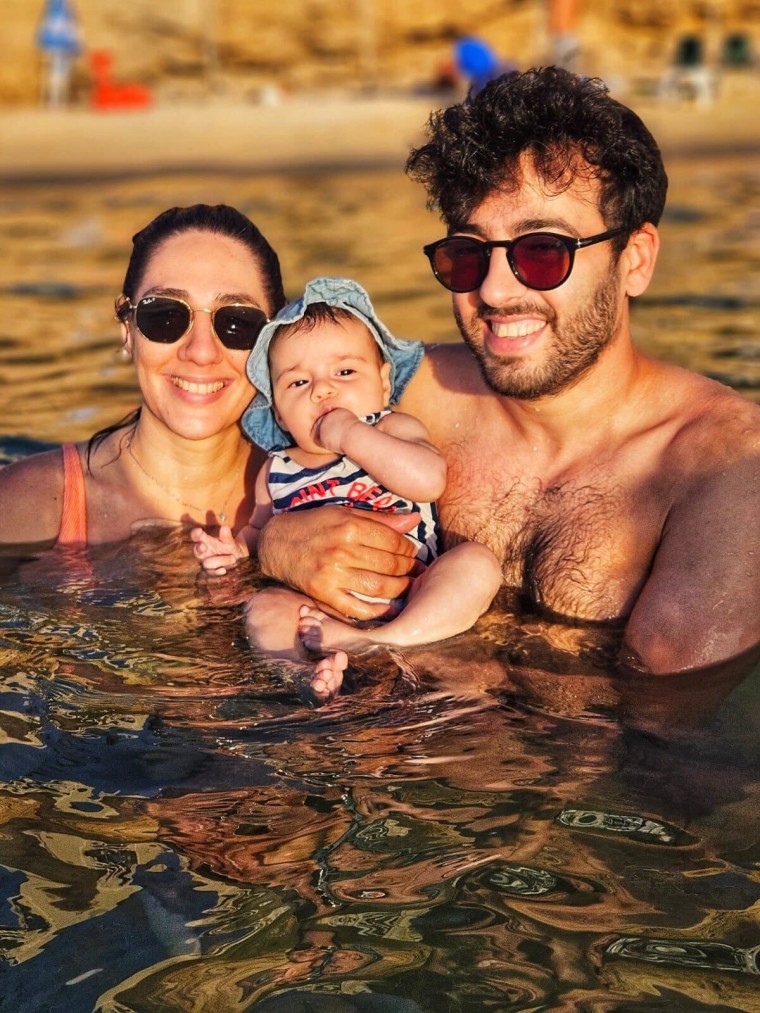 Nagar was the one to find his wife's car with bullet holes visible on the driver's side of the vehicle, its windows smashed and blood outside the car.
Just Friday, Nagar said, he was at a funeral to bury one of the two friends she had been traveling with after they were found dead. "The other friend is still missing," he said. "I try to stay optimistic ... that maybe she's alive," Nagar said of his wife, with whom he recently welcomed a baby, Ellie.
"If I start thinking about it all, what can happen to her there, the negative that can happen, it's tearing me apart," he said. "I don't know what to tell you. I just hope that she comes back."