Almost 1.5 million Iraqis are in danger of being killed by a wall of water if the dismally maintained Mosul dam collapses, a former senior government engineer who was once in charge of the country's dam system warned on Thursday.
While the government of Prime Minister Haider al-Abadi has sought to downplay the risk of a collapse of the country's largest dam, earlier this weekit advised many residents of the heavily populated Tigris River valley to move at least 3.5 miles away from its riverbanks.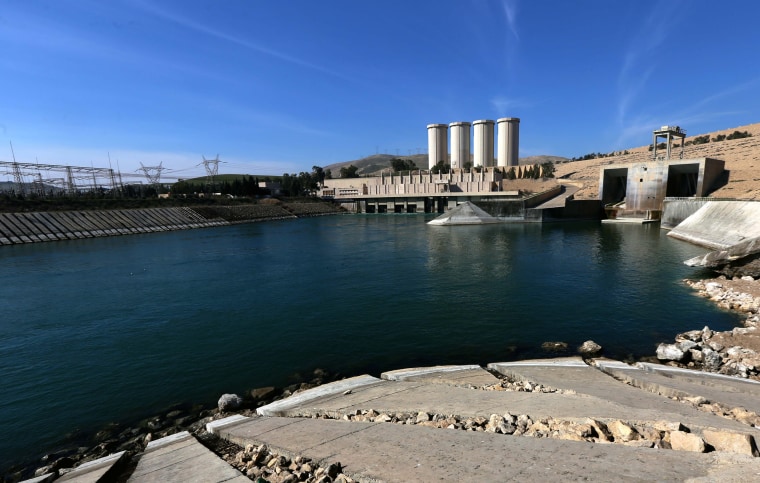 The U.S. Embassy in Baghdad said a collapse of the dam in the north of country would be "serious and unprecedented." Some 500,000 and 1.47 million Iraqis would "probably would not survive" the wave, while water could reach depths of 45 feet in the nearby city of Mosul, it said in a statement.
Cities downstream on the Tigris River such as Tikrit, Samarra and the Iraqi capital Baghdad could be inundated with smaller, but still significant levels in the event of a breach, U.S. officials warned on Sunday.
"At least a few hundred thousand people will be killed immediately"
Mosul was conquered by ISIS around two years ago and is the militant group's major Iraqi stronghold.
On Wednesday, the Iraqi government signed a 18-month contract worth around $296 million with Italian engineering company Trevi for the upkeep of the facility. Mahdi Rasheed, the general director of the Iraqi Dams Company, told NBC News that Trevi would start sending workers and equipment within days but it would take between two and three months for the repairs to start.
Nasrat Adamo, who was the chief engineer at Iraq's Irrigation Ministry which oversaw the building and upkeep of the country's dams, told NBC News he was afraid Trevi's work would not come soon enough.
"All the figures quote between 500,000 to 1.5 million people in the path" of a collapse, "but at least a few hundred thousand people will be killed immediately," he said in a telephone interview from Sweden.
"The flood wave is so fast that it would arrive to [the city of] Mosul in two hours and the city would be under 25 meters [82 feet] of water," Adamo said, citing the findings of a 1984 study conducted by the Iraqi government.
From the day it the dam was inaugurated in the early 1980s it has required intensive maintenance with crews having pour cement under its foundation continuously in what is known as "grouting."
In 2006, a U.S. Army Corps of Engineers report called it "the most dangerous dam in the world,."
Fears for the dam's safety worsened as fighting between ISIS, which has conquered swathes of the north of Iraq, and Iraqi forces, intensified in the past years.
In August 2014, Iraqi and Kurdish forces recaptured the dam from ISIS after militants briefly held it.