Russian forces were occupying Europe's largest nuclear plant after heavy shelling and a fire that was extinguished Friday morning, according to Ukrainian officials.
The State Inspectorate for Nuclear Regulation of Ukraine said in a Facebook post that the Zaporizhzhia plant was being "occupied by the military forces of the Russian Federation," according to an NBC News translation.
The occupation came after a fire in a training building at the plant, which triggered calls for troops to immediately retreat amid fears of nuclear danger.
The fire was declared to be out around 6:20 a.m. local time, and there were no victims, the State Emergency Service of Ukraine said in a statement, according to an NBC News translation.
Units at the plant remained intact, the inspectorate said. Though there was damage to the reactor compartment of one unit, the damage did not affect the unit's safety, the office said.
There have been no changes in the radiation status at the plant, the inspectorate said.
---
The latest developments on Ukraine:
---
While the blaze burned, Dmytro Kuleba, Ukraine's minister of foreign affairs, said on Twitter that if the power plant blows up "it will be 10 times larger than Chornobyl."
"Russian army is firing from all sides upon Zaporizhzhia," Kuleba tweeted. "Fire has already broke out."
He called for an immediate ceasefire in the vicinity of the plant.
Andriy Tuz, a spokesperson for the plant in Enerhodar, said in a video posted on Telegram that there "is a real threat of nuclear danger in the biggest atomic energy station in Europe."
The attack had prevented firefighters from immediately accessing the nuclear plant, the State Emergency Service said on Facebook, adding that rescuers were on standby.
The country's emergency services department later said there was a fire in a training building behind the plant, and the International Atomic Energy Agency said no "essential" equipment had been damaged.
The agency added that there was no change in radiation levels at the site. The White House later said that its latest information showed "no indications of elevated levels of radiation." 
President Joe Biden spoke with Ukrainian President Volodymyr Zelenskyy about the fire. In a summary of the call released by the White House, Biden urged Russia to stop military activities in the area so firefighters and emergency responders could get to the site.
The fresh tensions in Ukraine came just hours after a second round of talks between Ukrainian and Russian officials ended with the two sides tentatively agreeing to establish humanitarian corridors for the safe evacuation of civilians caught in the crossfire and the delivery of supplies to those staying in the country.
"I think this is a significant progress," Vladimir Medinsky, Russia's chief negotiator on the ceasefire talks, said in a video message.
More than 1 million people have already fled Ukraine in a rapid exodus after a week of war, as Russia's military bombarded key cities across the country amid staunch resistance to the invasion.
The conflict has fueled a growing humanitarian crisis in Europe, and left those who have remained in Ukraine facing an intensifying assault from the air and the ground.
But a mileslong Russian military convoy threatening the Ukrainian capital has made little progress over the last three days. Russian forces' northern advance has faced a fierce Ukrainian defense and its own logistical issues. They appear to have had made more significant gains in the south, with one key port city under Russian control and another struggling to hold out under siege.
The bombardment didn't look like it would end anytime soon.
Russian President Vladimir Putin initiated a call with French President Emmanuel Macron on Thursday, an Élysée Presidential Palace source said, describing it as "not-so-friendly."
Putin said the campaign would continue unless Ukraine accepted Moscow's conditions, the source said.
The Russian leader told Macron in the call that the "situation will get worse, but Ukraine chose it," the source said. "Putin's goal is to take control of all of Ukraine," they added.
Zelenskyy called on residents to keep up their resistance, while branding Russian soldiers "children who are being used."
Moscow faced further international isolation and condemnation. But the country vowed to press on with the war even as officials from both sides sat down for a second round of talks in Belarus that concluded without any significant breakthroughs.
Vladimir Medinsky, Russia's chief negotiator, said his team agreed with Ukrainian negotiators to create humanitarian corridors to evacuate civilians.
Meanwhile, the U.S. military has established channels to communicate directly with the Russian military as a way to deconflict tactical movements around Ukraine, according to a senior defense official.
'Humanitarian catastrophe'
From the capital, Kyiv, to Kharkiv in the northeast and Kherson in the south, Russia's advances have brought destruction to major Ukrainian cities and civilian areas.
The bombardment of Ukrainian cities has pushed residents to flee to neighboring countries and forced many more of the nation's 44 million residents to seek shelter underground or head west by road or train.
"I have worked in refugee emergencies for almost 40 years, and rarely have I seen an exodus as rapid as this one," Filippo Grandi, the U.N. high commissioner for refugees, said in a statement issued Thursday.
In Lviv, a city in the country's west that has become a hub for international diplomats and the news media, trains heading out of Ukraine are packed with families desperate to make it to safety.
Many are wheeling small suitcases and carrying backpacks containing all the possessions they could carry. In the frigid temperatures, parents are wrapped up in thick winter coats and hats, their children's faces scared.
Serheii Shpak, 28, said it took two days for his family to make it from Kharkiv to Lviv. He decided it was time to leave after sheltering in the metro system with his 1-year-old son and wife while Russian forces shelled the city.
He said the journey was filled with panicked Ukrainians trying to make it to safety. "The carriages were really crowded," said Shpak, a web developer.
He said he planned to head to nearby Vinnytsia so his family could start a new life further from the threat of Russian attacks.
The Unites States will extend what's known as temporary protected status, which would allow them to remain in the country without fear of deportation, for 18 months to Ukrainian nationals on U.S. soil as of March 1, Homeland Security Secretary Alejandro Mayorkas announced Thursday. People who enter the U.S. after that date will not be eligible.
"Our hearts stand with the Ukrainian people who are suffering so much tragedy and so much loss," Mayorkas said in a video posted to Twitter. "We will do everything in our power to support them."
The Biden administration Thursday also asked Congress to provide $10 billion in humanitarian and defense assistance for Ukraine.
But for Ukrainians in two key cities looking to escape, prospects were dimming Thursday.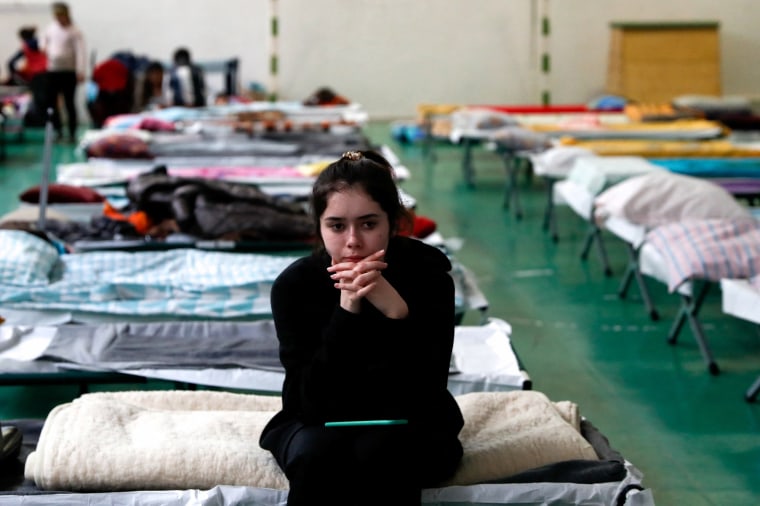 In Kherson, which sits on the strategically important Dnieper River, Mayor Ihor Kolykhaev told NBC News that "Russian troops have captured the city."
He said he gave the Russian forces conditions, including that the Ukrainian flag must fly over the city council building. He also requested a humanitarian corridor, no tanks in the city, and increased bread production.
The head of the regional council, Hennadiy Lahuta, posted on Facebook that Russians "completely occupied the building of the Kherson Regional State Administration."
Kolykhaev said late Wednesday there had been "armed visitors in the city council building" and that there were no Ukrainian forces in the city, only civilians.
Ukrainian officials had earlier disputed Russia's claims that its forces were in full control of the city.
Russian shelling destroyed residential buildings and playgrounds, and residents reported a dwindling supply of food in the city.
"When they shell a lot, we sleep in our shoes, so we can run away if needed," said Irina Khabaluk, 37, who was sheltering in her apartment with her husband and their two children.
"We stay in the apartment and basically pray that we won't get hit directly."
Further along the coast, Mariupol, a large city on the Azov Sea, remained in Ukrainian hands but was encircled and blockaded by Russian forces, according to the city council.
In a post on Telegram, the council accused Russia of creating a "humanitarian catastrophe" in the city and hindering the supply of food. Under constant shelling, the city's critical infrastructure had been hit and there was no heat, water or electricity, it said, while wounded women and children were prevented from leaving the city.
To the west, Russian forces also appeared to have the Black Sea port of Odessa in their sights as the Ukrainian military warned that four landing ships and three missile boats were headed in its direction.
"The hottest destination of the day is Odesa," Ukraine's top security official, Oleksiy Danilov, said on Facebook.
Though the Russian advance was making progress in Ukraine's south, in the north it appeared bogged down.
Residential areas of several cities came under attack early Thursday, according to an update from the Ukrainian military posted on Facebook.
Kharkiv, the country's second-largest city, and surrounding towns continued to face a barrage of heavy shelling. In the last 24 hours, 34 people died and 285 were injured in the region, including 10 children, the interior ministry said in a statement.
NBC News has not verified the numbers of any people killed.
Russia has consistently denied targeting civilians, despite a growing body of evidence. The International Criminal Court has opened an investigation into Russia's actions.
'Nothing to lose but our own freedom'
The capital, from where Zelenskyy has rallied global leaders and local civilians to the cause, remained the nucleus of Ukraine's resistance.
Western officials and experts have said they believe Putin's aim is to remove Zelenskyy and replace his Western-friendly government with a regime more amenable to the Kremlin, restoring the Kremlin's influence over its neighbors three decades after the collapse of the Soviet Union.
Putin's forces appeared no closer to a direct assault on Kyiv on Thursday, but Ukraine's military warned that Russian troops were "regrouping" for an attack on the capital after struggling to make a breakthrough.
Nearly 20 miles outside Kyiv, a mileslong convoy of tanks and armored vehicles stood largely in place, with both mechanical breakdowns and the Ukrainian defense delaying its advance, according to British military intelligence. "The column has made little discernible progress in over three days," the country's defense ministry said on Twitter.
Russia's last major advance toward Kyiv was two or three days ago, a senior U.S. official told NBC News. Russia's advance column was still roughly 25 kilometers (15 miles) north of the city, the official said.
"They are trying every single day," the official said, referring to Putin's troops.
In an update on Telegram, Kyiv Mayor Vitali Klitschko said: "The enemy is trying to break through to the capital. But Ukrainian defenders hold the defense and stop the occupiers on the outskirts of the capital."
Shells landed overnight on residential areas damaging homes and cars, but not causing any casualties, he said.
Zelenskyy sought to boost morale in a video posted to social media as the conflict entered its second week.
"We have nothing to lose but our own freedom," he said in a post on Telegram. "For us, this is the greatest treasure."
While he steeled his public for the fight ahead, Ukrainian negotiators traveled to Belarus by helicopter for a fresh round of talks, according to a tweet by Zelenskyy adviser Mykhailo Podoliyak.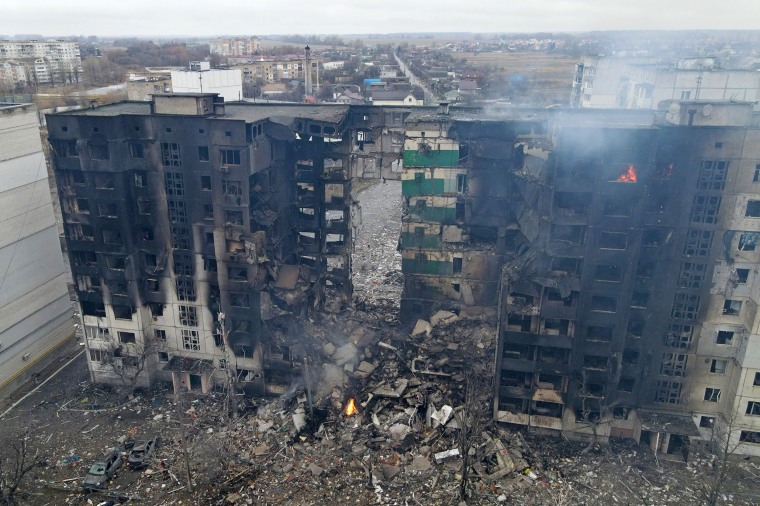 Russian Foreign Minister Sergey Lavrov said on state television Thursday that "we won't allow Ukraine to preserve a military infrastructure that threatens Russia."
As its global isolation has grown — Ikea was the latest global brand to halt sales in Russia — and its military has struggled to make progress, Russia has escalated its assault on civilian areas in key Ukrainian cities, as well as its crackdown on dissent at home.
The independent radio network Echo of Moscow and the television station TV Rain said they were halting operations Thursday, after being taken off the air as Putin's security services moved to quash any coverage of the war that didn't meet the Kremlin's strict requirements. The announcement came hours after hundreds of protesters were detained at a rally against the invasion in the Russian city of St. Petersburg. 
The government has also sought to block public access to social media platforms, including Twitter, Facebook and Instagram, according to State Department spokesman Ned Price.
"The Kremlin is engaged in a full assault on media freedom and the truth," he said in a statement late Wednesday.
Russia reported military casualties for the first time since it launched the invasion of its democratic neighbor last week, saying nearly 500 of its troops had been killed and almost 1,600 wounded.
Kremlin spokesman Dmitry Peskov on Thursday praised the country's troops fighting in Ukraine as heroes who would go down in history and described the deaths of soldiers there as a tragedy. He also dismissed speculation that Russian authorities plan to introduce martial law and said Putin would convene Russia's Security Council later in the day.
"Of course, this is a great tragedy for all of us. At the same time, we all admire the heroism of our military," Peskov said in a briefing with reporters.
In line with Ukrainian estimates, two Western officials told NBC News that about 5,800 Russians have been killed. One U.S. official, however, cautioned that the estimates are extremely difficult to pin down in the fog of war and have ranged from as low as 500 to more than 5,000.
NBC News has not confirmed the numbers of any deaths from the conflict.