More than 30 people died after a suspected arson in an animation production studio in Kyoto, Japan, early Thursday.
At least 70 people were thought to have been inside the three-story Kyoto Animation building in Japan's ancient capital at the time the fire started, state broadcaster NHK reported.
A Japanese fire official said 33 people were confirmed dead and a further 36 injured, according to The Associated Press.
According to the AP, Kyoto police said the fire broke out after a man burst into the building screaming "You die!" before spreading unidentified liquid that then ignited.
Police said the 41-year-old man had been detained and was taken to hospital for treatment, according to NHK. They later said that the suspect is neither a current nor a former employee of the animation studio, according to NBC News local partner NTV.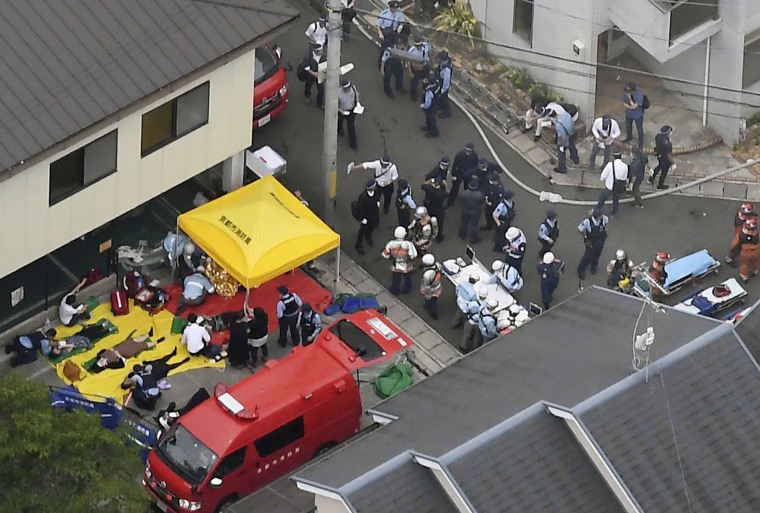 The animation studio's president, Hideaki Hatta, told reporters that he had received threatening emails recently, according to NHK. The emails addressed to the company's sales departments told them to die, Hatta said. The emails had no titles and the company consulted a lawyer each time, he added.
Kyoto Animation, better known as KyoAni, was founded in 1981 as an animation and comic book production studio, and is known for megahit stories featuring high school girls, including "Lucky Star," ''K-On!" and "Haruhi Suzumiya."
The death toll climbed immediately after the incident as firefighters entered the building and assessed the damage. Fire officials said 13 people were found and confirmed dead on the first and the second floors of the building, the AP reported. More than 10 people were found unresponsive on the third floor and in the stairwell where they appeared to have been trying to escape to the roof.
NBC News was not able to confirm these reports.
Japanese Prime Minister Shinzo Abe confirmed that arson was suspected.
"The arson murder that took place in Kyoto today took away many many lives. The gruesomeness of it all — I'm at a loss for words," he said in a statement on Twitter. "I pray for those souls that perished. And for those who have suffered injuries, I extend my deepest sympathy and pray for the swiftest recovery."
Footage on national television showed gray smoke billowing from the charred building. Other footage showed windows blown out.
"There was an explosion, then I heard people shouting, some asking for help," a woman told TBS TV. "Black smoke was rising from windows on upper floors, then there was a man struggling to crawl out of the window."
Witnesses in the neighborhood said they heard bangs coming from the building, others said they saw people coming out blackened, bleeding, walking barefoot, Kyodo News reported.
Rescue officials set up an orange tent outside the studio building to provide first aid and sort out the injured.
A GoFundMe was established by U.S.-based firm Sentai Filmworks to support the victims of the incident, which raised more than $400,000 in the first seven hours.
Arata Yamamoto reported from Tokyo, Linda Givetash and Nick Bailey from London.