Seventeen pilot whales that were part of a "strange" mass stranding in New Zealand have returned to a large pod and were swimming off shore, a charity that organized a rescue effort said Sunday.
"We are watching the bay at this time and hoping the pod swims into deeper water," Project Jonah said of the group of over 200 whales in a post on Facebook. The group said the larger pod and the 17 were a few kilometers off shore Sunday.
The organization said a few hundred volunteers were on hand in case more whales got into difficulty.
More than 650 pilot whales had beached themselves along Farewell Spit at the tip of the South Island in two separate mass strandings over recent days.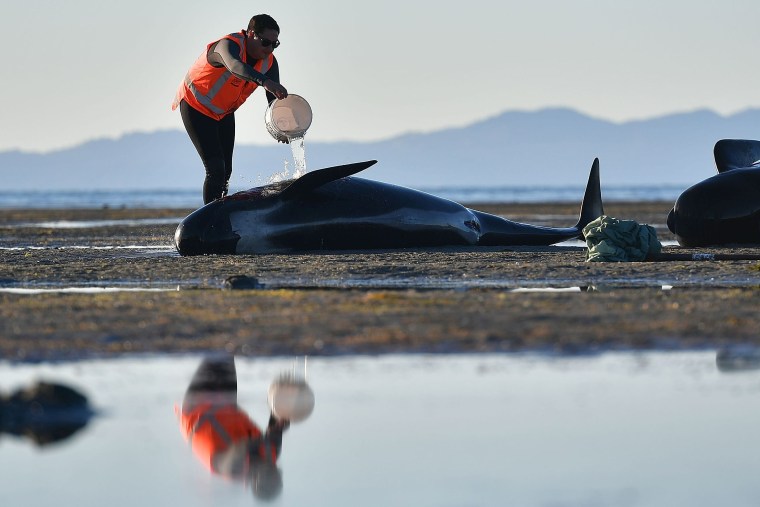 About 350 whales have died, including 20 that were euthanized. Another 100 have been refloated by volunteers and more than 200 swam away unassisted.
Earlier Sunday, volunteers and conservationists were attending to 17 that were found stranded again. They were part of the larger group of around 200 whales that were stranded Saturday, but the 17 re-stranded themselves after those whales were refloated.
The 17 whales were found stranded again Sunday morning but were refloated at high tide.
"For such a majestic animal, it's really strange to seem them doing this," volunteer Jonathan Jones said.
Pilot whales grow to about 25 feet and are common around New Zealand's waters.
Experts have different theories as to why whales beach themselves, from chasing prey too far inshore to trying to protect a sick member of the group.
Farewell Spit has been described as a whale trap. It has a long protruding coastline and gently sloping beaches that make it difficult for whales to swim away once they get close. It has been the site of previous mass whale beachings.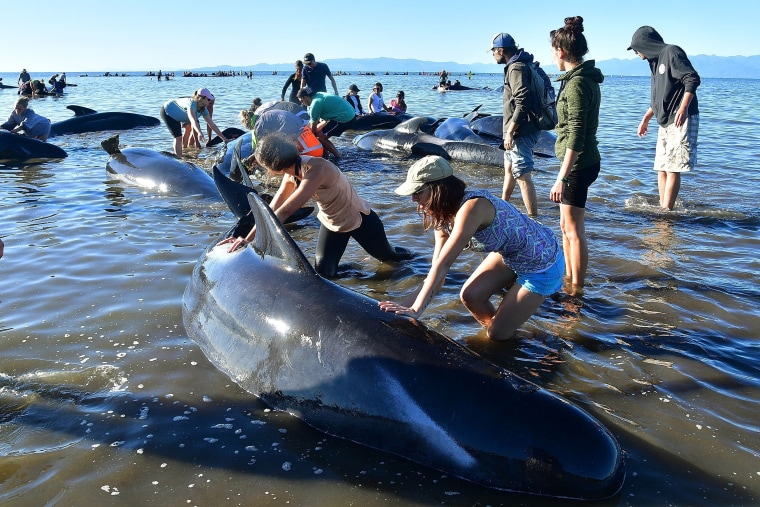 "People seem to have an emotional attachment to marine mammals," Department of Conservation spokesman Herb Christophers told The Associated Press. "They've been singing songs to them, giving them specific names, treating them as kindred spirits."
New Zealand has one of the highest rates of whale strandings in the world, and Friday's event was the nation's third-biggest in recorded history, the AP reported. The largest was in 1918, when about 1,000 pilot whales came ashore on the Chatham Islands. In 1985, about 450 whales stranded in Auckland.